10 Questions for Musician Cerys Matthews |

reviews, news & interviews
10 Questions for Musician Cerys Matthews
10 Questions for Musician Cerys Matthews
Once of Catatonia, now of 6Music, the Welsh songstress has turned musical curator
Cerys Matthews: 'Don't think before you sing, just sing'
"He who sings frightens away his ills." Cerys Matthews has spent a lifetime heeding the wise counsel of Don Quixote. Born at the tailend of the Sixties, she grew up in the Welsh tradition of musical surroundsound before veering right into the heart of Britpop as the wailing amber-topped siren of Catatonia. Four albums and many stadium triumphs later, the painful break-up more than a decade ago was fed through the distorting prism of the tabloids.
Since then Matthews has worked on a remarkable reinvention that reaches a new crest in 2013.
The life of post-Catatonia Cerys has been built around public service broadcasting, the great folk songbook, and motherhood (she's got three nippers). Cerys on Sunday, her show on BBC 6Music, has won fans all over the world, showcasing a love of musical arcana and a natural broadcasting gift. Her roving curiosity has found her in sundry other outlets – on The One Show, for which she is a cultural reporter, in several documentaries for Radio 4, and now in a new compendium of songs.
To be specific, the songs are collected in book form in Hook, Line and Singer. Billing itself as "a sing-a-long book", it anthologises popular songs, many but by no means all of them for children. Some are extremely well known – from "Wind the Bobbin Up" in the section for infants to "Auld Lang Syne" in the Yuletide chapter. But others have been rescued from obscurity while one section titled "Monoglots to Polyglots" includes songs in French, Spanish, German, Polish, Norwegian, Irish and of course Welsh. You might want to brush up on your Hebrew too. There are all impeccably researched. Each double-page spread has a short history of the song in question on the left-hand side, citing not only its origins but also – in negro spirituals and dustbowl laments and even a song like "My Old Man Said Follow the Van" – sensitivity to historical context. On the right are the musical notation and lyrics.
I don't feel that hunger to write, to say what my perspective on the world is at the minute
What else is new? Matthews's track record as a broadcaster and musician tells you all you need to know about what she thinks of borders. That said, this year is substantially devoted to banging the Welsh drum. As judge of the Dylan Thomas Literary Prize, Matthews continues her quest to bring the works of the great Welsh poet, whose centenary is next year, to a wider audience (she is a reliable source of fiery tweets on the matter). In the wake of her 2010 release Tir, featuring her versions of traditional Welsh tunes, there is another Welsh album coming in September called Cwcw (pr. cuckoo). A tour follows with a band featuring not only a Welsh harp but a kora-player. And in October she is artistic director of Womex, the world music expo which this year alights on Cardiff. The opening concert promises to be an encyclopaedia of Cymric arcana.
I met Matthews at the Hay Festival where she was mooching about in a pork-pie hat and shades, attending events, yakking with writers and mingling without any hint of grandeur. Then on Sunday she introduced Hook, Line and Singer (pictured below, photograph by Jay Williams). She talks to theartsdesk about the vital necessity of singing along.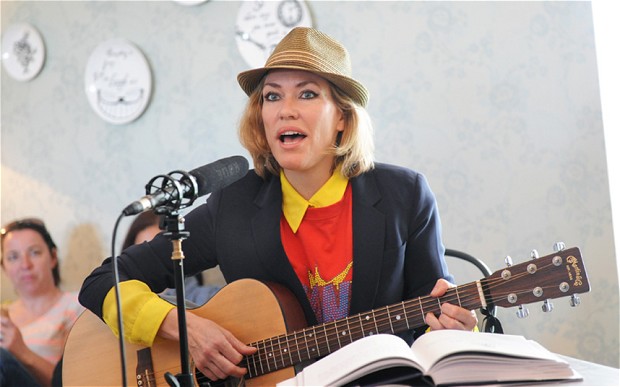 JASPER REES: What was the impetus behind Hook, Line and Singer and how was the selection made?
CERYS MATTHEWS: Just an absolute love for songs and songs in book form as well. I got into buying songs in book form from a very early age so it's very familiar to me. The thing with songs in book form is that implies you don't compare them to recorded versions, you just make up your own version. It's a rough guide or a map that you can follow if you want but you can go off as well. Music shouldn't be perfect, it shouldn't compare to anything you've heard before, it should be in your own inimitable style. I love the songs I've picked. I've got rid of loads that people wanted me to put in there. I said, "I'm not having 'Ten Green Bottles' in there, not on my nelly, and I'm not putting 'Kumbaya' in there." Inevitably I'm going to lead singsongs so they've got to be songs that you want to sing. But essentially they're either the easiest to sing, the most memorable, the silliest, the funniest or the most harrowing songs that I know. It's not about the ego. It's to help people hopefully get confidence to get rid of that feeling of self and jump right in and enjoy a singsong. Just have a go, make a noise. You know you want to.
Catatonia is a long time ago. Do you miss being in that rock band at all?
I had an absolute blast. When you consider you're obsessed from a very early age and start trying to write songs, the moment where all that obsession starts to bear fruit you're not the crazy in the room saying, "I'm going to try and write songs." When you get feedback that other people are actually enjoying your songs without any duress then that's an amazing feeling for a musician. But it is a long time ago and I'm doing so many things now that are so much more interesting. When you're a touring musician there is a certain hamster wheel that you're on and you're also within a very big marriage within a band because you're with these people all the time so it's quite difficult. But it's quite hard for me to even think about it. It is that far back and I'm doing so many things that are so much more stimulating now. I get to play whatever music I want to play on the radio show - people that are infinitely more interesting than whatever I've done with my life. Charley Patton or Leadbelly, Woody Guthrie, the people that have curated music and collected music and weren't aware of the media. They've didn't have any financial payback for their obsession. They didn't get any celebrity status. They just had a good ear for songs. That's what I'm more interested in now and I'm getting to share that interest. It's more rewarding than anything. It's so exciting because with the really privileged position I have of playing music from all over the world from all eras on the radio show, there's a big family of like-minded people listening and that's the most exciting thing that's ever happened to me.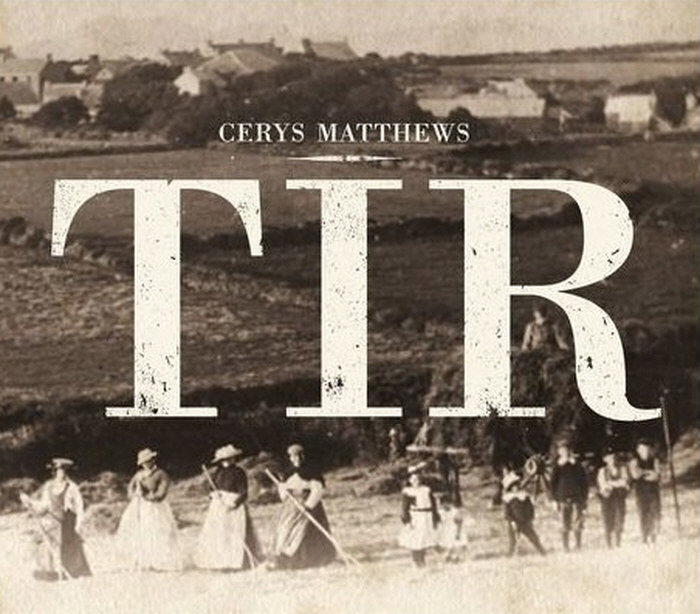 Has some of that instinct to curate folk songbooks been channelled into your Welsh album Tir and even your most recent Christmas album?
I honestly think it's the opposite to curated. I just think it's trying to share music in its most basic and natural form, and that's where the mystery of music lies in a way. Nobody can put their finger on what makes music touch people. It's come to a point where most of the music we hear is so processed and so intellectually thought out and marketed and made with a different intent other than purely joy, so I think what I do is almost the opposite to that. That's what I do with Tir. Those brilliant songs have come through generations. Just to sing them is good enough.
Just by happenstance I was born in Wales and brought up through the Welsh culture and I will never underestimate the value of the joy music has given me. I'd love to investigate more about the Yorkshire people because they seem to have the same natural tendency to just jump in to poetry and music and accept that it has this magical power, without over-thinking things, without making it too academic. Just this power. And we have that naturally in Wales and that's something we can share, not be too self-conscious, to just say, "Blimey, doesn't that make you feel amazing? We don't know why but it bloody well does." It's an essential need for a human. And the stories behind the songs are just incredible. "Calon Lân": there is nothing in the world you need. You don't need any pearls, you don't need any money, you just need to have good intention in your heart and this faith – Christian faith, yes. But you can take comfort from it even if you're more of an agnostic.
Overleaf: Womex, the BBC and singing Catatonia songs
Cerys Matthews performs "Calon Lân"
Are you less interested in writing than you once were?
I am at the moment. I'm still such a fan of other people's songs, especially now because when you hear the old songs they just do not compare with what you hear on the mainstream stations. In a way my passion is going into sharing these songs and keeping them alive that I don't feel that hunger to write, to say what my perspective on the world is at the minute. Occasionally I'll jot a few notes down and I might write a song or two but I'm not that interested in what I've got to say at the moment, I'm more interested in what other people have written. I'm way more interested in what we are going to give to our children. My big bugbear is the BBC and if we can make sure that's a fit marathon racer rather than this big fat lumbering thing that people are criticising all the time that we take so much for granted. Without it we would be so poor. And nobody's standing up for it. The BBC wants to inform, educate and entertain for nothing - £147 – for not having your foie gras equivalent with advertising and your children being open to all the marketing men. The BBC is beautiful. I hate what's happening to it.
What is it about Welsh culture that produces such a high level of talent?
We love music. It's in the soil. That's what they say about flamenco. Viene del duende. I don't know. I don't think you ask. You should just jump in and start singing with us. I think that's the point. Don't think before you sing, just sing. That's what we're brought up with. There are different tribes in Wales but the one thing that unites us is a love of song, and that's an unbroken tradition.
We're all related. It's what we have in common that really interests me
Was the flowering of Welsh music acts in the 1990s part of that tradition?
No. Not really. I just think they happened to get attention at that point and they get into that system. But they have been making great music in Wales since the year dot. But that allowed us to make music. Super Furries and Zygotic Myncis were a lot more psychedelic and a lot more freeform in their intervals and their chord changes than what was going on in Britpop which was a lot more straightforward rock'n'roll, four by four, three-chord songs. I can hear the Welsh influence in their music but I don't think it was a cultural thing that allowed us to become popular during the Nineties. I think that was just chance. It just happened to give us a slightly different sound to the other Britpop bands that happened at the same time. But we definitely love strange intervals and stranger melodies rather than just straightforward stuff.
What was your own strangest melody?
All our songs were pretty good actually. They've got quite strange chords. People say, "We didn't know you loved roots music and traditional music, it comes as a surprise," and I'll go, "'Johnny Come Lately'" is a pretty pastoral folk-based song. It's about a competition between prize marrow growers in an agricultural show. How much more rural can you get? That would be one. If you want epic with gorgeous chords, then "Do You Believe In Me?"
Catatonia perform "Do You Believe In Me?"
How many Catatonia songs do you still play live?
I didn't play any of the songs for about 10 years. Just like kitchen smells or a photograph they unlock so many memories. I just wanted to put that as one chapter so I didn't sing them. But lately I've started singing the odd one if I fancy it. There's enough tough things to deal with in life and for me, sad songs or songs associated with really difficult emotional times, I'd rather not sing them. I'd rather sing stuff that really makes you hopeful and gives you energy to deal with stuff and try and change the world for the better. That's the big change that came for me at the end of Catatonia. I didn't have to deal with all that emotion.
How Welsh is Womex going to be?
We're going to put on a ceremony to really open the doors wide to people outside of Wales to Welsh culture. I don't feel the doors have been opened wide enough. Which is a good thing because it's kept a lot of things alive and kicking – the Welsh language, clog dancing and triple harp playing, canu pwnc. It'll be lovely to open the doors and say, "Look at us strange crazy people that have all this stuff going on that you know nothing about even though you live in Bristol."
What is a typical set of yours now?
I've got a new album coming out in September. If Tir was the Severn Bridge, this next one's going to say "Come on down the mines." With all these strange medieval dance tunes handed down for hundreds and hundreds of years. And a lot of it is mouth music like they have in Scotland - the rhythm is in the singing. In my set there will be a lot of strange weirdness along with some Woody Guthrie probably, who did the same in America. He was taking songs from generations before that who came from Scotland or Ireland or England and Germany and pulled them into his generation and then changed them in ways that made sense to his homeless hobo life in the 1930s of Depression-era America.
We're all related. It's what we have in common that really interests me. There's a quote in the book from Moby Dick. Ahab is standing on the deck of the ship and looking at his shadow in the deep "and watched how his shadow in the water sank and sank to his gaze, the more and the more that he strove to pierce the profundity". The more you look for something the more complicated it becomes. But that's the sweetness of it, isn't it?
Hook, Line and Singer is published by Penguin Books
Just by happenstance I was born in Wales and brought up through the Welsh culture and I will never underestimate the value of the joy music has given me
Share this article