Gwlad y Gân/Land of Song, Wales Millennium Centre, Cardiff |

reviews, news & interviews
Gwlad y Gân/Land of Song, Wales Millennium Centre, Cardiff
Gwlad y Gân/Land of Song, Wales Millennium Centre, Cardiff
WOMEX is welcomed to Wales by Cerys Matthews and a captivating national songbook
Thursday, 24 October 2013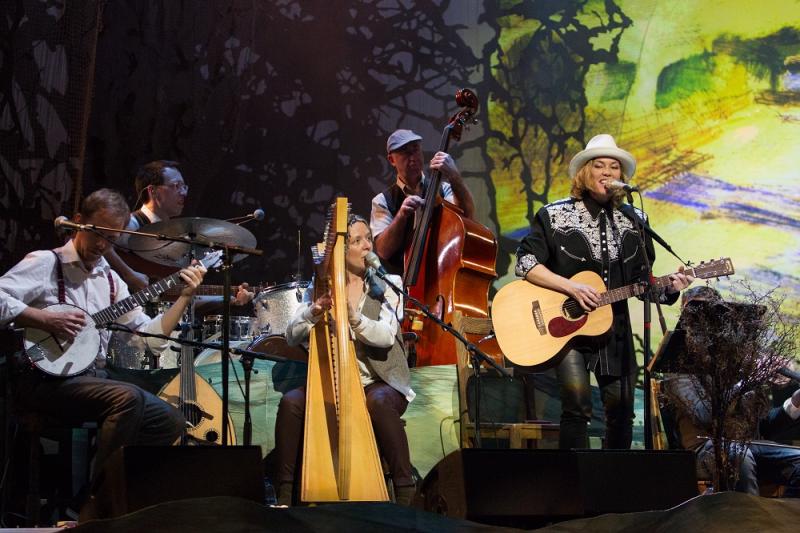 'You don't have to go far in Wales to bump into a harp': Cerys Matthews and band
When the term "world music" became a category in record stores, it's doubtful that triple harps, cerdd dant and canu plygain would have been thought to belong under the umbrella. And yet here they were on display at WOMEX. The annual world music expo has put down roots in Cardiff this year, and to bid welcome to the delegates Cerys Matthews hosted a celebration of traditional Welsh music under the title Gwlad y Gân/Land of Song.
Bar the odd burst of
Under Milk Wood
and a version of "Men of Harlech", very little of it was, for obvious reasons, in English.
If Welsh folk music is less widely known abroad than its Irish or Scottish counterparts, that is largely down to historical forces: the lack of a significant Welsh diaspora, and the hermetic survival of a language which the Anglophone world continues to view as a forbidding rampart. The neo-bard Twm Morys opened the night by thumping out an assertive cynghanedd (poetry in strict meter), thwacking the stage with a staff and filling the room with percussive North Walian sounds. WOMEX delegates will have got the message: the sound of Welshness is not all pretty country airs.
It wasn't all about giving a voice to bucolic sounds from the dusty archives
From an island placed downstage right, Matthews fronted the concert at the heart of a band comprising violin, harp, guitars, double bass and drums, though the resourceful fiddler Patrick Rimes also blew into an assortment of pipes, and harpist Gwenan Gibbard served up haunting vocals. With the rhythm section pulsing along, light-footed songs like "Dadl Dau" (reportedly a favourite of Henry V, whose widow of course married a Welshman called Owen Tudor), "Wrth Fynd efo Deio i Dywyn", about a cross-country trip, and "Cyfri'r Geifr", an accelerating ditty about counting goats, produced a Welsh variant of foot-stomping country.
It fell to other guest performers to suggest a more introspective soundscape. Highlights included Georgia Ruth singing the lovely "Ar Ben Waun Tredegar", DnA duetting hauntingly on fiddle and harp, a ravishing a cappella medley of canu plygain (bidding songs) performed from a balcony by Siân James, Arfon Gwilym and Sioned Webb, and a captivating display on the triple harp by duelling duet Robin Huw Bowen and Rhaiain Bebb. But it wasn't all about giving a voice to bucolic sounds from the dusty archives. To confound those who have a narrow view of what male voice choirs get up to in the Valleys, the boys from Treorchy hollered a Zulu chant, while Indian-Welsh band Ghazalaw stretched hands across cultures with persuasive songs in Welsh and Urdu.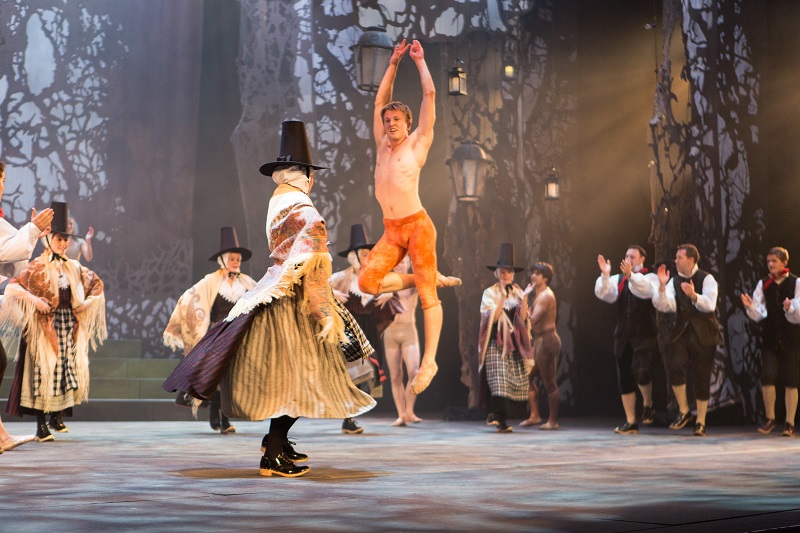 The stage, fringed by forest-like fronds with a screen displaying evocative black-and-white images of Welsh heritage, was left bare for performers to come and go. Traditional dance group Dawnswyr Nantgarw in clogs and (for the women) tall black hats presented folk tap as a kinetic and free-wheeling form of self-expression. Dancers from Ballet Cymru whirled and leapt and flew about the stage to "Cân Merthyr", an accidentally disparaging song about Merthyr Tydfil, and the high-speed "Migldi Magldi". Though polar opposites, the two dance troupes then teamed up (pictured above right) to respond to Matthews' tongue-in-cheek version of the old Llanelli rugby song "Sosban Fach". Hats off to gravity-defying soloist Daisuke Miura.
This was a rare moment in which the song sheet included flagpole tunes known far beyond Welsh borders. On each occasion that an old favourite cropped up Matthews, a witty and engaging mistress of ceremonies, niftily subverted expectations. "Men of Harlech", with the Treorchy Male Voice Choir, was delivered with a twist of Nashville, and the climactic hymn "Calon Lân" was sung by a young choir from Mount Stuart School in Cardiff Bay featuring every conceivable ethnicity. Cardiff Bay, lest anyone forget, always was a melting pot, and so was this spirited and cheerful evening of Welsh world music.
Click on the images to enlarge
On each occasion that an old favourite cropped up Matthews, a witty and engaging mistress of ceremonies, niftily subverted expectations
rating
Explore topics
Share this article