WOMAD 2013, Charlton Park - Days Three and Four |

reviews, news & interviews
WOMAD 2013, Charlton Park - Days Three and Four
WOMAD 2013, Charlton Park - Days Three and Four
Arrested Development, Rokia Traore and the Reverend Peyton battle the weather but get the crowd bouncing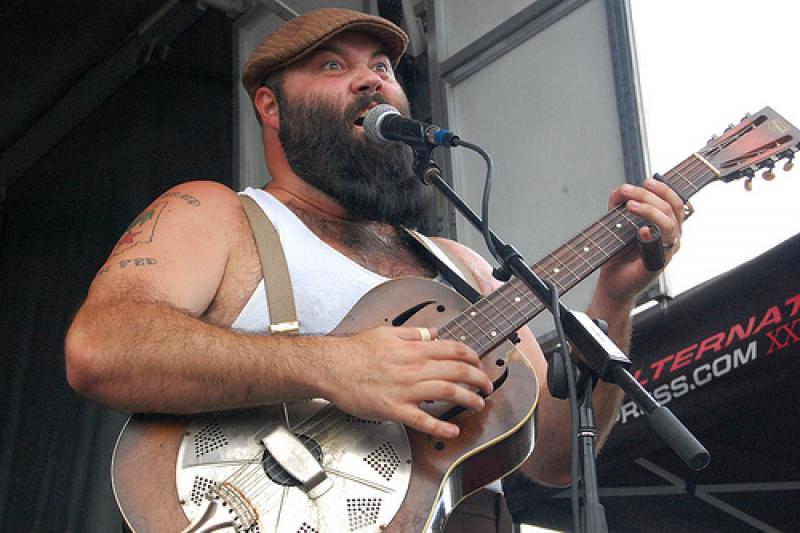 Reverend Peyton: with guitar made of gun metal and barn door
Arriving early on Saturday, the first music I was exposed to in the tranquil arboretum area of the Radio 3 Stage was the mesmeric and gorgeous sounds of Leicester sitarist Roopa Panesar floating from the stage, with dreamy oboe-like shenhai adding to the musical mix.
I had brought some at times torrential rain with me, and there was something vaguely apocalyptic about Reverend Peyton's Big Damn Band later on the same stage. His mystique was superb, looking like a younger member of ZZ Top with flowing beard, playing a guitar made of Winchester gun metal and a barn door. He was accompanied by a vaguely sinister woman ("Breezy" Peyton – the wife or sister of the Reverend, who knows?) wearing a sweet polka dot dress, but sporting a red petticoat and red cycling gloves with metal tips. The washboard has never seemed a dangerous and erotic instrument, until now.
This was folk music completely removed from either tweeness or the academy
I was told that the Reverend often throws teddy bears in to the audience and encourages the crowd to tear them apart, a factoid we would like to believe. We were in speaking-in-tongues rattlesnake territory. Alas, he slightly blew his cool by boasting how he could play "The Theme From Peter Gunn" single handedly (bass and guitar parts) and talking about the internet, which rudely awoke us from our swampy dreams of Louisiana.
Among the other highlights of the Saturday was a wonderful - and new to me - fado singer called Caminho, who managed to make that gloom-laden Portuguese genre sound positively sunny in the rain, while a rival fado singer, Nynke, came from the Netherlands and sang in the unlikely language of Friesian. Other enjoyable moments came courtesy of a raucous French ska band called Babylon Circus and the Imperial Tiger Orchestra, although the latter illustrated what some of the best acts avoided: a certain conceptual fuzziness – they are a bunch of Swiss guys beguiled by the Ethiopian jazz from the golden age, but they also mixed in a not always successful gumbo of Afro-beat, funk and prog rock.
A similar slight misfire was Dizu Plaatjies and his Ibuyambo Ensemble. Dizu used to be in Amampondo, a fabulous band, but now he's an academic and there was something a bit lecture-like in his tour of assorted African styles of music, from South Africa to Zimbabwe to La Réunion. It might be that the Open Air Stage is the hardest in which to create an atmosphere, especially in the Wiltshire monsoon as Rokia Traore (pictured right) discovered later on – her records are often sublime but battling against the elements she seemed to be struggling. My waterproofs by now were leaking and the Cider Tent called.
Luckier with the weather were veteran hip-hoppers Arrested Development, who managed to get the crowd bouncing along with their Nineties hit "Mr Wendall" and a version of Bob Marley's "Redemption Song". As conscious hip-hoppers rather than gangstas, and not averse to exotic Woodbines, they fitted the vibe perfectly, although they did sound fabulously dated – while the Indian classical music which was the first thing I heard, or the Reverend Peyton, sounded absolutely fresh and modern.
As for Sunday, the camp shenanigans of the Australian Bollywood pastiche The Bombay Royale seemed essential and they were fun – although how you do a successful cod version of an inherently kitsch genre was something they didn't entirely resolve. I caught enough of the mainly Colombian La Chiva Gantiva's deliriously danceable set to realise they had come on yards since I last saw them in a Peckham squat and to make a note to go out of the way to see them again should I get the chance.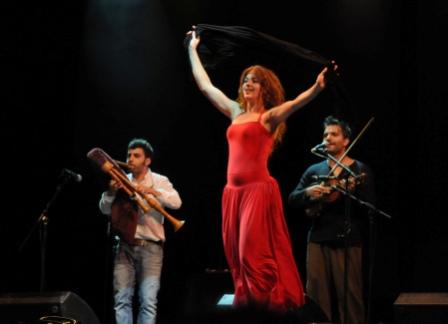 At the Siam Tent at the same time was a group which I found to be the revelation of the weekend - Canzoniere Grecanico Salentino (pictured, left, by David Corio) a wonderful rootsy band from the boot of Italy. Their delirious mix of bouzoukis, pipes, accordions, percussion and sundry other instruments was a joy to listen to. This was folk music completely removed from either tweeness or the academy; it reached back to the past while being a living tradition, with songs about the current lack of employment in Italy. They were a tight, organic group that worked on every level, and included some stylish dancing, not something you usually get with folk groups.
Before leaving, I caught most of Sam Lee's set, a singer who has been rightly lauded for last year's album Ground Of Its Own. He proved adept at mixing unexpected genres, with bits of Japanese koto mixed in with his arrangements of traditional Travellers songs. But you feel Sam Lee really means it, has lived the songs, and was greatly helped by a first rate band.
Arrested Development did sound fabulously dated – while the Indian classical music sounded absolutely fresh and modern
rating
Explore topics
Share this article