theartsdesk in New Zealand: WOMAD Taranaki |

reviews, news & interviews
theartsdesk in New Zealand: WOMAD Taranaki
theartsdesk in New Zealand: WOMAD Taranaki
Rain can't ruin a long weekend of African and Kiwi music, plus Jimmy Cliff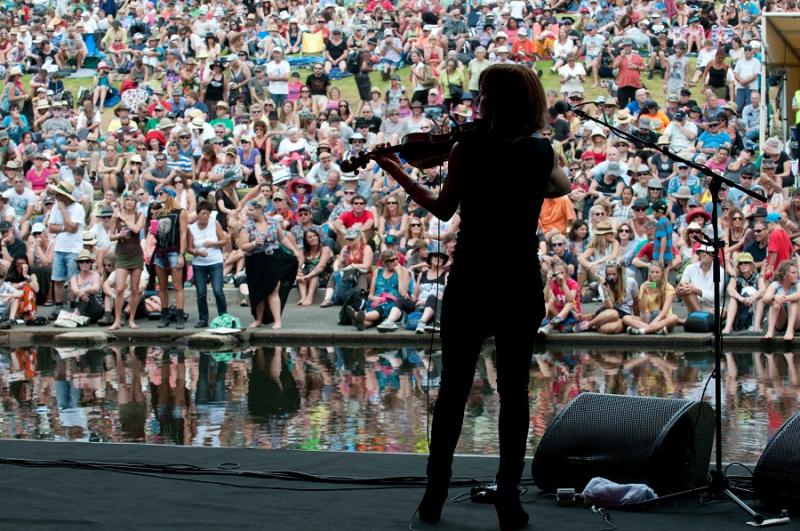 WOMAD Taranaki: the world's most beautiful festival setting?
I've been to countless UK Womads yet have never before made it WOMAD Taranaki. Which is almost something to be ashamed about considering I'm a Kiwi. But this expat is never in the South Pacific mid-March. Until, that is, this year. The 11th New Zealand Womad is held in the small city of New Plymouth in Taranaki, a gorgeous West Coast hump in the central North Island.
Mt Taranaki towers over the site - this beautiful mountain is often used as double for Mt Fuji, so sublime is its symmetery - and surfing beaches are 20 minutes walk away. The site - the Brooklands Bowl - is a vast park full of native bush and lakes and ponds. Those who had made the trek to this WOMAD had sworn it was the world's most beautiful festival setting and they were not telling stretchers.
Womad Taranaki follows on a week after WOMADelaide - the Australian version of the festival being a bigger event (everything is bigger in Oz) - but the Kiwi festival is near perfect in size and content. Kicking off on Friday evening with a Maori blessing, the first artist on stage was Mali's Vieux Farka Touré (pictured below right). Sad to say but the son of the late Ali Farka Touré is to his dad what Ziggy Marley is to his - extended guitar solos showed Vieux having little original to say.
Things immediately picked up with Louisiana's The Savoy Family Cajun Band who played a near perfect set of Cajun dance music. Their stage was situated next to a pond and they joked that the bayou had been placed there to make them feel at home.South Africa's Hugh Masekela proved a fitting Friday night headliner with his forceful personality, big band and lyrical trumpet. At 74 Masekela shows no sign of slowing down as he hurled himself across the stage and teased the audience for being afraid of the "savage Africans". On a quieter note Scottish trio Lau and Japanese sanshun-and-flute duo Shunsuka Kimura & Etsuro Ono both provided beautiful acoustic music that hovered in the warm night.
A blazingly hot Saturday morning found Siberia's Ayarkhaan wowing the audience with what can only be described as "shamanic chants celebrating animals". The three women employ multi-octave throat singing with khomus (a Sakha Jew's harp) to create a trance music of great power and intensity. With no other instrumentation this striking trio built a sound almost psychedelic in its dense, churning resonance - this is what Womad does best, discover ethnic music from obscure parts of the globe.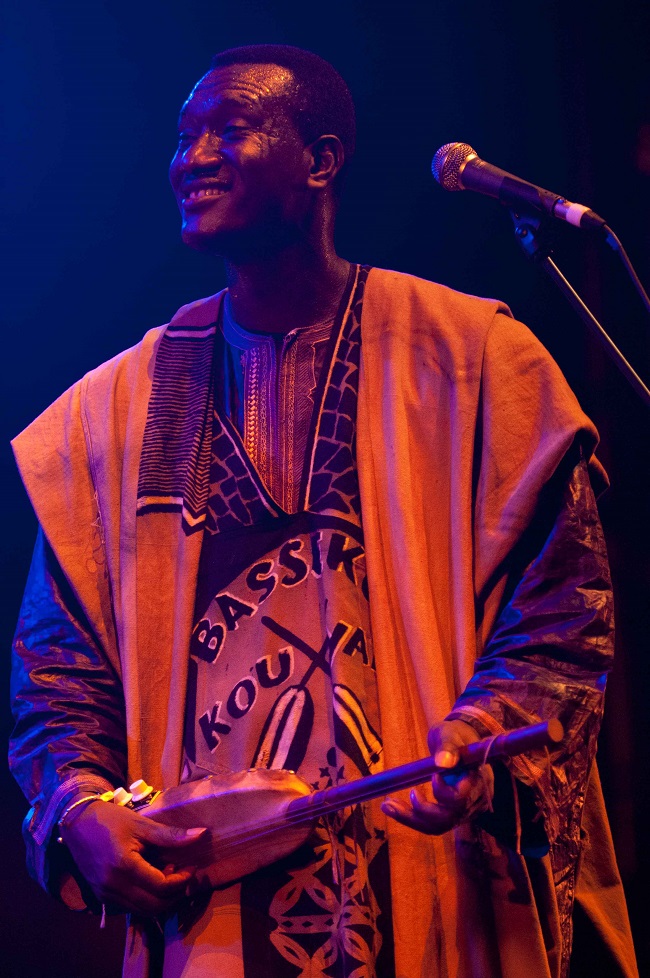 Jordi Savall, the Catalan viola master, packed one of the smaller stages with his trio as they improvised on ancient Celtic melodies. Salif Keita and Bassekou Kouyaté (pictured left) both did Malian music proud - on separate stages - if occasionally falling into rock music cliché: Keita likes his keyboards to, at times, overload to the point of prog rock hell while Kouyaté tries to make his ngoni (an ancestor of the lute) sound like a screaming electric guitar.
Saturday night headliner Goran Bregović & his Weddings & Funerals Orchestra found Bregović, in his white tux, announcing this was his first ever performance in New Zealand. Oddly, he then proceeded to spend most of his 90-minute set playing his pseudo-classical compositions rather than the big Balkan brass party anthems that won him fame. The audience quickly drifted off for more upbeat entertainment. As Goran's attempts at audience sing along met with silence I have the feeling that the Serbian star – notorious for his "borrowings" from Balkan Gypsy stars Esma Redzepova and Saban Bajramović - may not hurry back to Aotearoa.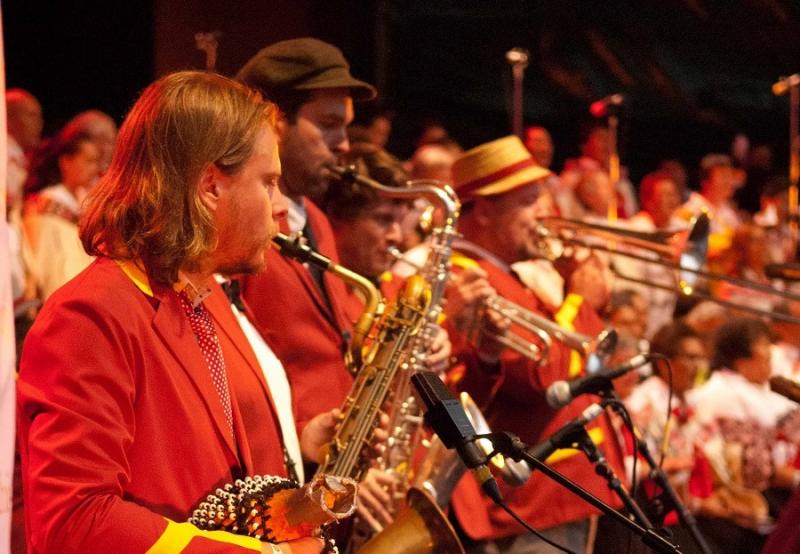 Sunday morning began with heavy rain. New Zealand has been enjoying an endless summer - much to the delight of visitors and horror of farmers (drought!) and it was rather sad that the festival had to finish as WOMUD. I expect this in the UK but hoped NZ would allow me to tan while listening to Antibalas, the Brooklyn-based Afrobeat band who kicked things off with a Fela-flavoured set.
Sunday was the day that particularly interested me as it featured the heaviest local talent roster - i.e. artists you're extremely unlikely to ever see at UK WOMAD. Kicking things off was David Kilgour of The Clean - the 1980s-era Dunedin lo-fi psych rock trio whose devotees includes Pavement, Yo La Tengo and The Fall. Kilgour occasionally reforms The Clean for fun and profit but these days concentrates on performing with his band The Heavy Eights and, during a lull in the rain, they played a loud, inspired set that demonstrated not only Kilgour's gift for a melody but his brilliance at tearing great waves of sound out of his instrument. To make this appearance a Kiwi classic he was joined on stage by Billy TK - the guitarist whose scorching early-1970s work with Human Instinct still finds him referred to as "the Maori Jimi Hendrix" - and Sam Hunt, the nation's favourite bard and a great raconteur. As Hunt shouted the words to a James K Baxter poem Kilgour and TK brewed up a fierce guitar jam: Kiwiana heaven!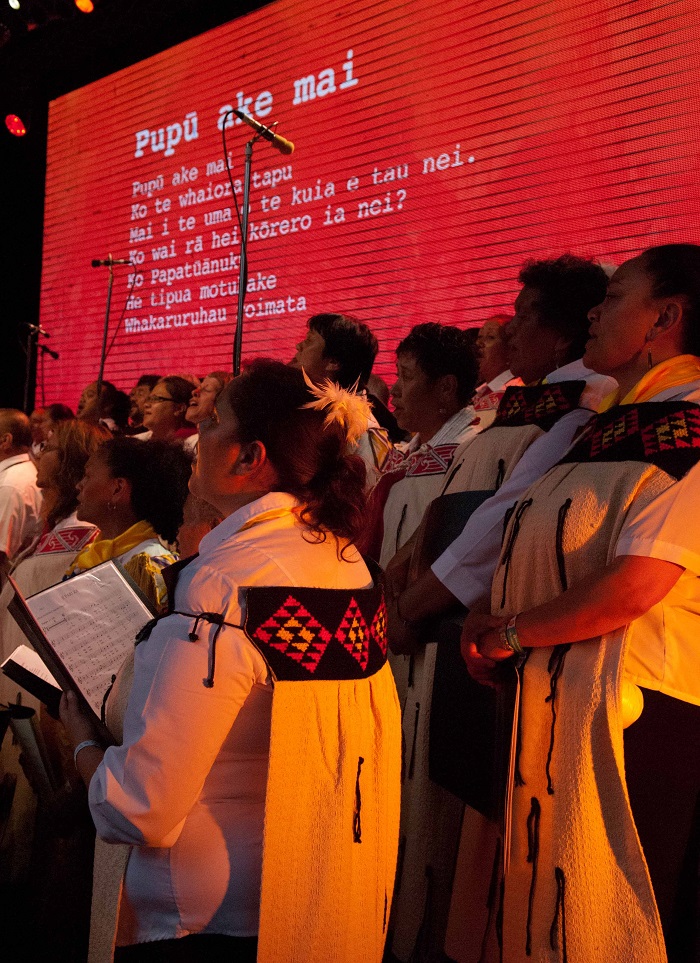 Mihirangi is a rising local star who sings in Maori over loops and imaginative percussion workouts. She blends rap and R&B with Maori chants to create a pop groove that is both impressive if limited by the loops' inability to allow any breathing space. The biggest event of the weekend found 80-strong Aotearoa National Maori Choir (pictured left) taking the main stage. They were joined by contemporary band The Yoots (pictured top) - an offshoot of Fat Freddy's Drop, the hugely popular Kiwi soul-dub band - for a huge singalong of Maori song. The Yoots have recorded an album of ska-flavoured versions of Maori songs and as they played these (wild trombone solos and fat organ colouring the tunes) the National Maori Choir sang with magnificent gusto.
The weather put a damper on getting the crowd singing along with the Choir but this remained a truly magical festival moment. Kiwis love reggae so it was appropriate that Jamaican legend Jimmy Cliff headlined Sunday. Cliff is a consummate professional, hugely energetic and full of good cheer. He set ranged from classics ("The Harder They Come") to pap ("Reggae Nights") with Jimmy drawing the audience in with his warm voice and manner. At one point he sang Johnny Nash's "I Can See Clearly Now" and pointed out that, as the song states, "the rain had gone". This was briefly true but it returned to create the WO-mud experience that I know so well from the UK. Beyond being very damp, WOMAD Taranaki was a near perfect festival experience.
Images of the crowd at WOMAD Taranaki: click to enlarge
This is what WOMAD does best, discover ethnic music from obscure parts of the globe
Explore topics
Share this article