Britten and Poulenc at the Cheltenham Music Festival |

reviews, news & interviews
Britten and Poulenc at the Cheltenham Music Festival
Britten and Poulenc at the Cheltenham Music Festival
Fair shares for another composer anniversary and no dumbing-down for kids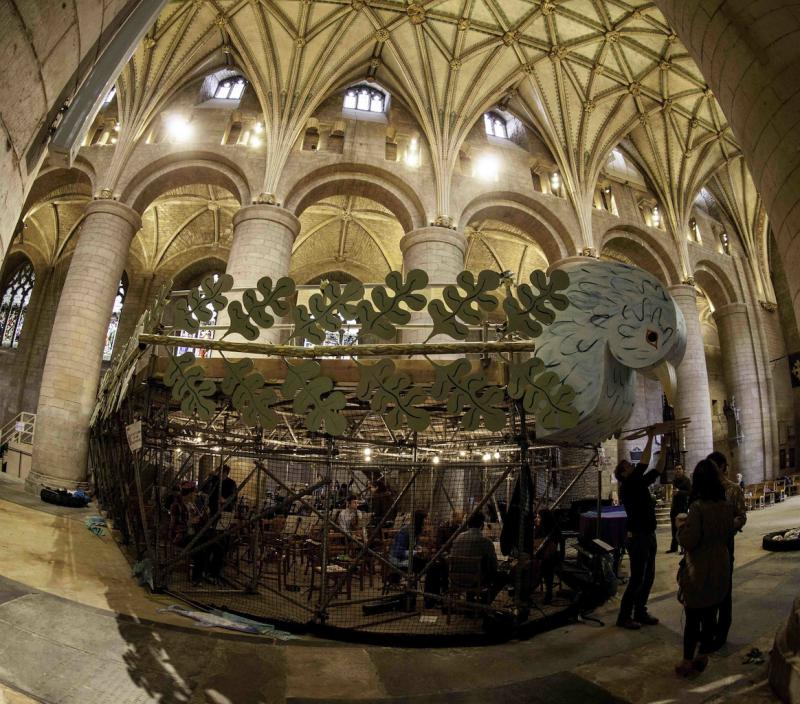 Noye's ark as designed by James Mayhew for Tewkesbury Abbey
"Britten or Poulenc?" The question may seem a fatuous one, geared to the 100th anniversary of the Englishman's birth and 50 years since the Frenchman's death. Yet it certainly livens up what would otherwise be the usual dreary artists' biographies, presented with typical elan in this year's Cheltenham Music Festival programme book. "Has anyone said Poulenc in response to this?" asks pianist James Rhodes. Well, yes - no less than 13 of the performers, including doyenne of both composers Felicity Lott, as against 21 for Britten, with six "I couldn't possibly chooses" in the middle.
Festival Director Meurig Bowen doesn't have to commit, but he has shown much more faith in chameleonic, saintly Francis than, say, the Proms, where you'll only find one Poulenc work on the programme, and a chamber piece at that. In terms of the big events, Cheltenham this year boasts the kind of entirely home-grown spectacular which should be a justification for any music festival near the beginning, Britten's Noye's Fludde in heavenly Tewkesbury Abbey, and another special occasion with no less than five top choirs, Poulenc's spiritual-joyous masterpiece the Gloria, in Gloucester Cathedral towards the end.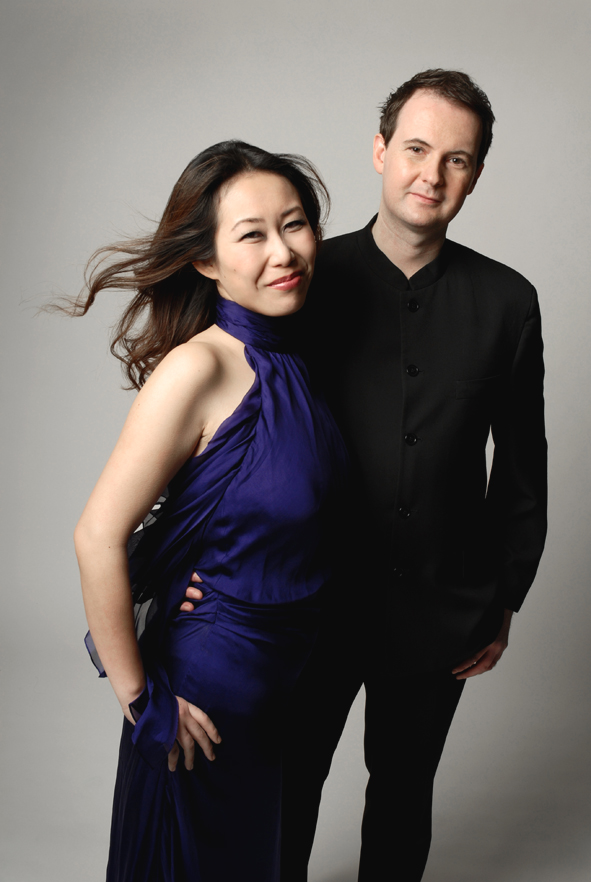 My own three-day slice of Cheltenham began with a summoning of bells in high Poulencian style - the 1950s Sonata for Two Pianos played by Joseph Tong and Waka Hasegawa (pictured right by Miki Araki). This duo must have muscles of steel for the kind of mega-programme they were offering. Theirs was hardly the usual morning aperitif in the fabulous Pittville Pump Room, approached in my case via the most heavenly rus in urbe walk imaginable across the lawns and around the lake of the Pittville Estate from the peaceful Townhouse just within the boundaries of spa-exploiter Joseph Pitt's once-exclusive Elysium. The first half alone also embraced Britten's surprisingly monumental Introduction and Rondo all Burlesca, the obliquely charming miniature childsplay of Dai Fujikura's brand-new Three Miniatures - this has been quite a year for him already - and Grainger's epic ramble through Gershwin's Porgy and Bess, showing an equal master's touch in the playful transcription of "It Ain't Necessarily So".
Tong and Hasegawa are well matched: he excels in the Russian-school thunder, she in the clarion carillons at the top of the register. Their Rite of Spring was well-tempered and always clear-textured, if not cumulatively overwhelming. Balm came with the encore - Poulenc's ravishing but simple Élégie, a piece I fell in love with only a few months ago and little thought I'd hear in live performance so soon. Poulenc's proposed cognac on the piano and a cigar in hand would have to be imagined for health and safety reasons, quipped Tong, but the nostalgic tribute to a lost friend certainly touched the necessary depths.
I caught the first available afternoon bus to Tewkesbury, the longer to admire the Abbey's Norman grandeur, Tudor chantries and 14th-century ceilings. The designer of Noye's Fludde, inspirational children's book author and illustrator turned live-art concert presenter James Mayhew, had taken into account the green men and the animals of the roof bosses. His in-the-round Britten, with a giant ark rising above the floor of the nave's west end, began with some of the 150 children entrusted with animal headdresses, banners and mannequins rushing and squeaking around the queue to enter the Abbey and ended with our exit along the yew avenue to the main street lined by same: enchanting for all.
But if Noye's Fludde embraces children's talents at the highest possible level, it is in some ways as adult and as profound an opera - albeit for liturgical spaces only - as Britten ever wrote, and equal to local memories of 2007 in Tewkesbury, when the Abbey stood as an ark above the floods. The passacaglia of the storm, with the rearing repetitive phrases led by the Carducci Quartet alongside the schools orchestra in the belly of the ark, builds to a blinding climax where we, the congregation, are drawn in to sing a verse of "Eternal Father, Strong to Save".
The handbells which ring out the rainbow of Donald Maxwell's supremely authoritative God brought tears to the eyes, and the final protracted processional, all waving banners, bobbing heads and rushing exultation, was a Wagnerian vision I'll never forget. We may have paid the price of the decision to ignore the Abbey's perilous acoustics and play to east, west and south, but the ending justified everything. This is something the Gloucestershire children, benefitting from the inspirational leadership of Mayhew, stalwart baritone Philip Smith as Noye, conductor Glyn Oxley and director Edward Derbyshire, will remember all their lives.
In one of those typical festival clashes, witnessing the Tewkesbury Fludde meant missing The Lighthouse Keepers, David Sawer's new musical "radio play" for the Birmingham Contemporary Music Group back in Cheltenham's swish newish Parabola Arts Centre. Because five new Gloucestershire songs for children's choir, conducted by Rachel Bowen, had fleshed out the Abbey experience, I only got to hear the last 20 minutes of Words and Music in the BCMG second half, Samuel Beckett's saga of love among ruins elegiacally punctuated by Morton Feldman at his most haunting. It was enough to strike as an extreme contrast with the giant, extrovert pageant I'd just witnessed.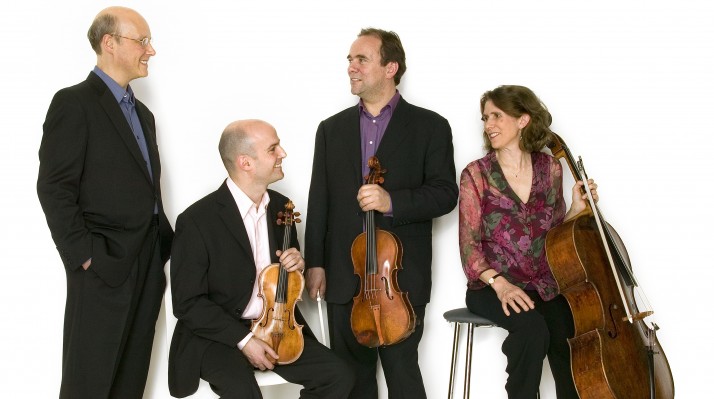 Friday morning, the day summer began, was further irradiated in the Pump Room by the majestic Schubert Ensemble (pictured right), whose perfect roundings-off brought special magic to the coda of the Andante cantabile in Schumann's beautifully proportioned E flat Piano Quartet. New or recent music by the Matthews brothers brought little enlightenment. Colin's Nowhere to Hide for piano trio belied its title - a playful suggestion by John Adams, who might have brought some fun to the combination - with evasions of substance and a strange four-movement structure including a lullaby in memory of Elliott Carter that didn't seem to fit with the rest.
David's Four Portraits began well with a sumptuous homage to both the pianist, William Howard, and his personal touch in Chopin, but slumped into more conventional platitudes. Transcendence had to wait for what has to be the most soul-lifting Piano Quartet in the repertoire, Fauré's C minor masterpiece. The Schuberts kept the sentiment in disciplined check but never stinted on the playfulness.
More uplift came that evening where least expected, in a concert I'd never have gone to had the circumstances not so prevailed: young Swingle Swingers celebrating their many-times-morphed ensemble's 50th birthday in the ballroom of the Town Hall. The presentation might have been purposefully cool, an attempt to counter their reputation as favourites of Alan Partridge, though it verged on the inept: a group in need of an image consultant, perhaps. No matter: the substance was beguilingly harmonised, whether Beyonce or Bach, the girls stratospheric, tenor(ish) Oliver Griffiths an accomplished crooner. Top marks, too, to their sound engineer for giving the miking such depth and magic.
Of its kind, this was top of the range. One couldn't, unfortunately, say the same for soprano Sarah Gabriel's presentation of Poulenc's La Voix Humaine, the three-quarter-hour telephone conversation of a woman at the end of a passionate relationship. Let's just say that Gabriel is a very fine actress, a good case for doing the Cocteau original and not Poulenc's setting. There were still pleasures to be had from hearing those lush harmonies in the fine hands of pianist Christopher Glynn. But the mobile-era update didn't tally with the telephone-exchange confusions of the original and frankly I can't wait to hear the hypnotic orchestral version again as intended.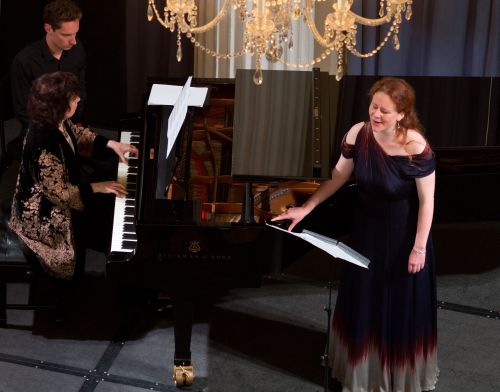 A quality redhead was centre-stage the following morning, the already great mezzo Christianne Stotijn with no less a pianist as her partner than Imogen Cooper (pictured left in the Pittville Pump Room by Phil Stapleton). Given that both, individually, have given two of the most memorable performances of anything I can remember, with Ivan Fischer and the Budapest Festival Orchestra - Stotijn in Mahler's Das Lied von der Erde and Cooper in Beethoven's First Piano Concerto - this was always going to be a highlight. We started with great late Schubert including the long and mesmerising "Winter Evening", not in disharmony with the beautiful morning, and Janet Baker's Britten-sanctioned transposition of his Winter Words song-cycle. Stotijn's English is predictably idiomatic for a Dutchwoman, but the slightly backward placement which gives such depth to her interpretations didn't always project to the middle-back of the Pump Room. And for all the praise which tends to be lavished on Britten's Hardy settings, I couldn't help wishing for less fussiness in the music and more of Poulenc's song-heart.
Which is probably why A Charm of Lullabies, Britten's rainbow of varied cradle-songs, made more of an impact. Cooper, who held us spellbound with the little skips of Schubert's first Impromptu at the start of the second half, wrought wonders with every phrase ending in all of the songs. In Musorgsky's The Nursery, Stotijn foresook glances at the score and inhabited the worlds of child and nurse with all the colours in the voice so available to her and what seemed to me like flawless Russian (more text this time). Tchaikovsky's "My Guardian, my Angel, my Friend" wove a final magic. Let's hope this new partnership flourishes: the comparison with Pears and Britten as pianist doesn't seem too far fetched given the profound musicality of both performers.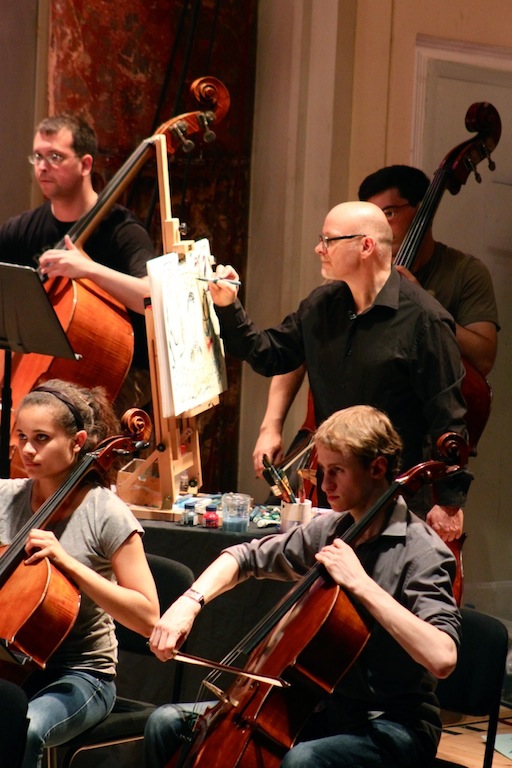 If my dip into Cheltenham's musical stream had begun with Poulenc, it ended with Britten's Young Person's Guide to the Orchestra as you never saw it before. And I mean "see", because this was my first chance to catch Mayhew's revolutionary way of presenting serious music for children. He's not interested in snippety events with Doctor Who themes and Rides of the Valkyries; he wants to bring a whole work alive and prove it's possible for kids to sit rapt for anything up to an hour. And so he narrates, draws and paints the music as it's happening (pictured right by Tobias Benjamin Lever). A giant screen enlarges his easel action. In this case his partners could not have been more apt - Chetham's [School] Symphony Orchestra under conductor Stephen Threlfall, sounding every inch the mature professional ensemble.
The young persons in the Town Hall auditorium did indeed sit rapt as Mayhew conjured a jungle scene for the woodwind, a singing whale for Britten's melancholy cellos, brassy knights on horseback and a dino-scape for the percussion. With an intelligent reprise for the whole thing eventually crowned by the fugue, Mayhew also had time to re-people a new sheet with Britten himself, recognisable in three strokes of the pen, at the centre. There was a raffle for the pictures, a book-signing and then we had a long chat about this new method of musical appreciation for children, a subject close to both our hearts, before I dashed for the train back to London.
The final protracted processional, all waving banners, bobbing heads and rushing exultation, was a Wagnerian vision I'll never forget
rating
Share this article
Subscribe to theartsdesk.com
Thank you for continuing to read our work on theartsdesk.com. For unlimited access to every article in its entirety, including our archive of more than 10,000 pieces, we're asking for £3.95 per month or £30 per year. We feel it's a very good deal, and hope you do too.
To take an annual subscription now simply click here.
And if you're looking for that extra gift for a friend or family member, why not treat them to a theartsdesk.com gift subscription?