Imagine Rod Stewart: Can't Stop Me Now, BBC One |

reviews, news & interviews
Imagine... Rod Stewart: Can't Stop Me Now, BBC One
Imagine... Rod Stewart: Can't Stop Me Now, BBC One
Singer's 50-year journey from British blues boom to disco, spandex and the Great American Songbook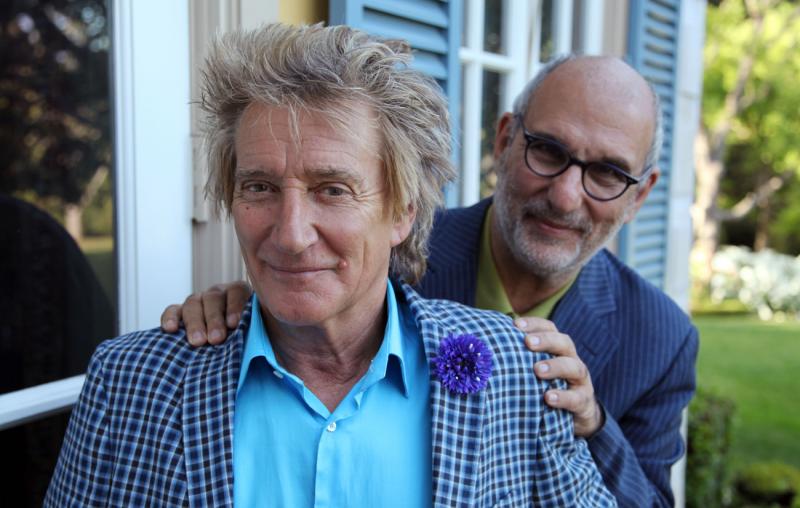 When Roderick met Alan: the long-running superstar invites the cameras into his LA home
Rod Stewart isn't cool and he doesn't care. He made a complete pillock of himself with the likes of "Hot Legs" and "Do Ya Think I'm Sexy?", but they were some of his biggest-ever hits. He plunged gleefully into the WAGS-and-riches fantasyland of Los Angeles, became a living cartoon of pop star excess, and loved it. "I enjoyed myself hugely, every hour of every day," he told Alan Yentob in this entertaining Imagine... profile.
Nonetheless, the success of his recent album Time, and matching live shows, represent a resounding comeback for Stewart. They've restored a chunk of the credibility that went gurgling down the plughole of plane-crash sartorial choices and a chronic attack of tin-earism that afflicted him, especially during the Eighties. "Shall we gloss over them?" Rod asked Yentob cheerfully, regarding the latter years.
What critics often find irksome is that, while Stewart was written off time and again in the music papers with blood-drenched savagery, he has kept finding ways to keep himself in the lifestyle to which he has become addicted (this includes such accoutrements as a fleet of Ferraris and Porsches, a giant model railway at his Los Angeles home and a life-sized football pitch in the grounds of his Essex mansion).
Even after his node-on-the-thyroid scare in 2000, which threatened to end his singing career for good - "I had plans - I was going to be a landscape gardener," he chortled - he bounced back with his series of Great American Songbook albums, singing Gershwin and Cole Porter in the queasy cooing whine that his voice had then become. As his new-ish manager Arnold Stiefel pointed out, seemingly having been lightly coated with a patina of self-satisfaction, these albums have sold 23 million copies. Rod had already sold 100 million before he started recording them (Rod with Ron Wood, pictured above).
Happily this film wasn't only about Hollywood Rod, but traced his trajectory back to his childhood in Highgate, where his parents owned a newsagents. Remarkably, somebody had made an apparently very thorough film about the teenage Stewart when he was only months into his singing career, in which he came out with such priceless soundbites as: "If it lasts a year and a half I'll be happy." It has been tempting to regard his ostentatious enthusiasm for football as a populist gimmick, a last slender link to the dear old days before he made that Atlantic crossing. However, here he was in evocative black and white, skittering around a football pitch in tiny crotch-squeezing shorts and displaying a pair of Bambi-esque legs bizarrely reminiscent of those that would be found underpinning the parade of blondes destined to feature so prominently throughout his life.
Probably Stewart couldn't have got away with it all if his career hadn't been built on the unshakeable foundations of the Sixties blues and rock'n'roll boom. He gave due credit to early mentor Long John Baldry, and his stint in the Jeff Beck Group (pictured left), alongside his trusty ally Ronnie Wood, put him in the eye of the late-Sixties blues-rock hurricane that created Led Zeppelin. His years with Wood in the Faces created the legend of boozy, jokey, man-of-the-people Rod, and their hilarious double act interview was one of the best bits of the film (along with the part where Yentob dared to ask him if he'd shagged Susan George). Banned from Holiday Inns across America following copious on-the-road lunacy, the Faces used to check in as Fleetwood Mac, who weren't yet famous.
It was implied that Stewart's departure for the States, leaving the Faces treading water in his wake, had provoked anger and bitterness, so it was nice to see the Rod'n'Ron show still intact after all these years (even if Rod rather dodgily tried to claim it was Ron who'd broken up the band by accepting a job offer from "Old Mother Jagger"). The climactic gathering of Stewart's children and his older brothers Bob and Don over-egged the "ties-that-bind" angle a bit, but the sense of a long and fitfully epic story coming full circle was nicely realised.