Much Ado About Nothing |

reviews, news & interviews
Much Ado About Nothing
Much Ado About Nothing
Josh Whedon takes on - wait for it - Shakespeare in celluloid oddity
Amorous gavotte: Alexis Denisof and Amy Acker as Benedick and Beatrice
Ever wondered what Buffy the Vampire Slayer and Angel creator, not to mention superhero movie A-lister Josh Whedon, does during his down time? Well, apparently he gets his pals together to have a go at the Bard. And by way of proof, along comes Whedon's film adaptation of Much Ado About Nothing, which plays like nothing so much as a home movie in Elizabethan tongue.
The result is sure to take Shakespeare's most eternally transfixing comedy to parts of the American (indeed, global) heartland where it may have never played before, even I have to confess to being more bemused by the experience than fully beguiled by it.
That said, one has to bow before Whedon for proceeding along this path at all and taking with him a company - many of them part of his ad hoc acting ensemble - who couple seasoned classical thesps (Alexis Denisof, who plays Benedick, was in the RSC/Mark Rylance Hamlet of many years back) with complete first-timers (Jillian Morgese, Hero, began her career as a competitive gymnast). The unimpeachable message of the enterprise is that Shakespeare belongs both to us all and to our time and that the terrain covered by this play - sex, betrayal, repentance, the need (as Benedick so woundingly puts it) to "mend" - just happens to be wedded to language that really can be demystified if presented in a setting as immediate as the director's own home, where the film was shot in 12 days.
This is the play Shakespeare wrote, notwithstanding a few tweaked pronouns
The obvious comparison, I suppose, is with the sun-drenched, rather self-consciously lusty Kenneth Branagh/Emma Thompson Much Ado from 20 years ago in which our own modern-day Olivier shared the Shakespearean landscape with Denzel Washington and Keanu Reeves. But whereas that film offered up a determinedly eclectic casting net as it played out Beatrice and Benedick's burgeoning passions against a milk-fed advert for continental travel - brush up your Shakespeare, and get a tan in the bargain, too! - Whedon's black-and-white approach is entirely of a piece. The integrity, too, of The Avengers director cannot be questioned. This is the play Shakespeare wrote, notwithstanding a few tweaked pronouns. (And for what it's worth, the troubling "were she an Ethiope" remark in this context only goes to confirm the bigotry of the small-minded Claudio.)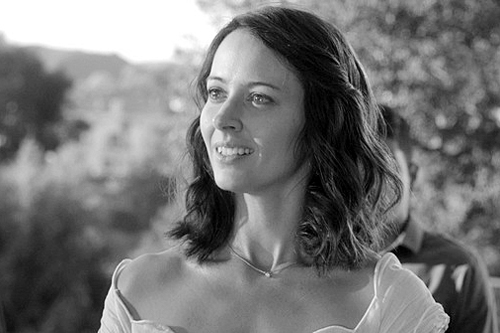 I just wish I were more enthralled by these actors rather than simply admiring of them. Amy Acker, who plays Beatrice (pictured right) and Denisof give themselves over fully to an amorous gavotte which makes explicit that Beatrice and Benedick have been round the block with one another before. He gives off the faintly disconcerting air of an incipient Pierce Brosnan, while she speaks nimbly - and does a mean pratfall - without approaching the rapture inherent in the role as communicated by actresses as diverse as Eve Best and Tamsin Greig. (Or, in American stagings, the heavenly Blythe Danner.)
In some ways, this Much Ado feels like a Woody Allen collective venture spoken (often) in iambics - or like a lesser experiment in the style of Louis Malle's sublime Vanya on 42nd Street - and it's bound to have a prolonged life on the educational circuit, where students may thrill to the fate of the dastardly Don John (Sean Maher) being revealed via mobile phone. Meanwhile, one wonders what other comparable surprises are yet to come. I'm awaiting such time as we discover that the prolific American TV writer-producer David E. Kelley has long been in thrall to - hmmm - shall we say Ibsen?
Watch the trailer for Much Ado About Nothing