The Resurrection of Conor McPherson |

reviews, news & interviews
The Resurrection of Conor McPherson
The Resurrection of Conor McPherson
As The Weir returns to the West End, the ghost of booze no longer haunts the Irish playwright's work
Thursday, 23 January 2014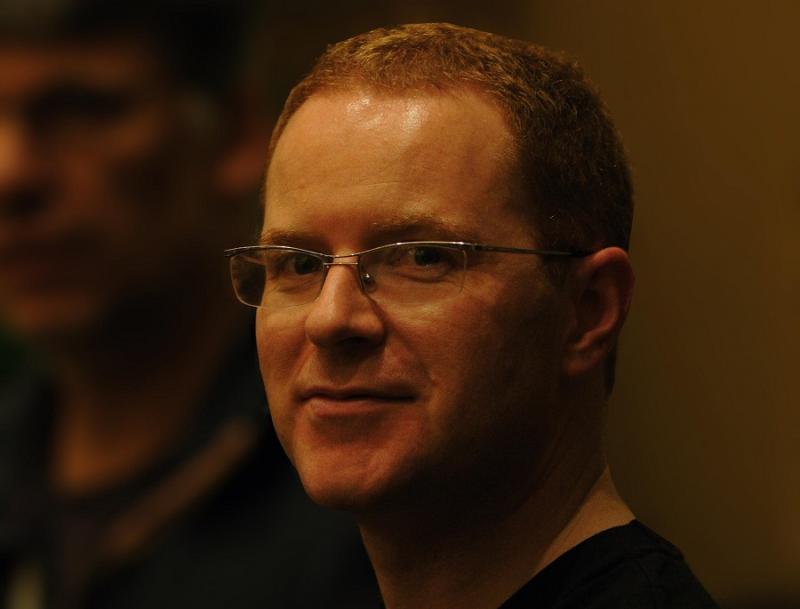 'I'm sick of being downbeat': Conor McPherson
The transfer this week to the West End of The Weir has reminded theatre-goers of Conor McPherson's hypnotic powers as a dramatist. In the Donmar's revival of the play you can palpably feel the playwright's storytelling magic casting its spell all over again as, on a windy evening in a rural Irish pub, character after character unburdens himself - and finally herself - of a supernatural tale.
In a way, The Weir - written when he was only 26 - is itself a ghost haunting the playwright's entire career. It was first performed by the Royal Court in 1997, and was soon being staged all over the world. I first interviewed McPherson in 1999, when the play was still spooking West End audiences, and it seemed to have spooked him too, but in a different way: he was keeping his distance from it. When I met him again in 2004 he had only just seen it again for the first time in six years. "I could see what it was doing to the audience and it was amazing," he told me at the time, "I thought bits of it were crap. I thought there were some good ideas. Obviously you would love it always to be something else. But of course what's it gonna be? If I knew that I'd keep going with it. With everything you just get to a point where you abandon it, that's what happens."
His own estimation is that The Weir owes its popularity to "the old thing about ghost stories. Like that phrase in films, high concept, where you can sell it easily in two sentences, it's sort of like a high-concept play." (Pictured: Dervla Kirwan in The Weir, photograph by Helen Warner) A preoccupation with the occult runs through much of his work. In St Nicholas, a monologue premiered in the same year as The Weir, a theatre critic falls in with a community of vampires, while Shining City (2004) had audiences jumping out of their seats in a final, marrow-chilling coup de théâtre as a dead character suddenly materialises behind a closing door. The Seafarer (2006) took its cue from the popular Irish story of an 18th-century Hellfire Club composed of wassailers who find that one of their number is the devil. His film The Eclipse (2009) found the spectre of a father-in-law haunting a widower while, back onstage, The Veil (2011) gave a starring role to a haunted house in 19th-century Ireland (pictured below, Emily Taaffe and Jim Norton).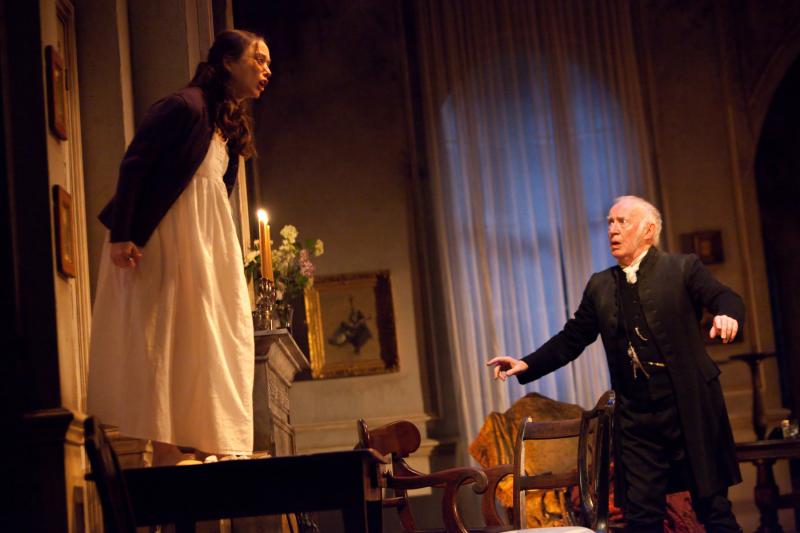 "The most powerful stories for me are supernatural ones," McPherson explained when I interviewed him for a third time. "There's always a strong political vein to the very successful plays in London. I don't know if it's my work or Irish work but rather than the horizontal of 'Here we are on earth and how do we deal with each other?' my plays tend to be vertical: 'Where do I come from and what the fuck is going to happen?' Maybe it's because there's more people [in the UK]. Life here is about dealing with other people. Ireland being at the westernmost edge of Europe, part of our mythic thing is that there's a beyond that we know nothing about. The verticality of The Weir was way deeper than even I would have known."
As audiences are being freshly reminded, The Weir derives its ultimate power from the revelation that a grief-stricken female visitor from the city is haunted by her dead daughter. But there is an even more personal ghost wandering through the pages of McPherson's writing, and that became more explicit and specifically agonising with his next play Dublin Carol (1999). When the Court reopened after a three-year refurbishment in 1999, it was Dublin Carol which welcomed it back. Anyone expecting something as charming as The Weir - with a sense of community at its heart - will have recoiled from a play more marinaded in guilt than seemed healthy for any writer in his twenties.
At the time I remember wanting to ask McPherson whether, after an appropriate period of research, he would ever think of writing a play about temperance. Thus far his plays had danced to the ludic rhythms of dipsomania. In his debut Rum and Vodka (1992) the tipples even get eponymous billing. In This Lime Tree Bower (1995) a sozzled young philosophy lecturer emits a projectile stream of orange bile. And of course booze - pints, short ones, brandy and an improbable bottle of white wine - oils the wheels of The Weir. With Dublin Carol McPherson went deeper into the heart of alcoholic darkness than ever. At one point the lead character, John (played by McPherson regular Brian Cox), an aging undertaker whose drinking has estranged him from his wife and two children, talks us through the shocking peaks and troughs of a relentless three-day binge. (Pictured, Gary Lydon in Trafalgar Studios 2011 revival of Dublin Carol.)
All the wit and bluster has drained away from the dialogue, leaving only bruised introspection and emotional dyslexia. In McPherson's phrase, John "has taken himself out of the narrative". "I couldn't watch that play," the playwright said seven years later. "I meet people who say, 'That's my favourite play of yours.' To identify with that play means you're really really out there in terms of unfinished business in your life."
It didn't take much reading between the lines to see the play as a cry for help. McPherson's work was saying something that he was unable to state outright – that the plays were absolutely pickled in alcohol because so was the playwright. His first work to go direct to the West End was Port Authority (2001). It should have been the crowning moment of a brilliant young career. But that night he fell ill and was admitted to intensive care. Pancreatitis brought him within a whisker of death – of taking himself out of the narrative altogether. Despite all those career highs, if death had been offered to him, he told me in 2004 that he might have embraced it. "I really didn't feel like I deserved another chance. I didn't really want one either. I just didn't fucken want to be here any more. I just felt like a piece of shit, you know. I was the worst."
So how did McPherson get there, and how has he get back?

Born in 1971, Conor McPherson grew up on a council estate in Dublin, the middle child of three in a close working-class family. He was an awkward teenager but a brilliant pupil. At University College, Dublin he won a double first in moral philosophy (his thesis was called "Logical Reasoning and Practical Constraints: On Attempted Refutations of Utilitarianism"). He started to teach but also, inspired by the rat-a-tat naturalism of David Mamet, to write and direct his own plays. His chosen form was the monologue, the ideal vehicle for parading both a charismatic brogue and a sense of isolation. He was invited by the Bush Theatre in London to be writer-in-residence in 1996, while the Court commissioned The Weir (Donmar revival cast pictured above).
It was "around the time of The Weir" that the social drinking celebrated in the play turned antisocial. "That was when I really realised, hold on a minute, I don't seem to be able to function without this stuff." Though he wrote only when sober, "I was drunk every fucken day. I'd happily drink on my own. Didn't bother me. I was just looking to stop all the fucken self-judgement. It's like you wake up in the morning and a voice goes, 'Oh here he is. Here he fucken comes. Here's the fucken arsehole.' You get into the shower you think, 'Look at this fucken idiot.' I mean that's who you are. It's frightening. The only thing that will stop it is drink."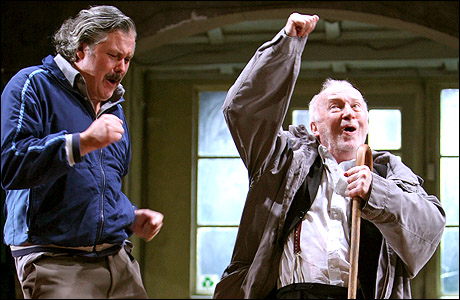 A long stint in hospital restored him to health. Sworn off alcohol and about four stone lighter, McPherson began exorcising demons - among them a failed first marriage. In Shining City, through the story of a woman's death in a car crash, he seemed to be bidding a haunted farewell to the misery and regret wrought by booze in his own life. The play was virtually free of alcohol, though not of the things that in the past caused his characters to binge-drink: loneliness, regret, pain, self-contempt. "I can't really write anything and stand over it unless I've lived it," he told me. There was an overt, even confessional parallel between the playwright and one of the characters. A therapist, an ex-priest in the throes of abandoning his girlfriend and their baby, tries to impose shape on the lives of others but cannot do the same for himself.
It is a mystery why Shining City did not have the commercial impact in either London or New York of The Weir. The Seafarer fared better in that regard – another McPherson regular Jim Norton (pictured above with Conleth Hill) won a Tony for his performance on Broadway. Set, like Dublin Carol, over Christmas, it featured in two brothers a kind of divided self of the playwright: one is blind and a drinker, the other in the early throes of sobriety. The play heralded a great stylistic sea-change too: out went the monologues, the safe haven of the shy storyteller; very few speeches in the play are longer than a line. "There's always a certain mood with a monologue, which is downbeat," McPherson said. "I'm sick of being downbeat."
McPherson's new relationship with the Donmar Warehouse follows on from those productive spells writing at the Bush, the Court and, most recently, the National Theatre. After The Weir, which features another towering performance from his old comrade Brian Cox (pictured), the Donmar gave a world premiere to McPherson's next play. The Night Alive reunited the playwright/director with Norton and Ciarán Hinds and has enjoyed a successful transfer to New York.
There will be those, particularly in Ireland, who wonder why McPherson's plays are not being launched at the Abbey or the Gate, the twin peaks of Dublin theatre. McPherson once explained to me that his compatriots are inclined to grade work with such a strong Irish accent exclusively in terms of what it says about Ireland. "That happens in Ireland. That doesn't happen here. An article lumped me, The Corrs and Riverdance together as people peddling notions of Irishness to try to make money from tourists. Even if I could do that I wouldn't. But I can't do that. The work I do is very fucken difficult work. It's way more than a job. I would do it for no money and if I wasn't getting what I get out of it I wouldn't do it."
The Weir is at Wyndham's Theatre until 19 April
The verticality of The Weir was way deeper than even I would have known
Share this article