Der Rosenkavalier, Royal Opera |

reviews, news & interviews
Der Rosenkavalier, Royal Opera
Der Rosenkavalier, Royal Opera
Uneven Covent Garden revival of Strauss's comic masterpiece
Sophie Koch as rose-bearer Octavian: not the prime mover in Covent Garden's unbalanced revival
Seeking the snows of yesteryear, I remember a time when John Schlesinger's Covent Garden Rosenkavalier filled every moment of Hugo von Hofmannsthal's rococo libretto and Richard Strauss's jewel-studded score with life and meaning. 25 years on, its creator is no more, a revival director (Andrew Sinclair) fails to pull a dramatically variable cast together and many startling new productions have shown more readiness to engage with the opera's Viennese time machine - that's to say, any era between the 1740s and the present day - and with greater panache.
A strictly period setting can still be managed (David McVicar worked humane wonders with a stylised 18th century for Scottish Opera, Opera North and ENO). Schlesinger has bequeathed a wealth of Hogarthian detail, and the late Maria Bjørnson's startling costumes hint at the hyper-real (as well as the aspirations of nouveau-riche Faninal, within William Dudley's pointedly over-the-top Vienna townhouse). It's just that despite the mostly fiery pace of Kirill Petrenko's conducting, stage energy needs to fill swathes of the action and several experienced singers turn in unfocused characterisations.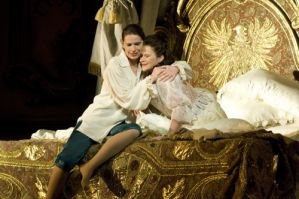 This ought to be an opera thrusting home the cruelty of passing time, woman's powerlessness in the face of man the hunter, and above all what an affair with a teenager means to a grand lady coming to terms with the ageing process. But as neither of these two characters, the thirtysomething Marschallin and the 17-year old Octavian, was convincingly inhabited by Soile Isokoski and Sophie Koch (pictured together right in Act 1), the work could well have reverted to the title Strauss and Hofmannsthal originally intended for it, Ochs auf Lerchenau, stressing the city shenanigans of an aristocratic chancer from the Upper Austrian countryside. It could also have taken its name from an old French romantic novel, The Misfortunes of Sophie, for it was unique in my experience to end up caring more about young Sophie von Faninal than for the older woman.
This was down to an extraordinarily active and deeply felt performance from Lucy Crowe. Her awestruck reception of the silver rose before she has even had a chance to fall in love with its bearer floated effortlessly in the ether, bringing tears to the eyes as the rather stolidly presented predicament of Isokoski's Marschallin at the end of the previous act had not. In the famous trio, it was Crowe's voice which rode the horn-laden waves of orchestral sound, at least from where I was sitting (Royal Opera acoustics can be capricious).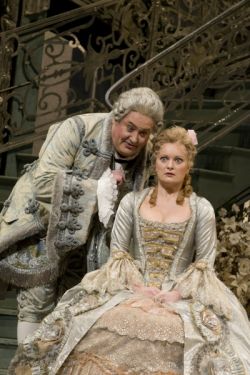 In terms of filling in any of the revival's potential blank spaces, Crowe was equalled by Peter Rose (pictured with her, left) as the lord of misrule who comes to claim her for her family fortunes, Baron Ochs. Rose has now sung this enormous role all over the world, accepted even in notoriously hard-to-please Vienna as the real comic article. Not only is his discreet dialect spot on, as an Austrian assured me; he actually sings the part, as many older basses do not, rather beautifully, with the occasional aristocratic aplomb. He has learnt to fill the characterisation with a thousand gestures, and his shtick in the famous waltzing letter scene is just on the right side of robust - though the low money note at the end eluded him, just as Crowe faltered in the test of her perilous final ascent. Notewise, both singers were otherwise flawless.
You couldn't really fault Koch's music-making either. The French mezzo has the flaming top for the impetuous youngster - written as a soprano role - though the rest can sometimes be too trumpet-like for silky comfort. Dramatically, though, she expressed little if anything of this second Cherubino's insecurity or deeper tenderness, and her masquerade as the Marschallin's chamber maid - girl plays boy plays girl - was unfunny; it often is, but it needn't be.
Isokoski provided the most disconcerting blank of the evening. Civic sophistication had clearly not left its mark on the Feldmarschall's once-inexperienced wife. Projecting the text with rather adenoidal emphasis in the lower register, not quite matched to a luminous if sometimes fluttery top, she just about got away with the humour of the opening scenes but missed all the emotional targets in the soliloquy and later the monologues of passing time. That the end of this great scene was moving at all could only be ascribed to the chamber-musical sensitivity of Petrenko's orchestra. As the final dilemma of compromise and disappointment took over from the Viennese farce of the third act, we felt sorrier for the dashing of Ochs's dreams as sombrely suggested by Rose, and then happier for the success of Crowe's Sophie. The Marschallin's less than gracious and hardly emotionally charged exit raised no frisson by comparison.
Among Hofmannsthal's gallery of supporting grotesques, Faninal hardly came across as a father with dangerously high blood pressure in Thomas Allen's surprisingly muted portrayal. Yet while Wookyung Kim made an unItalian tenor, the Latin intriguers were well etched with the experience of Graham Clark and Leah Marian Jones. The truly small parts were taken by a mixture of sleek young singers and unruly oldtimers (the Marschallin's footmen, disorderly as so often). Ultimately, nothing on stage knitted as well as it did down in the orchestra. This was a fine night for Petrenko, Crowe and Rose. Unfortunately, since the public's sympathy must move with the rose-bearer of the title and ultimately with his reflective older mistress, that wasn't enough.
OVERLEAF: MORE RICHARD STRAUSS ON THEARTSDESK


Subscribe to theartsdesk.com
Thank you for continuing to read our work on theartsdesk.com. For unlimited access to every article in its entirety, including our archive of more than 10,000 pieces, we're asking for £3.95 per month or £30 per year. We feel it's a very good deal, and hope you do too.
To take an annual subscription now simply click here.
And if you're looking for that extra gift for a friend or family member, why not treat them to a theartsdesk.com gift subscription?