Borgen, Series 2, BBC Four |

reviews, news & interviews
Borgen, Series 2, BBC Four
Borgen, Series 2, BBC Four
How can Danish coalition politics still be as addictive as crack?
'If only there were a real politician whose smile you could believe in half as much as Sidse Babett Knudsen's'
Is it possible to have a surfeit of Danish coalition politics? Anyone who recently ingested 10 hours of The Killing III may well be asking themselves as they sit down to a second serving of Borgen. Borgen is, in essence, The Killing without the killing: intense multi-party wrangles with a side order of family dysfunction. To think we've waited a year.
The odd thing has changed. As played by Sidse Babett Knudsen, Birgitte Nyborg (statsminister to you; Birgitte to the politely baying pack at press conferences) used to complain that she couldn't fit into her smart new two-piece, but looks a bit pinched 10 months into her marital separation. Meanwhile Katrine Fønsmark (Birgitte Hjort Sørensen) has taken her high ideals from television to the scurrilous tabloid Ekspres, and gone and got herself a fringe.
The line between the personal and political is frequently but plausibly blurred
Other than that, it's as you were. The Danish public broadcaster DR continues to rotate a small but perfectly formed pool of character actors. Not that it gets any less of a jolt to see them migrating between roles. Mayer, Sarah Lund's sidekick in TKI (Søren Malling) remains political editor for TV1. Strange, her sidekick in TKII (Mikael Birkkjær, who also - SPOILER ALERT - turned out to be the killer) is here pressing the statsminister to sign their divorce papers. In addition these first two episodes found the father of Nana Birk Larsen turning up as the defence minister, and the statsminister of TKIII become the grieving father of a soldier shot in Afghanistan. Meanwhile two of Birgitte's political enemies – the opposition leader Hesselboe and tabloid editor Laugesen – both had cameos in TKIII. Set your clock for more double takes as Borgen embarks on its third series on Danish television this month.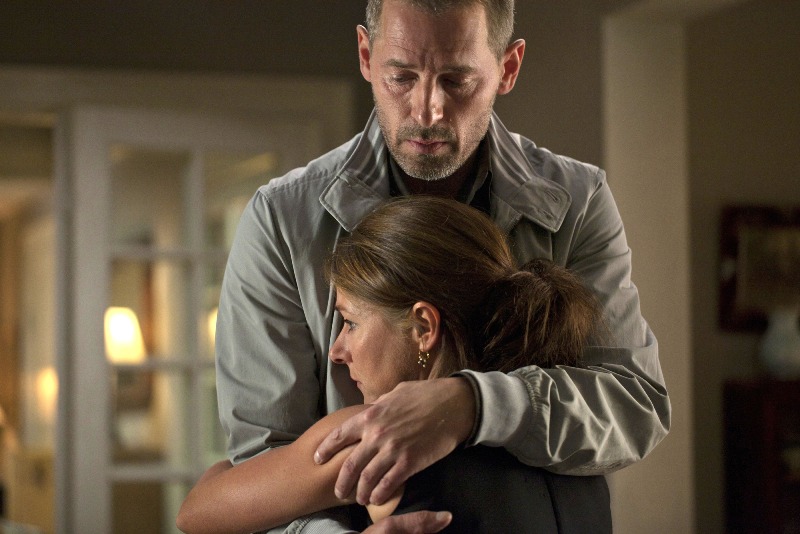 There are plot overlaps too beyond the parties' endless struggles for position. This first episode followed TKII to Afghanistan, where Danish troops are part of NATO's nation-building alliance. The question was whether Denmark should pull its soldiers out or give them the tools to do the job. As ever with Borgen, the story hinged on Birgitte's steely pragmatism and indissoluble humanity. This rare alloy also came to her aid when besting a young Machiavelli in the ranks of her own Moderate Party in episode two. It's immensely to the credit of series creator Adam Price and co-writers Jeppe Gjervig Gram and Tobias Lindholm that they can keep pulling off this trick. But then they get a great leg-up from the lovely magnetism of Babett Knudsen. If only there were a real politician whose smile you could believe in half as much. When she confessed to the estranged Philip that she didn't want to be divorced from him, only a heart of reinforced concrete would not have broken a little with her (pictured above right, Sigde Babett Knudsen with Mikael Birkkjær).
The freakish success of DR's export drive has been endlessly debated in newspapers, pubs and chatrooms. I'd argue that Borgen, more than The Killing or The Bridge (which is of course half Swedish), is essence of Danish drama. Here is a humanising chronicle about women – a politician and a journalist – operating as equals in a man's world. Being Danish and undemonstrative, they tend not to use their sexuality or raise their voices. Denmark's other great trump card is that, being reasonably small, everyone seems to know everyone else, so the line between the personal and political is frequently but plausibly blurred. Thus you can sort of believe in the professionally inappropriate friendship between Katrine and the statsminister's chief spindoctor Kasper Juul (Pilou Asbæk, pictured below with Birgitte Hjort Sørensen), even if he's now sleepwalking through a relationship with a replacement blonde.
And then there's the issue of ignorance. We've had our own coalition comedy with the final series of The Thick of It, which despite its satirical savagery felt all too close to the bone. It's not the same with Borgen. To quote Chamberlain, Denmark (though practically next door) is a far off country of which we know little: its infighting is not our business, making it much easier to invest in its fantasy politics (where decency triumphs, if at some personal cost) as reality. Indeed, Borgen is quite prepared to play on Danish status anxiety. The second episode told of the frantic sqabbles preceding the appointment of Denmark's next EU commissioner. And I can here attest that it was gripping. In short, is it possible to have a surfeit of Danish coalition politics? Put an X in the box marked "Nej, not by a long chalk".