Film: The Best of 2012 |

reviews, news & interviews
Film: The Best of 2012
Film: The Best of 2012
With 2012 done and dusted we toast a fine year in film
Joaquin Phoenix drinks heavily (and deservedly) to the triumph that is 'The Master'
With poorly heads and nostalgic hearts it's time to look back over the year that's passed. And what a year in film it was! For those who like their movies monolithic or miniscule, epic or slender, noisily spectacular or quietly mesmeric, pea-brained or near-impenetrably intellectual - 2012 delivered. In fact it was the year in which there was a 5-star film for everyone.
Perhaps most strikingly, 2012 saw a major return to form for American cinema. US directors fledgling and seasoned gave us films as dynamic and different as The Master, Argo, Martha Marcy May Marlene (pictured below right), Beasts of the Southern Wild and Moonrise Kingdom. With Django Unchained, Zero Dark Thirty and Lincoln to come in January what an Oscar ceremony it's shaping up to be! North of the border, seasoned Canadian director David Cronenberg moved from the visceral to the cerebral with Cosmopolis and his young countrywoman Sarah Polley built on the promise of Away From Her with the lush and heartbreaking Take This Waltz.
If The Hobbit: An Unexpected Journey failed to meet our high hopes, 2012 was still very much the year of the quality blockbuster: Skyfall broke box office records as it attracted almost across-the-board critical praise; The Dark Knight Rises was a thrilling end to Christopher Nolan's Batman trilogy; Ridley Scott's Prometheus may have had its plot problems but it was an ambitious, often scintillating science-fiction spectacle; The Hunger Games gave us a heroine we could really root for; and, Avengers Assemble and The Amazing Spider-Man delivered sharp humour and winning romance respectively.
Following an astonishing 2011, British cinema continues to thrive creatively: Steve McQueen's Shame and Peter Strickland's Berberian Sound Studio were truly transgressive and up there with our best films of the year; Sightseers saw Ben Wheatley rapidly follow Kill List with a killer comedy; Ginger & Rosa was Sally Potter's achingly beautiful coming of age tale; and what about Shadow Dancer (pictured below left) - an exceptionally atmospheric, perfectly played IRA thriller from Man on Wire's James Marsh, featuring the luminous Andrea Riseborough.
Elsewhere we were treated to the Dardennes' reliably brilliant The Kid with a Bike, the Palme d'Or winning, ten-hankie-triumph Amour from the Austrian director Michael Haneke and the exuberant, uncategorisable oddity Holy Motors. Jacques Audiard's Rust and Bone was a fine follow-up to A Prophet. Finnish director Aki Kaurismäki helmed the wonderfully offbeat comedy Le Havre. Italian auteur Paulo Sorrentino surprised everyone by casting Sean Penn as a Robert Smith-like rocker in comedy This Must Be the Place. And Thomas Vinterberg (Festen) stormed back onto the scene with The Hunt, featuring a never-better Mads Mikkelson as a teacher accused of child abuse.
The original and haunting Once Upon a Time in Anatolia (Nuri Bilge Ceylan) and Tabu (Miguel Gomes, film pictured below right) left indelible impressions. The Turin Horse was another formidable effort from Béla Tarr and Ágnes Hranitzky. This is Not a Film stood apart due to the ingenuity and courage of its Iranian writer-director Jafar Panahi, who filmed it whilst under house arrest. The preposterously exciting martial arts actioner The Raid might have been set in Jakarta but it was directed by Welshman Gareth Evans. Australian director Andrew Dominik stayed put in America for the poetically violent, politically allegorical Killing Them Softly.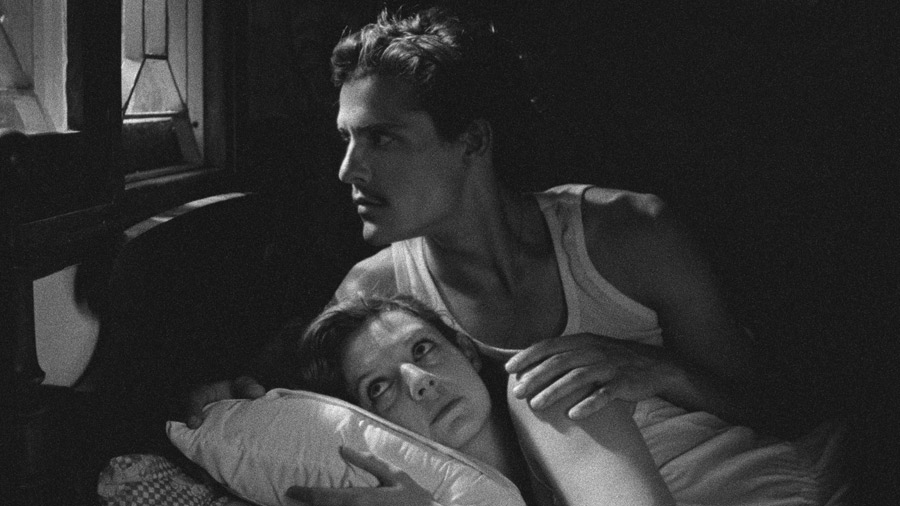 Genre gems included mould-melting sci-fi thriller Looper and the thrillingly inventive horror The Cabin in the Woods, while The Woman in Black became the UK's most successful ever horror film. Stand-out comedies were the gloriously bitchy Young Adult, featuring a performance of magnificent malice from Charlize Theron, and the heartwarming, mental illness rom-com Silver Linings Playbook. Lena Dunham's Tiny Furniture gave us a taste of the self-deprecating wit we'd later lap up in her hit HBO series Girls. And Matthew McConaughey is a shoo-in for comeback of the year (after a string of ignominious rom-coms) with his psychotically sexual performances in the blackly comic Killer Joe (pictured below left) and the enjoyably outrageous stripper flick Magic Mike.
Documentaries presented us with some unforgettable real-life characters. The Imposter told the gripping, barely believable story of French confidence trickster Frédéric Bourdin who assumed the identity of an American teenager. Bill Cunningham New York was the completely charming portrait of a fashion photographer and New York institution. Into the Abyss was Werner Herzog's passionate paean against the death penalty. The Queen of Versailles introduced us to the weird world of billionaires David and Jackie Siegel.
At the other end of the quality spectrum, exuberant jukebox musical Rock of Ages and sci-fi comedy The Watch jarred with many. Laughless comedy The Decoy Bride made us question whether David Tennant has big-screen potential. Seeking a Friend for the End of the World started strongly and then nose-dived into insufferable schmaltz. Keira Knightley struck out again with a chin-heavy performance – a misjudged bid for award glory perhaps - in the otherwise okay A Dangerous Method. The interminable John Carter and Battleship were an inauspicious beginning to leading man Taylor Kitsch's film career. And Tom Cruise managed to squeeze in a truly delusional turn as Jack Reacher at the year's close.
Luckily, such disappointments felt like they were in the minority in a bumper year. 2013, you've got a lot to live up to.
Debut of the Year: Martha Marcy May Marlene / Beasts of the Southern Wild

Most Original Film: Berberian Sound Studio / Holy Motors
Best Comedy: Sightseers
Best Blockbuster: The Dark Knight Rises
Best Horror: The Cabin in the Woods
Best Thriller: Argo
Best Science Fiction: Looper
Best Action: The Raid
Best Crime: Once Upon a Time in Anatolia
Best Romance: Amour
Best Director: Paul Thomas Anderson (The Master) / Michael Haneke (Amour)
Actor of the Year: Michael Fassbender (Shame, Prometheus)
Actress of the Year: Marion Cotillard (Rust and Bone)
Favourite Comeback: Matthew McConaughey (Killer Joe / Magic Mike)