Galina Vishnevskaya on Britten and his War Requiem |

reviews, news & interviews
Galina Vishnevskaya on Britten and his War Requiem
Galina Vishnevskaya on Britten and his War Requiem
Redoubtable Russian soprano who died earlier this week reflecting in 1988 on the creation of a masterpiece
Vishnevskaya in 1963, the year she recorded and gave her first public performance of the War Requiem
One of Russia's greatest and most inspirational sopranos, Galina Vishnevskaya died on 11 December at the age of 86. To the world at large, she will probably be most famous for taking an heroic stand alongside her husband, cellist and conductor Mstislav Rostropovich, against the Soviet authorities over the treatment of Alexander Solzhenitsyn; in 1974, the couple were stripped of their citizenship as a result.
Inside the Soviet Union up to that point she had long been the Bolshoi Opera's prima donna assoluta, and though she went on to record some roles past her prime, there are peerless documents of her earlier Tatyana in Tchaikovsky's Eugene Onegin, Natasha in Prokofiev's War and Peace and Katerina Izmailova in the revised version of Shostakovich's Lady Macbeth of Mtsensk. Peerless in Russian song, she is unsurpassed in her interpretations of Musorgsky.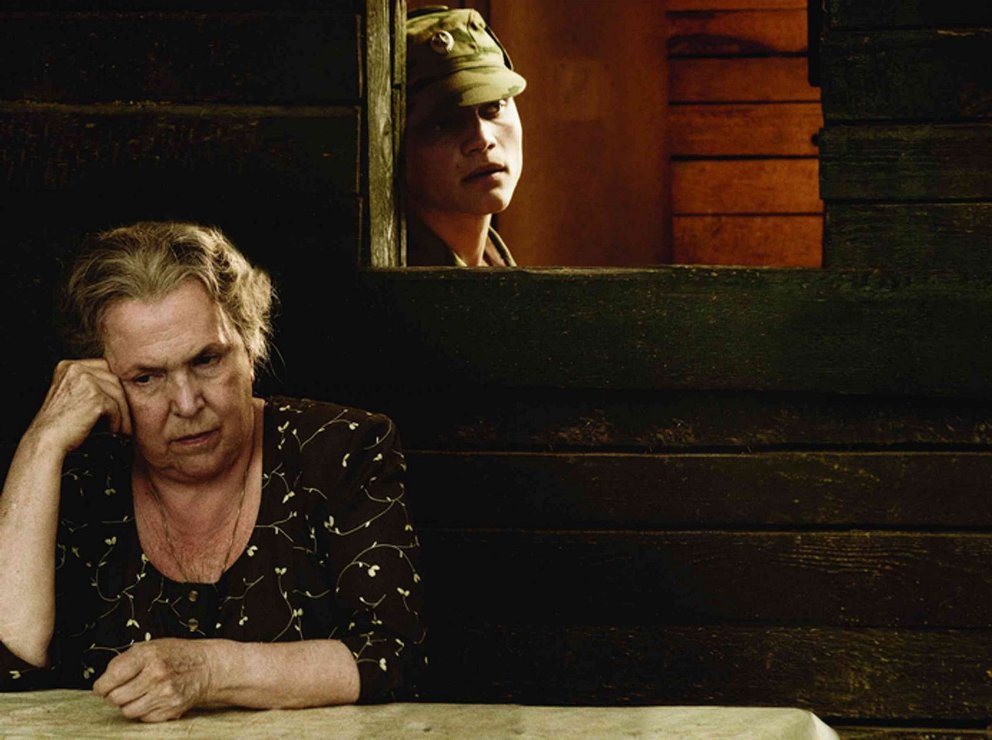 More recently Vishnevskaya made an uncompromising film debut as a straight actress playing Catherine the Great and later, even more remarkably, the bewildered grandmother searching for her grandson during a Chechen-like war in Sokurov's Alexandra (pictured right). Sokurov also made a film about the soprano and her husband. But perhaps her most extraordinary association with another great creative artist came in the early 1960s when Benjamin Britten came to know her voice and wrote for her the soprano role in his masterly War Requiem. I interviewed Vishnevskaya in 1988, at a time when the classic Decca recording was due to accompany Derek Jarman's film of the same name, released the following year. Some of the details are reflected in her hair-raising autobiography Galina: A Russian Story; others would seem to be exclusive to our interview.
CREATIVE genius and the inspiration gleaned from close personal friends were always inseparable in Britten's case. Who can say what turn his operatic style, not to mention his choice of subject-matter, would have taken without the unique personal and vocal qualities – to Britten, they came to the same thing – of Peter Pears, or whether the repertoire for cello, harp and guitar would have been enriched by him at all had it not been for the respective personalities of Mstislav Rostropovich, Osian Ellis and Julian Bream? And the extraordinary richness of the War Requiem, not least the masterstroke of setting the Wilfred Owen poems for tenor, baritone and chamber orchestra against the broader canvas of the Latin mass for the dead entrusted to soprano, chorus and full orchestra, springs almost entirely from Britten's admiration for three remarkable artists: Pears, Dietrich Fischer-Dieskau and Galina Vishnevskaya.
Exactly what prompted Britten to compose War Requiem in the form we know it remains obscure, although he seems to have had a plea for peace in mind from the start in writing for an English tenor and a German baritone. The idea of a soprano part – and a Latin text – came later. In 1961, Vishnevskaya gave an extraordinary recital at Britten's Aldeburgh Festival (the composer had already heard Rostropovich, her husband, playing the Shostakovich Cello Concerto No. 1. the previous September and had already composed a Cello Sonata for him). She recalls the circumstances: "In those days Soviet artists rarely travelled abroad, and I wanted in this one recital to show what I was capable of. In the first half I sang arias from Norma, La forza del destino and Aida; in the second, songs by Tchaikovsky, Richard Strauss and Prokofiev. And finally Musorgsky's Songs and Dances of Death. That was a kind of pudding, really!"
Britten, naturally, attended the concert. "He thought I must be mad to sing all those arias and the Musorgsky as well! But he said he was greatly impressed, especially by the Bellini. He told me he was at that moment starting work on War Requiem and he asked me if I could sing in English. I told him I couldn't – Italian and Russian were the only languages I knew. 'Very well', he said, 'that means you can sing in Latin'". Then he set about it, sending the soprano parts to Vishnevskaya in Moscow as he completed them.
The soprano's role quite obviously has a different feel about it to the rest of the music in War Requiem – an operatic flavour which would be inappropriate for the more private sentiments of the Owen settings. Vishnevskaya feels certain that the programme of her recital had some effect on Britten's music. Intoning the declamatory phrases of the Liber scriptus, she adds: "There's a similar kind of style to that in the last of the Songs and Dances of Death, 'The Field Marshall' [where Death is the grim commander in question and Musorgsky conjured his terrifying presence with a bold, wide-leaping vocal line akin in certain ways to Britten's] ".
Hear Vishnevskaya perform "The Field Marshall" in Shostakovich's orchestration. The passage referred to is at 3'06
"And I think the Benedictus must have been influenced in some way by his hearing the Verdi and Bellini arias – the nature of the music is very Italianate. Yes, the style is certainly operatic: not at all like his own operatic writing for soprano, but far more in the manner of grand opera". One can only imagine what might have resulted had Britten found a suitable libretto for an operatic scheme proposed specifically with Vishnevskaya in mind for the title role – Tolstoy's Anna Karenina.
Thwarted by the Soviet authorities, an episode she describes so colourfully in her autobiography, Vishnevskaya was unable to go to Coventry for the world premiere of War Requiem in May 1962; her part was taken by another memorable interpreter of the soprano part in later years, Heather Harper. Vishnevskaya finally took up her rightful mantle at the Royal Albert Hall the following January, and has sung it many times since; the last occasion was in April 1987, with Rostropovich conducting four performances in New York. Did any special performances remain in her memory? "Well, War Requiem has never in my experience failed to move an audience. For my own part, there were performances I sang in where I was more under the tremendous impact of the work than on other occasions. But what I always remember most was every performance in which Peter Pears sang. I can still hear every note, every intonation of his: the way he sang the final phrase of the Agnus Dei, "Dona nobis pacem" [a phrase embracing all twelve notes of the chromatic scale, ending in a calm major key] was quite unforgettable. I tell you, I'm a singer and I know how singers produce certain effects, but I still don't know what it was in the way he sang that. It was absolutely incredible. He always got it right in performance, often much better than in rehearsals, when it's very often the other way round. He was a great singer and a great human being."
Pears, Fischer-Dieskau and Vishnevskaya came together for the classic Decca recording of the work conducted by the composer [my own choice for the most essential disc[s] in 100 years of recording some years later in the BBC Music Magazine]. Producer John Culshaw recalled in his autobiography how Vishnevskaya threw a hissy fit on the first day of recording, not having understood the English texts and as a result why she was placed at a distance from the male soloists, only to return the next day a "completely different person". What strikes one most about such a venture is how the sense of occasion – a Culshaw speciality – shines through. That must be difficult to maintain in the studio. "Yes. But the takes were long and somehow the intensity was always there. I still love that recording very dearly. Of course I realize that in the following years other singers were able to bring out different details and to make fresh approaches to it; there can be no 'definitive' recording. Today, perhaps, people are more open and brave about performing the work. When Slava [Rostropovich] conducted it in America there were enormous choirs of about 300 and the performances took place in large auditoriums – the scale was tremendous and the sound extraordinary".
I remarked that Rostropovich's unsparing account of War Requiem in London back in 1987 was far removed from Britten's own interpretation, not that there was any need to prefer one view to another. "Of course it was different because Slava is a different personality – he saw the work from his own viewpoint". It's often been claimed that Britten the conductor was in some way afraid of bringing out the violence in his creations. "I admit there was a certain reticence in his performances – but that stems from his character and his modesty. If he had been alive today, I'm sure that he would have brought every aspect of his work – including the violence – out into the open."
The friendship between the Rostropoviches and Britten and Pears flourished in the years following the composition of War Requiem, and lasted up to the composer's death in 1976. The two Englishmen visited the Russians several times, most memorably perhaps in 1965 when they stayed together in Armenia. Britten wrote a second work this time entirely for Vishnevskaya, the Pushkin settings of the song-cycle The Poet's Echo. She remembers him with tenderness: "He was a very deep person, on the surface perhaps typically English, quiet and apparently reserved. So it was all the more extraordinary that we felt an immediate rapport with one another when we met. I'm also quite reserved, unlikely as that may seem. So it surprised me that I could instantly feel this spontaneous liking".
Every performance leaves you with a feeling that no human being should take up arms against another human being ever againShostakovich was another close friend. Vishnevskaya recalls his reaction on first hearing War Requiem. "When the recording was released, I took copies of it back to the Soviet Union. I gave one of them to Shostakovich, and he played the records over and over again, several times in one day, never taking them off the turntable. And he said that it was not one of the greatest contemporary works, but the greatest." [This statement is confirmed by recently released correspondence in which Shostakovich places War Requiem alongside Mahler's Das Lied von der Erde as the most profound music he knows.] Does she feel it influenced Shostakovich's own work? "Yes, undoubtedly. But how, specifically, I couldn't say. He only spoke about his general impression of the work to me; I rarely heard him make professional judgments as a composer. I think this was because I was a woman and a singer!"
.As for War Requiem's acceptance in the Soviet Union, that took a few years; it was first heard in Moscow in May 1966. "The Soviet authorities talked a great deal about peace then. But they were against performing War Requiem because they felt it would demoralize the spirit of the Russian people so that they wouldn't want to fight any more. That was the reason. In a way, War Requiem has the same kind of impact and eloquence as Beethoven's Ninth Symphony had in its time. Because the finale of the Ninth calls upon people to unite; and in a very different way, Britten does the same. It's hardly surprising that the Soviet authorities were apprehensive about it – every performance leaves you with a feeling that no human being should take up arms against another human being ever again."
A 1964 concert of Tchaikovsky songs (no subtitles, alas), with husband Rostropovich at the piano
I'm quite reserved, like Britten, so it surprised me that we could instantly feel this spontaneous liking
Share this article