War Requiem, Philharmonia Orchestra, Maazel, Royal Festival Hall |

reviews, news & interviews
War Requiem, Philharmonia Orchestra, Maazel, Royal Festival Hall
War Requiem, Philharmonia Orchestra, Maazel, Royal Festival Hall
An accomplished performance of Britten's choral classic fails to generate urgency
The pity of war: britten's Requiem has lost none of its pathos 50 years on
In this, the work's 50th anniversary year, there will be a lot of War Requiems. Benjamin Britten's howl of Pacifist conviction has lost little of its poignancy since its composition – a period marked by the almost continuous military presence of British forces abroad.
With action in Afghanistan coming to a close and political stirrings animating the Falklands issue once again, this plaintive reminder of "truth untold", of the "pity of war" still speaks loudly and directly. In the workmanlike hands of Maazel and the Philharmonia Chorus, heavenly trumpets blare and military glory is neatly debunked, but there's also a lack – a lack that never quite supplements efficiency into emotional urgency.
It's hard to imagine a more enticing line-up than this assembled by the Philharmonia Orchestra – Mark Padmore's ringing English clarity balanced by the Germanic richness of Matthias Goerne (national affiliations that lent an additional shiver of pathos to the final duet), under Lorin Maazel's secure leadership. The Philharmonia Chorus too, with the additional of their young professional Philharmonia Voices, are arguably the best large-scale chorus in London at the moment, a skill celebrated by Britten's demanding score.
Only the Hosanna – an epic shout of glory from full choir and orchestra – achieved anything like emotional release
The opening Requiem Aeternam/Kyrie saw the whole work in microcosm. It closed with a radiant, impossibly well-tuned major chord from the choir – that glance heavenward Britten permits us, even in the darkest moments of the work. The muttered, fractured little cries of the opening however were far too secure (not to mention loud) to offer us the doubt, the desperation, that Britten also encodes into his music. At no point amid Britten's inexorable chromatic build-up were we uncertain of our redemption; the anguished choices and uncertainties of war were never ours to fathom.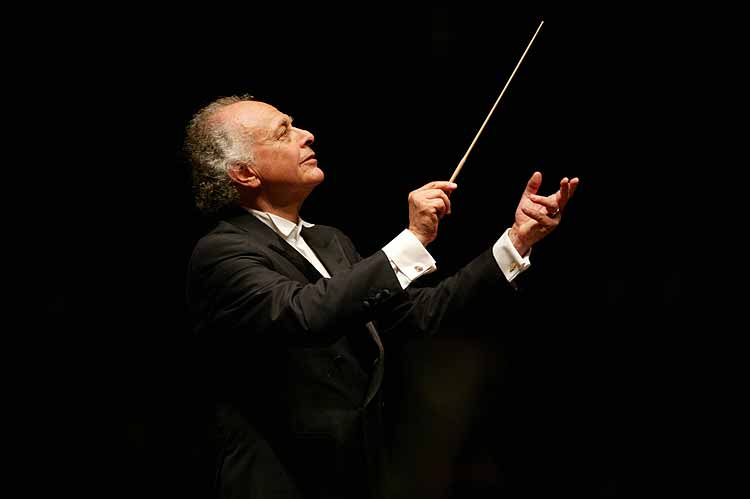 Last October's performance by the LSO and Noseda took its audience to a place of deep discomfort, courting technical danger in order to shock the War Requiem out of its pipe-and-slippers choral-society classic status and into new life. It worked; throughout last night's concert it was their brutality and blazing musical risk-taking that haunted my ears.
Part of the issue may have been Maazel's (pictured above) speeds – mighty and precise rather than the more lithe affairs offered by Noseda. This controlled approach gave the Philharmonia Chorus ample opportunity to demonstrate their tonal flexibility and virtuosity, and passages such as the sudden transition from the Dies Irae to the long lines of the Lachryosa, the dynamic articulation of the Offertorium with its machine-gun consonants, were impressively handled. Yet only the Hosanna – an epic shout of glory from full choir and orchestra – achieved anything like emotional release.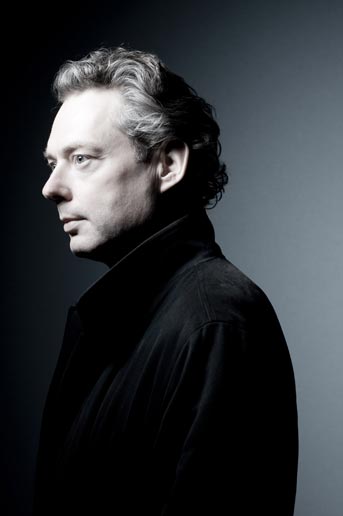 Soprano soloist Nancy Gustafson (unaccountably placed right at the back of the choir gallery) suffered in the textural balance, but both Goerne and Padmore (pictured left) made their mark. Padmore's top register on good form is unassailable, and matched by his diction made a devastating impact in "It seemed that out of battle" and the closing "Dona nobis pacem". Goerne's slightly more covered delivery muddied some of his text, but his tone was so alive with colour and shading, and his "After the blast" so infinitely gentle, that any issues of expression were dissolved. The Tiffin Boys' Choir (placed up in the royal box) offered accurate contributions, but like Aiden Oliver's chamber orchestra lacked a little specificity of character and intent in their delivery.
For all its moments of beauty, its hugely accomplished choral performance, this War Requiem felt like an anniversary performance – a lovingly accurate homage to a great work rather than something fresh, urgent and direct. I'd willingly have traded some of the finer details of articulation, some of the effortlessness of the soloists for something rather more raw. This was a War Requiem without any strife, an absence that misunderstands both the work itself and its place in British social history.
Padmore's top register on good form is unassailable, and matched by his diction made a devastating impact
Share this article