Black Top #5, Café Oto
Black Top #5, Café Oto
An evening of surpassing invention and ambition at the London Jazz Festival from the remarkable five-piece
Tuesday, 13 November 2012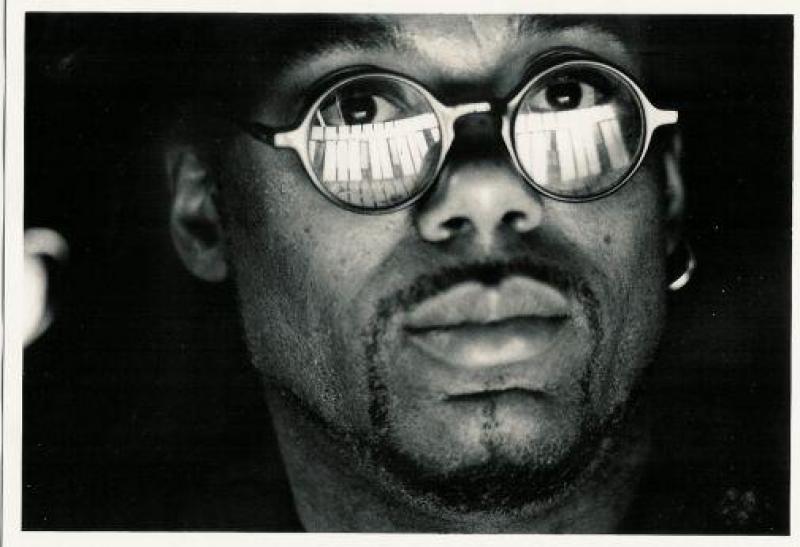 Charting completely new sonic territory: Black Top #5
For the way it combined mercurial, on-the-fly interplay, seismic textural shifts and listening of the highest order, this gig was remarkable. In the space of two continuous sets there wasn't a longueur to be found, such was the incredible union of Black Top #5's boundary-pushing improv and fine-tuned musicianship.
Saxophonist Steve Williamson, trumpeter Byron Wallen and vocalist Cleveland Watkiss joined Black Top founders, pianist Pat Thomas and vibist/sampler Orphy Robinson, to explore the intersection of live instruments and the technology of dub, reggae and dance floor.
You would search in vain for a pigeon hole in which to place Black Top #5
Boldly plotting lines that embraced jazz past, present and future, from the very opening collage of live instruments, pre-recorded elements and programmed beats, the music was airborne and never in danger of touching the ground. The experience of hearing the kaleidoscopic textural shifts could be likened to viewing an ever-changing tapestry, as set one took us on a journey that embraced fractured grooves, looped vocals, snatches of dub reggae and slowly glissandoing synth sweeps.
It was amazing to hear how Watkiss picked up on some of the resulting patterns that slowly emerged from within the ensemble and then used them as thematic material. In a reciprocal gesture, the instrumentalists would then refashion Watkiss's refrains to their own artistic purpose. Coinciding with the singer's startling, brass-like incantations, a climactic unison riff swept everything before it.
Adding yet another layer to this already rich compound, at various points Watkiss recited excerpts from both The Angel Horn, the collected poems of the jazz musician and poet Ellsworth McGranahan "Shake" Keane (1927-1997), an erstwhile member of alto saxist Joe Harriott's band, and from a book of Jamaican proverbs.
Also featuring the stellar talents of vibist Corey Mwamba, the second set opened with sustained, bell-like tones coupled with Williamson's potent multiphonics, creating an almost oceanic feeling which was just about the closest the group came to referencing Miles Davis (circa In A Silent Way). As ever, we were soon thrust into completely new sonic territory as Watkiss unfurled some classic drum and bass beatboxing.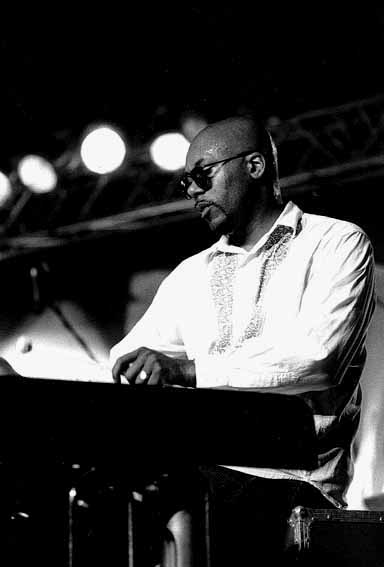 The sub-bass riff that Orphy Robinson (pictured right) then let loose from his sampling keyboard was of such an intensity that you felt it throughout your entire body. Add in Mwamba's moto perpetuo runs on vibes, some forceful euphonium from Byron Wallen and a full-bodied organ sample that threatened to loosen a few slates off the roof, and you had a vast, thick wall of sound that you could almost step inside of. The piano solo from Pat Thomas that followed was equally remarkable: a thunderously hammered out, descending ostinato in the left hand accompanied by incredible feats of prestidigitation in the right hand as the pianist released mighty torrents of notes. The sextet then brought it home with a final section that seemed to crystalise the evening's music-making, with yet more searing improv from all hands over heavy-duty club beats.
As the saxophonist and composer Wayne Shorter once famously remarked in a 1992 interview with Mel Martin, "The word 'jazz' means to me no category". You would similarly search in vain for a pigeon hole in which to place Black Top #5. An evening of surpassing invention and ambition, there might be a more creative, more engaging and more inspiring gig at this year's London Jazz Festival. But I somehow doubt it.
Boldly plotting lines that embraced jazz past, present and future
rating
Share this article