Downton Abbey, Series 3 Finale, ITV1 |

reviews, news & interviews
Downton Abbey, Series 3 Finale, ITV1
Downton Abbey, Series 3 Finale, ITV1
Julian Fellowes lays plans for Downton's future as third series concludes
Carson (Jim Carter, left) and the Earl of Grantham (Hugh Bonneville) prepare to get padded up
Julian Fellowes has often seemed to treat Downton Abbey as a speed-writing contest, with momentous events and the tide of history whirling past like roof tiles in a typhoon.
Happily, as series three has developed, the pace has evened out a bit, though Shirley MacLaine's Mrs Levinson barely lasted as long as the disfigured pretender to the Downton inheritance in series two, while the storyline in which Downton was financially ruined and then promptly saved by Matthew's convenient inheritance was straight from the Peter Pan book of screenwriting.
It remains addictively watchable, and this season-closer returned to some longer-running strands while teeing up new directions for the Christmas special and series four. Lady Edith, recovered from being jilted by the insufferably wet Strallan, is striking out as a newspaper columnist and becoming embroiled with her editor, Michael Gregson (Charles Edwards). Awkwardly, he's already married to a madwoman. Tom Branson (Allen Leech) is learning to cope with the knowledge that his wife Lady Sybil left him for the new Captain America movie, and has teamed up with Matthew Crawley to modernise the Downton estate. This is prompting much grumpiness from the Earl (Hugh Bonneville), who has been unusually curmudgeonly of late and had to be prevented by Matthew from investing in the original Ponzi scheme.
In particular, Fellowes had devoted buckets of screen time to Thomas (Rob James-Collier), who has been serving as the Earl's valet during Mr Bates's incarceration (the Bates story having, if nothing else, demonstrated that Fellowes is capable of dragging out a theme to the point of catatonic exhaustion when the mood takes him).
Obviously Fellowes has decided that Thomas is in Downton for the long run, so he can get away with anything. Having been goaded by the poisonous O'Brien (Siobhan Finneran, pictured above with James-Collier) to enter the bedroom of the sleeping Jimmy (Ed Speleers) to find out if he was as gay as Thomas hoped (he wasn't), Thomas found himself hauled before the sonorous Mr Carson (Jim Carter, the very bulwark of Downton Abbey). The butler, regarding Thomas like something the cat had left half-chewed on the carpet, informed him that "you have been twisted by nature into something foul."
Even so, Carson would have been content to accept Thomas's resignation and send him off with a glowing reference, but the sinister O'Brien feverishly fermented discontent below stairs, with a view to having Thomas carted off by the constabulary. "I won't turn a blind eye to sin," Jimmy insisted.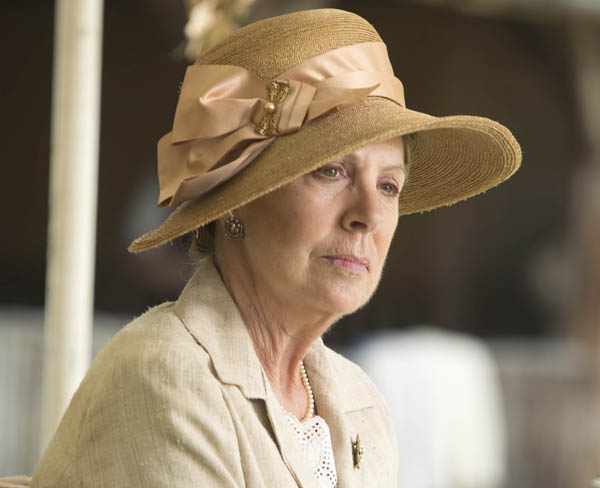 However, O'Brien had reckoned without Downton's 21st Century liberal tendency, which extends from Mrs Hughes the housekeeper (Phyllis Logan) up to the Earl and his wife, all of whom had no qualms whatsoever about Thomas's behaviour (the Earl even had a world-weary aside about boys trying to kiss him at Eton). Even Bates, Thomas's former arch enemy, sprang nobly to his rescue. This largesse extended to the luckless Ethel (Amy Nuttall), saved from prostitution by Penelope Wilton's magnificently robust Mrs Crawley (pictured above), and now supplied with a better, brighter future with crafty assistance from Maggie Smith's Dowager.
As a grand metaphor for the earth being put back more or less on its axis, Fellowes brought us the annual cricket match between the House and the village. Thomas found the ultimate redemption by scoring 100 (in about four seconds of screen time), while Tom Branson took a splendid catch off Mr Carson's bowling to dismiss Dr Clarkson. His spirit soothed by the healing properties of the Summer Game, the Earl was even able to view the modernisation of the estate with equanimity. "Let's give it a go and see what the future brings," he murmured. O my Hornby and my Barlow long ago!
Soothed by the healing properties of the Summer Game, the Earl was able to view the modernisation of the estate with equanimity
Explore topics
Share this article