Loserville the Musical |

reviews, news & interviews
Loserville the Musical
Loserville the Musical
The set's the thing in a (largely) original musical that could use more originality
Thursday, 18 October 2012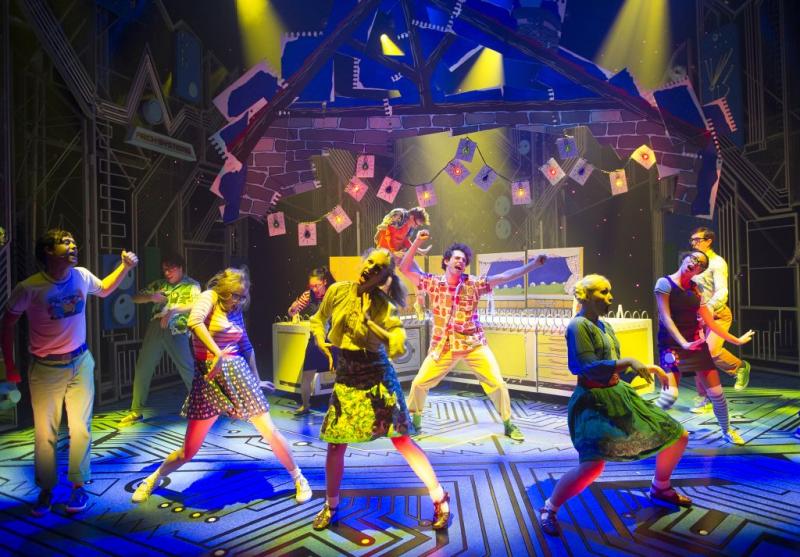 Geek chic: the cast of `Loserville' rock out in 1970s America
If all of Loserville were as arresting and witty as its design, the West End would finally have what it hasn't offered playgoers in years: a buoyant British musical not reliant on a celebrated back catalogue or penned by Andrew Lloyd Webber and his various writing partners over time.
As it is, the Elliot Davis/James Bourne collaboration, first seen over the summer at the West Yorkshire Playhouse in Leeds, is cute and bouncy but also slightly dim; a tad of originality wouldn't go amiss in a show so busy referencing multiple sources that it sacrifices its own identity along the way.
The pitch, I suppose, might be The Social Network meets Glee (or High School Musical), if one can imagine an alliance that bizarre. In an unspecified corner of America ca. 1971, two adolescent cyber-geeks are trying to get computers to connect only to find that the price for their pioneering instincts is ostracism from the jock/babe contingent that rules the school. The musical theater has always depended on misfits - Wicked, anyone? - and Loserville limns many a sung paean to those who don't fit in. "They will never let me be who I want to be," laments Holly (Eliza Hope Bennett, pictured above with Aaron Sidwell), the distaff brainiac who is readily identifiable as nerdy and smart because she wears glasses. It's that kind of show.
The musical's inspiration of sorts is the 2005 album Welcome to Loserville, dating back to singer-songwriter Bourne's post-Busted days fronting the pop-punk band, Son of Dork: the album has fed the musical a handful of songs, the first-act finale included, as well as an idea here greatly expanded to fold both Star Trek and Star Wars into its capacious pop culture embrace (Princess Leia, if you please, prompts the evening's single funniest line.)
But punchy though the music often is, not least as orchestrated by 2012 Tony-winner Martin Lowe so as to value rhythm and a thumping bass line over melody, a deflating sense of the overfamiliar takes hold almost from the start. Scarcely has an energetic ensemble launched into the aerobic-like gyrations that define Nick Winston's dances before it's clear that the characters exist as (often exaggerated) types, not individuals. One soon yearns for someone to be defined by - gasp! - several personality traits at once, an idea that runs counter to the bubble-gum, grin-heavy theatrics that are the material's stock in trade.
Among those who dominate are the tellingly named Michael Dork (EastEnders alumnus Aaron Sidwell), an, um, dork who fares better with machines than girls, and his pal, Lucas (Richard Lowe), who no sooner announces that women will never fracture their friendship before Holly does just that. Her lot, meanwhile, is to be dismissed as "beige". The baddies are headed by Eddie (the strong-voiced Stewart Clarke, pictured above strutting his stuff alongside Duncan Leighton), an athletic narcissist and rich kid who thinks he can get what he wants merely by crunching abs. (In the show's Beauty and the Geek world view, Eddie functions as Loserville's equivalent Gaston.) But the lineup for the most part is as American white-bread as they come. Indeed, "abroad," we're informed by one of the girls, "[is] a country I never visit."
As directed by Steven Dexter, the British cast accommodates itself to an American milieu that doesn't exactly go unrepresented this side of the pond, even if few manage the triple task of acting, singing, and dancing that tends to be second nature on the New York stage. Some of the singing is extremely ropey.
And yet, even when a note jars or the dialogue thuds, Francis O'Connor's design delights throughout, evoking Metropolis for the age of computer circuitry alongside a Matilda-like playfulness that turns the students' brave new world into a scenic fantasia of fantastical notebooks and outsized pencils. Given the emphasis on invention celebrated by this show, one can't help but feel that its creators could have tried harder. But as a funfair for the eye, Loserville delivers; visually, the piece sings.
Loserville at the Garrick Theatre until 2 March