Il Trittico, Royal Opera House |

reviews, news & interviews
Il Trittico, Royal Opera House
Il Trittico, Royal Opera House
Puccini's three masterly one-acters well connected in an often stunning evening
Tuesday, 13 September 2011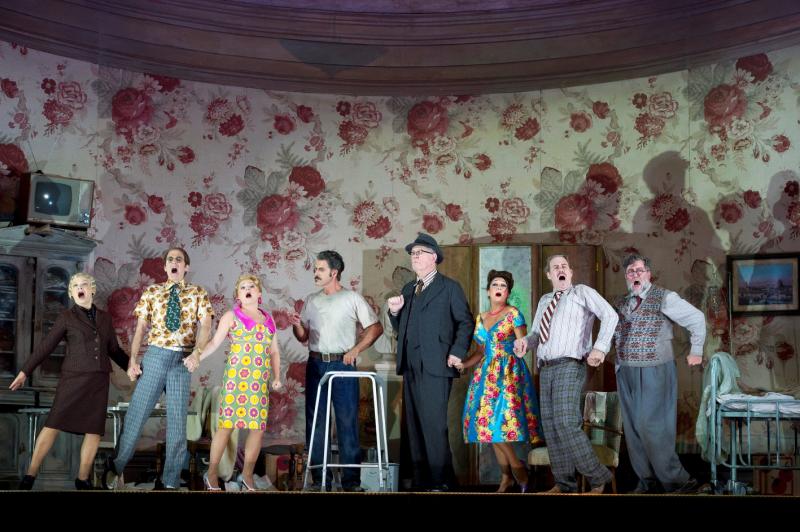 Richard Jones's classic production of towering operatic comedy Gianni Schicchi
You don't need to buy into the loose hell-purgatory-paradise trajectory of Puccini's one-act operas to greet the triptych as his comprehensive masterpiece, full of wry interconnections, orchestral wizardry and grateful if tough vocal writing.
Fourteen years on from his gorgeous recording, Royal Opera principal conductor Antonio Pappano is still digging for treasurable detail in each opera; and that master-director of the unexpected Richard Jones was bound to find hidden links between his already classic production of towering operatic comedy
Gianni Schicchi
and the two thornier propositions now joining it. But could they muster the eight crucial voices necessary for total success?
Well, at the end of the evening's emotional roller-coaster ride, I'm more or less happy with six and a half. What a shame that the looser links happened to be in two anchoring roles. It was very bad luck indeed that the house, having woken up rather late to the potential of German-Greek soprano Anja Harteros as the most poised Italianate soprano of our time, lost her due to advertised illness some way (I'm assuming) into rehearsals. Sister Angelica, the reluctant pharmacist-nun whose banked fires are linked to the society-shaming secret of her illegitimate child, needs a performer prepared to go to the very edge while keeping line and tonal beauty under control. Replacement Ermonela Jaho had some of the intensity, but the fast vibrato will have to be reined in if she's to make her mark in Puccini's most heartbreaking lament, "Senza mamma" - Angelica's lyrical outpouring to the news that her child has died.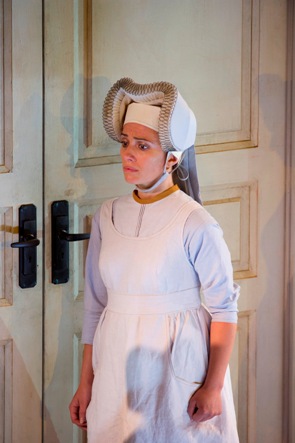 This is the point where, let's face it, if you're not holding back the sobs, something's wrong - and Puccini, a master at setting up truth and beauty before pulling out all the sentimental stops, knows how to make that happen. Cheryl Barker certainly assisted him in the English National Opera Trittico; so, unexpectedly, did Barbara Frittoli in the performance of a lifetime at the Met. But Jaho just didn't involve me, at least from a distance (hard to see the facial expressions which might have won back some sympathy). And her finger-wagging school of acting seemed to run in the family, shared by Anna Larsson's dramatically uncertain if vocally opulent Aunt who comes as the uneasy purveyor of inexorable family values (the top needs fine-tuning). There were, even so, plenty of dewy-eyed moments in this Suor Angelica, thanks especially to the Debussy/Massenet-like refinement of Pappano's conducting in the early scenes, a lovely cameo from Jette Parker Young Artist Anna Devin as rapturous Sister Genovieffa and later the outpouring of the great orchestal intermezzo.
Besides, the curtain rises on one of Jones's several unanticipated masterstrokes: these nuns are running a children's hospital. Cue - spoiler notice - the unbearable when this Angelica decides to take her life on the ward, panic and distress as she grabs the little boy who's already wandered over to her pharmaceutical table (Jaho pictured above), and no angelic apotheosis on stage but a real shocker as our heroine gives up the ghost and a sheet is thrown abruptly over her.
Bedsheets: the most pertinent connection of the evening. In the grim slice of Parisian barge life we've just seen in Il tabarro, the cloak of the title becomes the blanket under which bargee Michele and his young wife Giorgetta used to snuggle up before their infant died (all ages pass by on the banks of the Seine except the very young in this world without children). Can they make love on it above board since Giorgetta finds it so stifling down below? Fat chance now she's inflamed with passion for stevedore Luigi. Later we'll see the same baritone, Lucio Gallo, crouched by a bed with a corpse in it as prankster Gianni Schicchi; so that's why Jones has his Michele hide alongside the cloak in which the lover he's murdered lies still.
Gallo lacks the right degree of grizzled, withdrawn desperation for the embittered bargee. Undeniably, though, he's one of the best Italian lyric baritones in the business, which allows for the tenderness Michele tries, and fails, to express to his wife. Later we'll see him as a rather odd but not unengaging Schicchi, more camp-it-up Village Person than cunning beefcake peasant. He has good foils in both the darkest and the brightest of the operas. Westbroek seems to be overdoing the twitchy, trailer (in this instance boat) trash girl she gave us in Jones's production of Anna Nicole - maybe the parallel is intended, a poor girl with big urban dreams - but she projects the meaning of the superb Italian libretto vividly, and is well matched when she soars with promising tenor Antonenko's physically chunky Luigi.
You wonder how this semi-naturalistic set (pictured above) is going to relate to Puccini's other worlds, especially as Jones and Pappano have taken on the risk of three equally inspired set designers. Ultz's black river and barge with the symbolic black hole for a hatch meet a quay with a sewing factory - cue the "ballad of Mimi", nicely sung by Ji-Min Park; Miriam Buether's children's ward is antiseptic but flooded with May light, closing down to a corridor for the crucial, bleak confrontation between Angelica and her aunt; and John Macfarlane's floral-wallpapered Florentine apartment of a dying man peopled with brightly costumed vulture-relatives was originally designed to link to the pinks in Jones's production of Ravel's L'heure Espagnole.
Nicky Gillibrand's transforming costumes and now DM Wood's lighting are common to all three dramas, but uncommonly striking; shadows reflect isolation in the first two operas, and predatoriness in the third, where business with the light switch brilliantly reflects the many twists and turns of how to conceal the death of Buoso Donati, and how to get at his assets in the high-value form of a house, a mule and some mills.
It's easy to overdo the antics in this true ensemble comedy - witness the Met's over-the-top staging - but Jones keeps the laughs precise but uproarious, from the ramming of young Gherardino's toy car into the wall via the banging in the cellar as the relatives frantically search for Buoso's will through to Schicchi's garlanding with fag and cap of the rescued bust of Dante (the original source of Puccini's tirelessly witty librettist Forzano). I haven't ever laughed more in an opera, but then I'm infatuated with Puccini as a comic genius and happy to see the finer details so well observed.
To match what's happening on stage, Pappano realises Puccini's immaculate sense of timing (equalled only by Mozart), stretches dramatic pauses to their tense limits and reaches new heights of illustrative vividness. We've had mewing cats, bleating lambs and angry wasps in Il tabarro and Suor Angelica; in Gianni Schicchi we get bitter comedy tears from the lower strings, and even a graphic bassoon as Buoso's doctor asks if he's had a bowel movement (help me, someone: is that what "ha avuto il benefissio" actually means?). No one knows the scores better, in short, or can make the Royal Opera strings swoon so judiciously.
With a perfect line-up of comically self-interested relatives capped again by Elena Zilio's grasping Zita, and ideal young lovers (pictured above) in a Rinuccio (Sardinian tenor Francesco Demuro) of nifty high spirits talking up his prospective father-in-law and a pitch-perfect Lauretta (the lovely Ekaterina Siurina) whose famous aria slips in at just the right easy pace and level of pathos, it's impossible not to come out feeling jolly. Next time, though, we have to have Harteros as Angelica and maybe Bryn Terfel, a very different Schicchi on previous showings from Gallo's more Italianate specimen, as Michele: can't that be fixed before the production is filmed?
Lucio Gallo makes a rather odd but not unengaging Gianni Schicchi, more camp-it-up Village Person than cunning beefcake peasant
Share this article