Classical CDs Weekly: Brahms, Desyatnikov, Glière, Tchaikovsky |

reviews, news & interviews
Classical CDs Weekly: Brahms, Desyatnikov, Glière, Tchaikovsky
Classical CDs Weekly: Brahms, Desyatnikov, Glière, Tchaikovsky
Russian rarities and symphonies by two grumpy 19th-century giants
Friday, 02 September 2011
We head east this week - new pieces by a contemporary Russian composer, and a bargain box set showcasing the flamboyant orchestral music of a neglected Russian. And a famous viola player leads a young Moscow orchestra in electrifying accounts of Brahms and Tchaikovsky.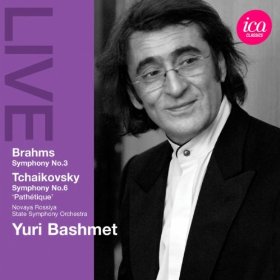 Brahms: Symphony No 3, Tchaikovsky: Symphony No 6 Novaya Rossiya State Symphony Orchestra/Yuri Bashmet (ICA Classics)
You don't expect to find these two composers sharing a disc, in the light of an infamous quote attributed to Tchaikovsky in 1886: "I have played over the music of that scoundrel Brahms. What a giftless bastard!" The two composers did eventually meet and, disappointingly, they got on reasonably well. These live performances were recorded in 2004 and 2005 by a Russian orchestra founded in 1990. Viola player Yuri Bashmet has been their principal conductor since 2002. The results are outstanding – it's rare to hear this most elusive Brahms symphony spring into action quite like this, with Bashmet's propulsive opening kicking the music into vivid life. The Novaya Rossiya orchestra sound recognisably Russian – thick, dark strings and vibrato-laden winds and brass. It's not your usual Brahms sound – the last movement's eruptions are more dramatic, leading to a touching, consoling coda.
Bashmet's Tchaikovsky Sixth is swift and unindulgent. Only a Russian orchestra can rip through the first movement's development like this, and there's a sumptuous bass trombone pedal four minutes before the end. The Allegro molto vivace is impossibly fast but never puts a foot wrong. And as the lights go out during the symphony's final pages, it's hard not to feel exhilarated as well as depressed. The recorded sound is detailed and immediate.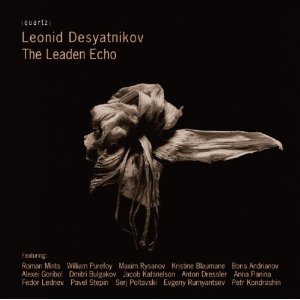 Leonid Desyatnikov: The Leaden Echo (Quartz)
"I have in mind only beauty and harmony of proportions," says Russian composer Leonid Desyatnikov in the sleeve note to this CD. He's arguing that his music should be seen as simply music – not as a symbol of heroic resistance, as with the work of Sofia Gubaidulina and Alfred Schnittke, and that his work follows in the tradition of his idol Stravinsky, who mischievously claimed that music was incapable of expressing anything. This is an enjoyable, intriguing collection, though after several listens I'm still finding it hard to pin Desyatnikov down. Du côté de chez Swan takes Saint-Saëns rather than Proust as its inspiration. Distorted fragments, reminiscences of cello lollipop Le cygne, are bandied between the two pianos, coalescing in a few minutes of giddy minimalism. Variations on the Obtaining of a Dwelling for cello and piano uses the last movement of Haydn's Farewell Symphony as a starting point. Boris Andrianov's emotive, charismatic cello playing makes the piece hang together. Wie der Alte Leiermann, commissioned by Gidon Kremer but played here by Roman Mints, is a virtuoso work inspired by the last song of Schubert's Wintereise.
Desyatnikov feels most at ease when he's responding to material and ideas generated by others, and the most impressive piece on the disc is an extended setting of Gerard Manley Hopkins's The Leaden Echo. William Purefoy's countertenor negotiates Desyatnikov's cantilena beautifully; it's an eerie, chilling sound, contrasting sharply with the dark lower strings which colour the accompaniment. The offstage trombones and timpani which enter during the poem's bleak final lines provide a highly effective coup de théâtre. We also get a glimpse of Desyatnikov's career as a composer of film scores with an arrangement of his bittersweet title music to a 1992 film entitled Moscow Nights.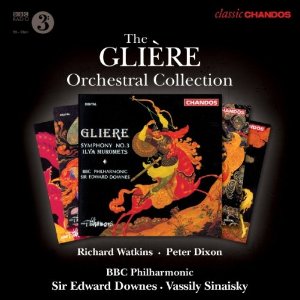 The Glière Orchestral Collection BBC Philharmonic/Sir Edward Downes and Vassily Sinaisky (Chandos)
Start by listening to Rheingold Glière's Third Symphony, subtitled Ilya Muromets – an epic 80-minute programmatic work inspired by the life of a 12th-century Russian folk hero. It's immediately appealing – brilliantly, extravagantly scored and with few longueurs. Wagner's influence looms heavily, as does that of Tchaikovsky. Is it a neglected masterpiece? It's hard to tell – Glière's melodies aren't always as memorable as those of his near-contemporary Rachmaninov, but it's superbly crafted and highly entertaining. Glière (1875-1956) was Ukrainian-born. He moved to Moscow in 1894 and after graduation his pupils included the young Prokofiev. Unlike Rachmaninov, Glière remained in what became the USSR and the works included in this set allow the listener to compare music composed in two very different worlds. So the earlier symphonies recall Borodin and Rimsky-Korsakov, while some of the flimsier later works can't help sounding like Stalinist hackwork. It's strange to think of this fin-de-siècle fossil composing his final works in the early 1950s.
The later works are full of incidental pleasures; the Russian Sailors' Dance from the 1927 ballet The Red Poppy is catchy, percussion-heavy fluff. And the seductive Hymn to a Great City from the Stalin Prize-winning ballet The Bronze Horseman was played over loudspeakers to passengers arriving at Leningrad Station, much to Shostakovich's irritation. Most fun are the incidental works inspired by Glière's visits to Azerbaijan, Uzbekistan and Tajikstan – the overture to Shakh-Senem and the Heroic March for the Buryiat-Mongolian ASSR both classy examples. This five-CD set is a reissue, but an important one. The BBC Philharmonic's playing is heroic throughout, and they're led with stylish assurance by Sir Edward Downes and Vassily Sinaisky on the final disc. And again, most of the witty, informative sleeve notes are written by theartsdesk's David Nice. In short, a must-buy.
Share this article