Simon Boccanegra, English National Opera |

reviews, news & interviews
Simon Boccanegra, English National Opera
Simon Boccanegra, English National Opera
Despite silvery music-making, Dmitri Tcherniakov's update adds little to Verdi
Bruno Caproni's plebeian leader - crowned at an awkward moment
Public feuding, private sorrows: the elemental passions of Verdi's Ligurian power struggle haven't had a vivid London staging since the Alden-Fielding ENO classic gave it a guiding (or, according to taste, hindering) giant hand in the late 1980s. Dmitri Tcherniakov, the most disciplined opera director to have come out of Russia, was a clever choice for the company to invite to the Coliseum. But would his Boccanegra more resemble the thought-through revelations of his Bolshoi Eugene Onegin or the fits-and-starts family carry-on of his Aix Don Giovanni?
In the end, it occupies a grey zone somewhere in between - literally, in Tcherniakov's own designs, once the setting of the "25 years earlier" Prologue, rooted in the 1960s rather than Verdi's 14th century, has been consigned to a de Chirico-esque empty street scene, the only colour on clinical contemporary walls (there's one striking gambit from ENO's now-regular video designer Finn Ross between Prologue and first act). Probably we're in Genoa, the buildings suggest, and the plebs-versus-patricians struggle can work, even if you need to forget about Guelphs and Ghibellines. But there's no whiff of the Mediterranean which permeates Verdi's more poetic moments; in fact the only waves in the first scene are those made by the rather big vibratos of leather-jacketed, blue-jeaned pirate Boccanegra as sung by Bruno Caproni and of Roland Wood as besuited Paolo, the man who would crown him leader. Top-notch Verdi singing has to wait for the entry of stalwart bass Brindley Sherratt as patrician Fiesco, whose daughter has given birth to Boccanegra's missing child and now lies dead in the house over the street.
Leap forward however many years - Tcherniakov stretches the time warp slightly - and more sea breezes at dawn are only dimly sensed through a frosted-glass window by the girl who'll turn out to be the long-lost daughter, trapped in the bare clinical house of the grim Grimaldis. Rena Harms - even-toned, a tad uniform in colour and veering to metal rather than the shot silk which usually graces an ideal Amelia - looks the part of the raven-haired Italian girl fucked up by absence of mum and dad (the rather overdone confusion is to be this staging's nemesis, and not in a good way for a final scene where the newlywed does a Lucia mad scene on her recently rediscovered father's exit, quite against the grain of the quiet musical curtain).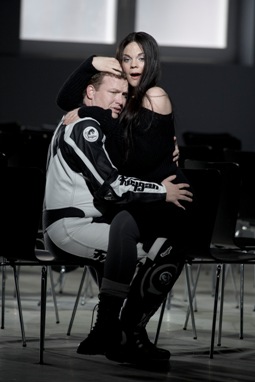 The most Italianate singing of the evening comes from her lover Gabriele as unfalteringly sung by tenor Peter Auty (pictured right with Harms), clinging on for stylish life in his emotional Act II aria despite the unflattering vowel sounds of James Fenton's perhaps inevitably melodramatic English translation. He and Sherratt also share one of the two moments of the evening where musical beauty weds with a striking stage picture: the duet in which the disguised Fiesco wields a hypnotic power over Gabriele that starts like a holy benediction but ends with a gun in the puppet-youth's hands. The other occurs in the exquisite coming-together of long-lost father and daughter, where Tcherniakov does not betray the huge emotions involved, allowing the reconciliation to take place only by degrees before dissolving again.
So far, so good, especially from Edward Gardner, following the introspective side of his Berlioz Damnation of Faust by shaping silvery sounds from the ENO strings in Verdi's many moments of inwardness. Somehow the great council chamber scene doesn't quite fire with forward thrust, despite focused chorus work; Caproni needs more smoothness of line to sustain the great cry of peace and reconciliation, and lacks the last degree of authority to chill the blood with his curse on wicked Paolo, who's tried to abduct his daughter in vain. You realise more than ever how convoluted and often unconvincing the plot lines are, but all credit to Tcherniakov for typing up the back stories before each scene.
As the drama and the music steer more towards convention in the last two acts (Caproni and Sherratt pictured left in their characters' last meeting), the ideas run a bit thin. Somehow the violent outbursts of Wood and Auty, with one chair kicked over too many, veer more towards Basil Fawlty than convincing Italianate rage, and you spend too much time wondering why Boccanegra hasn't drunk from the poisoned chalice and how he's going to die. The answer is, he doesn't; but the sea kind of comes in to the final equation as he draws two waves (or gulls?) on the whiteboard and dons a paper-boat hat to go into exile. It could have been more affecting than it sounds, but it isn't; the final curtain is weak, as if Tcherniakov thought he had to go for a final production gambit after reining in for the string of duets, trios and quartets into which the later stages of the opera ultimately fall. It's all well-intentioned work, but the update doesn't tell us much and, once beyond the early recognition scene, it fails to move as it should.
Watch part of the casino scene from Tcherniakov's Berlin production of Prokofiev's The Gambler on YouTube
Auty and Sherratt share one of the two moments of the evening where musical beauty weds with a striking stage picture
Share this article
Subscribe to theartsdesk.com
Thank you for continuing to read our work on theartsdesk.com. For unlimited access to every article in its entirety, including our archive of more than 10,000 pieces, we're asking for £3.95 per month or £30 per year. We feel it's a very good deal, and hope you do too.
To take an annual subscription now simply click here.
And if you're looking for that extra gift for a friend or family member, why not treat them to a theartsdesk.com gift subscription?