The Damnation of Faust, English National Opera |

reviews, news & interviews
The Damnation of Faust, English National Opera
The Damnation of Faust, English National Opera
Visions of Berlioz and Gilliam meet and match in an ambitious epic
Faust (Peter Hoare) faced with the chance to get out of his head with Mephistopheles (Christopher Purves)
Anything goes in the wacky world of Berlioz's Faust story. It's a heaven and hell of a lot better than Gounod's, but it isn't an opera, it isn't an oratorio and it certainly isn't the gospel according to Goethe. So Terry Gilliam, ENO's latest wild-card debut director, was right not to play by all of the composer's already rather warped rules. At first you sigh: not the Nazis and the Holocaust again.
But only an oddball visionary like Gilliam is going to come anywhere near the often disorienting musical pictures painted by the most original of Romantics.
And the Romantic movement in which Berlioz played such a turbulent part is already in its decadence by the time of this operatic Faust's first misadventures, at odds among the turbulent Volk who ruffle the Caspar David Friedrich landscape (if the brilliant Hildegard Bechtler's mountain backdrop, pictured below, is a pastiche - and I don't quite recognise any original - then it's as superbly imagined as any of her other diverse contributions). Gilliam has the brave idea of whizzing through imperial carve-up, dissension and First World War to the bunged-in strains of the Hungarian March - usually a dazzling orchestral showpiece, here sounding a little subdued in ENO music director Edward Gardner's hands, though there are finer and more sensitive things to come.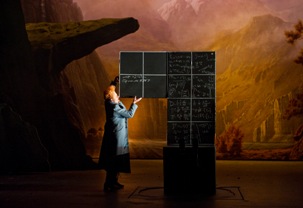 So by the time the maths-addled Doktor - Peter Hoare, sporting a ginger coxcomb to outdo the one I saw on the Globe's resident comedian the previous evening - and his infernal sidekick, a suave and commanding Christopher Purves, arrive in a rowdy Bierkeller, the swastika-ed thugs are already in evidence, routing the commies and threatening trouble for the Jewish merchants parodied in a chillingly clever twist on Mephisto's "Song of the Flea". Even so, and despite top-notch choral singing in the grotesque fugue, you wonder where the whole "Springtime for Hitler" thing can responsibly travel after this, especially since the realism seems as if it's going to get in a bit of a knot with the fantastics of Gilliam's and Berlioz's fertile imaginations. And the multitudinous detail which would probably look terrific in the director's natural cinematic home sometimes feels a bit cluttered even on the wide Coliseum stage, placing evident strain on a crammed opening-night first half.
The convincing answers are twofold. Even after that march Berlioz's militaristic strain is both persistent and incidental; by turning much of it into edgy National Socialist pageant, Gilliam gives a reason, though even as a taut gymnastics parade choreographed as tightly as it was by Leni Riefenstahl, the soldiers' mêlée which is supposed to get Faust into Marguerite's house makes a weak first curtain. But the anti-Semitic strain turns out to be an opportune, rather than an opportunistic, trump card. The encounter of Berlioz's Faust with the innocent object of his desires is a meeting between an idealistic, idealised maiden and 60-second man (the briefest of seductions is played for comedy). Plus Berlioz's Mephisto seems inexplicably interested in damning the heroine as quickly as he can. If we see her suddenly unveil a menorah to light it, only to contradict herself by putting on a blond, chaplet-crowned wig, we quickly get a different message and a chill as to what this devil's up to with this very free thumbnail sketch of Goethe's Gretchen.
The message and the chill come and go throughout the street-and-bedroom scene, but there's a genuinely original bit of choreography - fine work here from Leah Hausman - to Berlioz's Minuet of the Will-o'-the-Wisps, taking us through ritual humiliation and window-smashing before turning the clock back in the whizz-bang coda. So we have a genuine inkling of a more terrible than usual fate in store for our heroine. And, oh yes, we quickly care when she's embodied by the instantly sympathetic and lustrous Christine Rice (pictured left), probably the British mezzo of a fine batch most inclined to take risks; Sarah Connolly is a cool customer by comparison. Rice's "Ballad of the King of Thule" already tears at the emotions, but it's the heartbreak of Berlioz's saddest aria, the one I'll forever know as "D'amour l'ardente flamme" and pass, if I may, on Hugh Macdonald's necessarily pat translation, which brings the greatest frisson of the evening. The idea is strong - Marguerite about to be shipped off east with other despoiled Jews, musing on happier times in misery - but it would be better if there were less insistent movement around her.
Still, Rice's is fledgling greatness pushing itself thrillingly to the limits, and Hoare comes close in the ensuing breadth of Faust's soliloquy to nature. It's an insane role: too high-lying in the French pretty-boy manner for Hoare to manage in the duet, where he needs a voice double for the top notes. But, if no heroic tenor, he can certainly carry and cut through the heavier stuff. Dramatically, his role is much less clear and nuanced than his previous ENO triumph as the man-canine in Simon McBurney's production of A Dog's Heart (which apparently Gilliam came out of saying, "He's done it all - what can I possibly add?" He needn't have worried). Still, the look of this monologue-scene is another of Gilliam's and Bechtler's coups: no sylvan landscape now, but rougher rocks and mountains in which it's Purves's Mephisto who plays the Friedrich Wayfarer while Faust burns his books.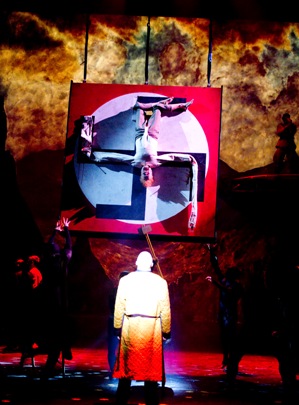 The show has now opened up to the vision Berlioz needs. It's diffused a little by the "Ride to the Abyss" in a motorcycle and sidecar, but Finn Ross's giddying video designs hold faith with what is, by now, an astounding orchestral tension under Gardner. Hell's ministers, led by an aerobics-conscious Adolf aloft, crucify Faust upside down on a swastika (pictured right), which works because we've had Leonardo's Vitruvian Man to pave the way, and Purves steps suavely back into ringmaster role, in a narrative passage usually reserved for male semichorus, as video-projected snow begins to fall. I won't spoil the impact of the final image, for once, but I suspect it will stun future houses into a more awed silence than the first night's noisy media-circus crowd. Suffice it to say that I never thought Berlioz's usually saccharine apotheosis could be anything but a disappointment. This "in paradisum" sung by a never-better ENO chorus and children's voices as a crowd of reverent onlookers giving some hope for a better future proves me wrong. Go and judge for yourselves whether this is an ENO risk that has paid off; I'll hopefully be returning to confirm a hunch that it has.
Watch Terry Gilliam speak about his production of The Damnation of Faust