Simon Boccanegra, Royal Opera House |

reviews, news & interviews
Simon Boccanegra, Royal Opera House
Simon Boccanegra, Royal Opera House
Vocally authoritative as a baritone, Domingo can't fill the void in a frozen revival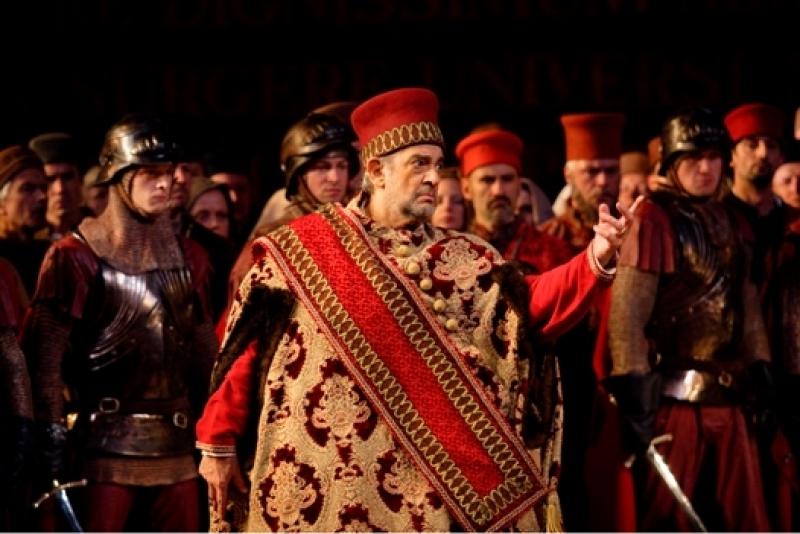 A stage animal poorly harnessed: Domingo as an authoritative Doge of Genoa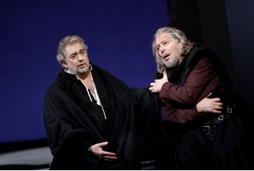 I'll admit that many of us were spoiled by the last revival of Boccane
gra at Covent Garden - also of Verdi's most often heard and masterly revision, like the current staging, but using Ian Judge's production of the original version - boasting a near-perfect quartet of principals who all meshed with each other. The only survivor from that team to be seen in the latest showing is Ferrucio Furlanetto
(pictured with Domingo above)
, whose Prologue aria as the vengeful father of Boccanegra's ill-fated love was cheered to the rafters then but barely made an impact this time, oddly over-acted and ending off-pitch (as did three of the ensuing duets).
None of the other leads on this occasion was seriously below par, but none engaged in the crucial one-to-ones as had Lucio Gallo, Anja Harteros and Marcus Haddock back in 2008. If Maria Poplavskaya doesn't sort out her occluded sound soon, she'll either crash or become a mezzo - and not a Verdi mezzo either. Which would be a shame as she's always a sympathetic presence, comes closer to suggesting Boccanegra's 25-year-old virginal daughter than most sopranos to essay the part and actually produces some very stylish Italianate spinto lines in later scenes. Joseph Calleja is your stock stand-and-deliver tenor, with an unusual, slightly bleaty production but always a confident, ringing top. He and Poplavskaya never engaged - in fact no-one did - but sang well in the big Act One ensemble (Calleja and Poplavskaya pictured either side of Domingo below).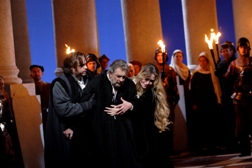 Which is where the evening finally gathered some momentum. Moshinsky's murk, for all the monumental handsomeness of Michael Yeargan's designs, has given us no help in working out the background squabbles of Guelphs and Ghibellines, a fault in the shaky original libretto of 1857; but when Verdi drafted Boito in to write a new Council Chamber scene in 1881 just before their joint work on Otello, intelligibility rose a notch and the music reaches new, noble heights. Domingo, who sang well in the crucial father-daughter reconciliation of the previous scene but, with no help from the director, was the only Boccanegra who's failed to move me in this glorious duet, grasped the nettle in his one-man authority stunt. The big plea for peace between the warring Genoan factions, surprisingly well echoed by Poplavskaya's Amelia as very much her father's child, duly thrilled. And then Domingo pulled out new reserves of darker colour in the chilling threat to the depraved Paolo (Jonathan Summers, a Boccanegra of yore warning us what happens when a real baritone voice truly does wear and tear).
After that later flourish, Verdi's opera-by-numbers in the second and third acts really needs to be kept afloat by the interaction of the four principals, which again it wasn't here. Only the sleep which follows on the heels of Boccanegra's knocking back a poisoned drink and the sea breezes which refresh his hour of death really hit the heights - partly by force of Domingo's sheer charisma when left to himself, partly by the incredible sensitivity to the high and low orchestral sonorities Antonio Pappano draws from the Royal Opera Orchestra. His is for the most part - with the exception of the big ensemble scene, superbly handled - an intimate account alert to every nuance in the score. If only it had a smaller-scale production to match. For once, the 'semi-staged' performance promised for the Prom on 18 July really ought to have the edge.
Explore topics
Share this article