Rigoletto, Grange Park Opera |

reviews, news & interviews
Rigoletto, Grange Park Opera
Rigoletto, Grange Park Opera
A solid production in a magical setting makes for a memorable evening
Rigoletto (Damiano Salerno) comforts the dying Gilda (Laura Mitchell)
They say that old sins cast long shadows, but these are nothing compared to the shadows cast by old productions. To set Verdi's Rigoletto in 1950s America inevitably courts comparison with that operatic patriarch, Jonathan Miller's New York Mafia reworking.
That the setting here in Daniel Slater's revived Grange Park production should be explicitly LA, his Mafiosi transformed into corrupt LAPD cops, should make more difference than it actually does. The result, however, looks and feels remarkably similar, struggling – unfairly – to claim its own turf and escape comparison.
Grange Park has a reputation for being the loveliest of the country house operas, and there's something about this grand old ruin, surveying a glorious Hampshire river valley, that gives the shivers that the more polished, domesticated delights of Glyndebourne and Garsington (I've not yet seen the new-look Garsington Wormsley) just can't match. A crumbling bastion of the past, there's something about the feudal grandeur of the place that feels right for Rigoletto, Verdi's Renaissance tragedy of brutal mores and social caste.
Celebrating the appointment of LA's new Chief of Police, we open in a flurry of peaked caps and shiny badges, the Duke alone distinguished by his civilian suit. Tightly waisted women drape themselves decoratively about the scene, barely distinguishable from the prostitutes of Act II; this is a world of men, and more particularly of white Christian men, as the entrance of Monterone (Andrew Greenan) makes clear.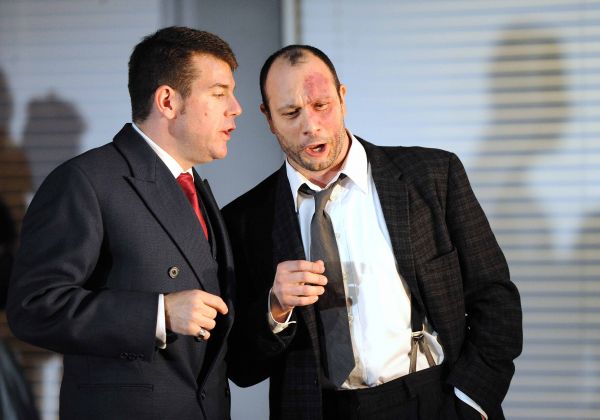 Casting both of the opera's outcasts, court jester Rigoletto (Damiano Salerno) and wronged father Monterone, as Jews (Orthodox hair curls and a skull cap proclaim Monterone's Orthodoxy, while a menorah dominates Rigoletto's mantelpiece) underlines their separateness, but if there was a subtler point to be made about the particular milieu of 1950s LA then I missed it. Coming on top of Rigoletto's deformity (here a livid birthmark covering his face) which already sets him visually apart, the issue of religion seemed to cloud the politics of a tale whose impact comes from its simplicity.
Challenged by a disproportionately wide stage, the difficulty of any Grange Park production is creating a balanced ensemble sound. Although conducted with efficiency and no little sympathy by Toby Purser, the English Chamber Orchestra never quite feel in command of this huge score. Compensating for orchestral numbers with brute force (the flutes in particular were lobbing their music like grenades at the too-close audience), theirs is a potentially effective chamber performance that attempts rather misguidedly to recreate a full symphonic effect. Sitting halfway back I would have begged both players and singers to have a little care for their audience; volume and weight of tone are only impressive if deployed appropriately, and the Grange Park auditorium is not the Metropolitan Opera.
That being said, there is much to enjoy in the quality of singing on offer. Marco Panuccio's Duke (pictured above with Damiano Salerno as Rigoletto) has all the money notes (though he along with the rest of the cast might be discouraged from getting these out at every possible occasion in increasingly ornate cadenzas) and is at his best in full spate in "E il sol dell'anima" and "Questa o quella". Returning to the role of Gilda, Laura Mitchell offers a reliably pitched, if rather hard, vocal performance. There's something of pressure in her sound that prevents her lovely spinto soprano from flourishing fully, giving it a rather unfinished quality at times.
Damiano Salerno's Rigoletto is something of a cipher. While his vocal performance develops and settles noticeably into the Act II vengeance duet, his character proves a little unyielding. The move from public self to private – from vicious courtier to exiled father – which can be so moving, here lacked clarity. Fretful and angry from the start, he denies himself the opportunity to expose these qualities to us more gradually, denying us a share in his emotional process. Strong vocal support (and some solid acting) from Carolyn Dobbin's Maddalena and Sparafucile (Timothy Dawkins) made for a delicious climax in designer Angela Davies's Modernist boudoir.
Daniel Slater's Rigoletto is not the production to rival Miller's or to break new ground in this classic tragedy. This is a serviceable, sensible use of resources (inevitably limited in the impressively self-starting and precarious world of country house opera), and one that offers its audience the good night out that they all don bow ties and come out to Hampshire to find. For my money, however, if it were half the volume, it could be twice as good.
Theirs is a potentially effective chamber performance that attempts rather misguidedly to recreate a full symphonic effect
Explore topics
Share this article