The Hepworth Wakefield |

reviews, news & interviews
The Hepworth Wakefield
The Hepworth Wakefield
Yorkshire's new gallery showcases a long tradition of collecting contemporary art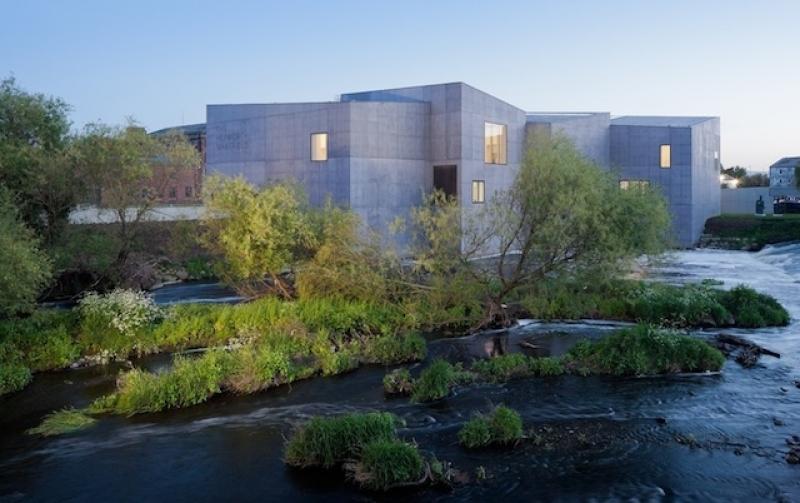 The newly opened Hepworth Wakefield designed by David Chipperfield 'performs a vital function as part of the town's flood defences'
A town in desperate need of regeneration commissions David Chipperfield, the architect of the moment, to build an art gallery in the hope of attracting visitors with deep pockets.
In case you are suffering an attack of
déja vu
, this is not an action replay of the opening of
Turner Contemporary in Margate
a month ago, but Wakefield's turn to use the same tactics. The two scenarios appear similar yet the distinctions are significant enough to make the difference between failure (in the case of Margate's half-baked efforts) and success, which is guaranteed by the intelligent planning of Wakefield's awakening.
Chipperfield's style is apparent in both buildings: a series of boxes with sloping rooves stands beside water. But whereas Turner Contemporary doesn't fully engage with the sea, the Hepworth Wakefield performs a vital function as part of the town's flood defences, since the River Calder which flows past its walls often breaches its banks.
Coloured pale blue like the sky, the sleek Margate capsule seems to have just landed and is preparing for imminent take-off; made from concrete pigmented with a deep purplish grey, the Wakefield cluster, on the other hand, feels grounded and permanent. And there's another sense in which the Wakefield building has firmer foundations; having no collection of its own, Turner Contemporary seems like an empty shell, dependent on what it can beg or borrow and vulnerable to the ebb and flow of public opinion. The town of Wakefield, on the other hand, has long boasted an impressive collection of contemporary art.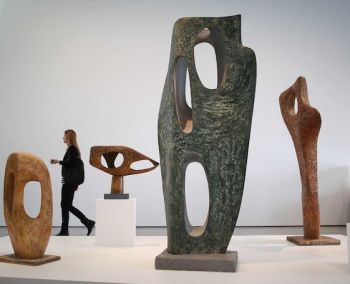 The original Wakefield Art Gallery opened in 1934 with a remit to "keep in touch with modern art in its relation to modern life". This was surely inspired by the fact that Barbara Hepworth and Henry Moore, two of our greatest 20th-century sculptors, came from the area. On August 9th, 1963, under the headline "Henry Packs 'em in", the Daily Mirror ran a double spread on the opening of Henry Moore's exhibition in Wakefield. A wonderful photograph of local housewife, Mrs Elsie Hemmingway peering at an abstract sculpture titled Seated Woman is captioned with her remark: "Well, you can't get away from it... it's clever."
These pages are on show alongside other memorabilia from the original gallery, which has long since become too small and will be sold now the collection has moved to the new building. These items are on display in its beautiful first floor galleries (pictured above by Peter Macdiarmid). Each room leads into the next. All have sloping ceilings, white walls, pale grey floors and soft light filtered through hidden skylights. Lest it gets too precious, the delicious calm is punctuated by large picture windows that provide dramatic views of the river and neighbouring warehouses. The spaces don't feel uniform, though; ranging in size from intimate salons showing graphics and archive material to loft-sized spaces perfect for large sculptures, they are full of surprises that make the experience of wandering from one room to another extremely pleasurable.
The building is dedicated to Barbara Hepworth, who was born in Wakefield, and a superb display of her carvings sets the scene. The Cosdon Head, 1949, is one of the most subtly enigmatic of her sculptures. From the back, the smooth lump of dark blue marble looks completely abstract; but running down the front is a ripple carved to evoke the features of a profile. The eyes are suggested by an elliptical hollow on the left side and a sketchy line drawing incised on the right, while the outline of an elegant hand unexpectedly cups an invisible ear. Ranging from illustration to pure abstraction, they offer a witty resumé of the choices open to an artist exploring the language of sculpture at a time when abstraction and figuration were vying for supremacy.
In Hepworth's case, abstraction won the day. Spring,1966, is a bronze shell hollowed out from both sides until the dividing wall is breached. The interior is coloured pale turquoise and laced with strings that add strength but deny access. Despite its abstraction, one's experience of the work is enriched by references to natural forms such as eggs, nuts and pebbles and to associations with nurturing, womb-like enclosures.
Hepworth's heirs have donated a large group of models from which Spring and other bronzes were cast. Most are in plaster, though you wouldn't always know it since she polished and coloured some to resemble their bronze offspring. Dominating the room (pictured left by Iwan Baan) is the six metre high, aluminium prototype for Winged Figure of 1961 commissioned for John Lewis's department store; it looks far better in this context than in the traffic laden environment of Oxford Street.
A fascinating display of studio paraphanelia provides invaluable insight into the working methods and thought processes that lie behind her seemingly effortless production. It includes chiselling tools, small sculptures by Hepworth and others, including a group of Cycladic dolls, an explanation of the casting process and a maquette of an initial idea for the John Lewis commission of a flying ducks-style trio of ellipses.
While the family's gift ensures the status of the gallery as a major centre for the study of Hepworth work, loans from the Tate, British Council and Dartington Hall of paintings by Mondrian and sculptures by major figures such as Brancusi and Naum Gabo ensure the gallery's international significance. They allow Hepworth and other British artists like Henry Moore, Victor Pasmore, Ben Nicholson and Jacob Epstein to be seen in the context of European modernism – as pioneers of the abstraction that was sweeping away figurative art. And the minimalism of Chipperfield's perfectly tuned design provides the perfect foil for their explorations of pure form.
Eva Rothschild's acts of homage turn out to be wickedly subversive
To ensure the gallery keeps in touch with recent development and that punters return again and again, the four largest galleries are reserved for temporary exhibitions by contemporary artists. Eva Rothschild rises to the challenge with sculptures that create a witty dialogue between abstraction and figuration. Lying propped against the wall, El Fenix is a shining pool of black resin that lays claim to a rug whose presence is revealed only by the tufts of wool fringing the edges. Coloured green, red and black the angular rods of Stairways are delicately held aloft by six tiny black hands attached to the walls and ceiling. Sunrise performs one of Rothschild's favourite tricks; the large hoop appears to levitate when, in fact, it is secretly held aloft by the red ribbons hanging from its rim.
Perforated ellipses such as Dr. Nut and Horn of Plenty (pictured right by Jerry Hardman-Jones) self evidently paraphrase Hepworth's work, but these acts of homage turn out to be wickedly subversive. In their wobbly playfulness, the sculptures seem to embrace frailty, error and incompetence – signs of the weakness and entropy that modernists sought to overcome with their idealistic belief in the improving power of good design.
The Hepworth Wakefield is not the only cultural attraction in the area. The Yorkshire Sculpture Park is only a 15 minute drive away and the Henry Moore Institute in Leeds is a few miles down the line; so visitors can spend a weekend exploring contemporary art in the area.
The gallery is just one of many initiatives instigated by Wakefield's enlightened council to kick start the local economy. There's a new market hall designed by David Adjaye and the gallery has commissioned a bespoke beer from West Yorkshire's Ossett Brewery; the beer mats proclaim "There's something creative brewing in Wakefield". The leader of the council is Peter Box; his enthusiastic support has been crucial to the success of this ambitious project and, you've guessed it, the locals have nicknamed the new building Peter's Box. It's a sure sign that the Hepworth Wakefield will be a success.
The town of Wakefield has long boasted an impressive collection of contemporary art
Share this article