Sidi Larbi Cherkaoui's Apocrifu/ Gardenia, Brighton Festival |

reviews, news & interviews
Sidi Larbi Cherkaoui's Apocrifu/ Gardenia, Brighton Festival
Sidi Larbi Cherkaoui's Apocrifu/ Gardenia, Brighton Festival
A haunting piece about the perplexities of holy texts - and a clichéd trannie cabaret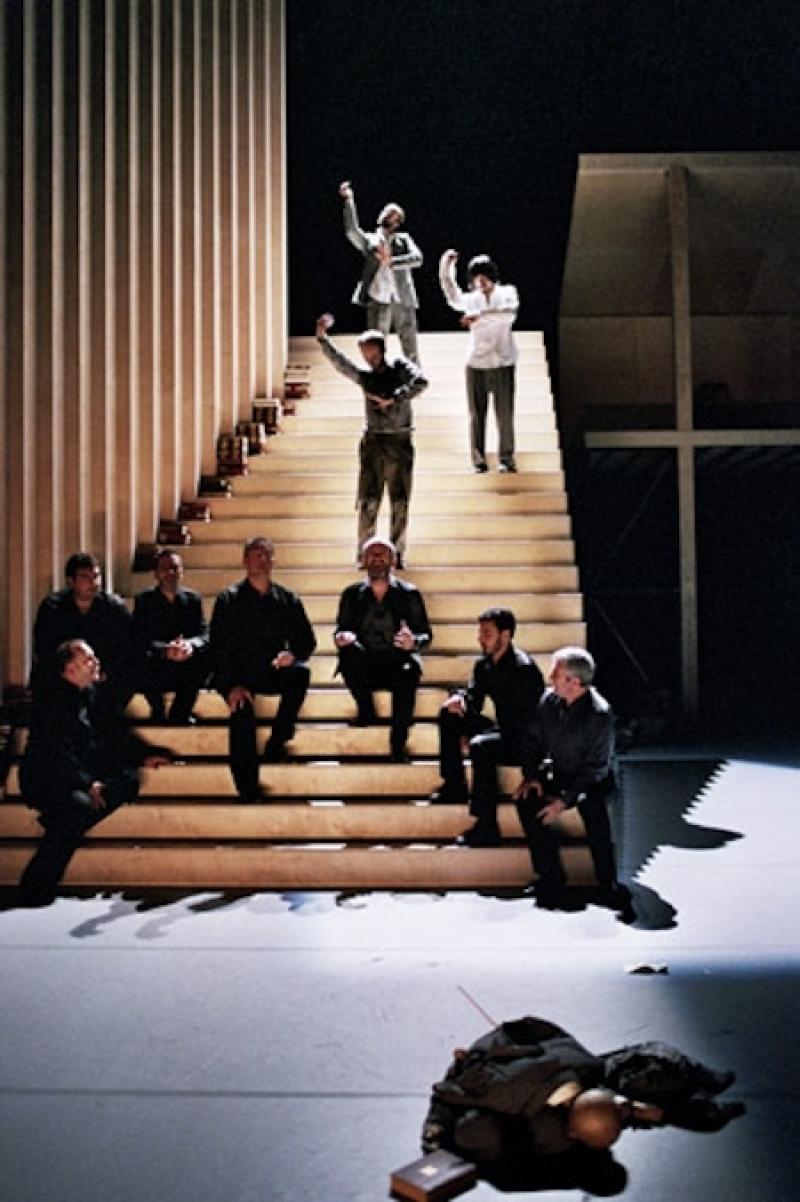 Sidi Larbi Cherkaoui's 'Apocrifu': Bravo to a brave and poignant piece of theatre
Apocrypha is a word that has acquired a dubious meaning, for books of questioned value and authenticity, texts in various religions that may not necessarily be held divine. The Belgian-Moroccan dancemaker Sidi Larbi Cherkaoui's dance work Apocrifu applies the word and its queries to the holiest of texts themselves, the Koran, Bible, Kojiki, in a secular era where religion is more about politics than faith.
This might sound dubious material for a remarkable evening when you were choosing dance shows to see at the Brighton Festival - the transvestite cabaret probably sounded a better bet. Wrong on both counts.
Apocrifu, with seven a cappella Corsican singers, three dancers and hundreds of books, turned the marriage of words and mute movement into an experience of gripping affection, pathos and some unforgettable image-making. Vastly more so than the offering by another Belgian troupe, Gardenia, a slackly clichéd cabaret piece for elderly transvestites which will be visiting Sadler's Wells in late June. Don't cancel your holiday.
Appealing as the notion of Gardenia might be, in a below-the-belt way, it struck me (a fairly seasoned observer of gay and camp dance for the past 20 years) as about as tired as it comes to put Maria Callas, Judy Garland, Liza Minnelli and Marlene Dietrich on the speakers (poor dames), while some dear old men slowly take off their grandad suits and dress themselves into something more comfortable, more floral, sequinned, feathered and skirted.
Alain Platel, the founder of les ballets C de la B, had a real story in mind when he conceived the piece with Frank Van Laecke, about the closure of a cabaret in Barcelona that was putting a number of very long-serving transvestite artistes out to grass. Nice plan. The celebrated transsexual actress Vanessa Van Durme roped in some retired transvestite thesp friends to join her in a show intended to bring back old memories of past glory days. (Picture above by Luk Monsaert.)
In the end it's like a dare on The Graham Norton Show. The old performers invite our pitying laughter at their lumps, bumps and posings as La Minnelli, La Taylor et al, their rare organised moves limply derivative of Pina Bausch, Kontakthof in particular. They tell arch, flabby jokes about "the girls" and their limitless sexual availability. It is old hat, un-individual, un-relevant and insubstantial as a comment on cabaret secrets, as any work by Javier de Frutos or Michael Clark in the past 20 years would show up.
Just one character, a younger man, acts differently, trying on dresses but not submitting to the ritual, a grappling duet on the ground possibly reflecting the son challenging a mother who has changed sex to a man. This to me was the only kernel for a dance-theatre piece in the endless 90 minutes. For the rest, it was as if we were supposed to be entertained by their ridiculousness.
Dimitri Jourde is held down and painted with Japanese characters so that his body becomes writ, the ink seems to eat into his soul, he snaps in whiplashing somersaults
I wish it were Apocrifu instead that would be visiting other theatres - one night only in Brighton for this work, as substantial and taut as Gardenia was slack and trite. A high bleached wooden staircase to the left, an outdoor shelter to the right, whose woodpile turns out to be of dozens of books. Singers in black (the A Filetta polyphony group) discreetly come and go, like ghosts, their voices warbling and droning in the dark, their faces scrunched up raptly as they sing.
The three male dancers have kathak bells on their ankles under their jeans, rustling as they offer us their different holy books. Cherkaoui, his high forehead and broad face ringed ascetically with hair, describes how the story of Cain and Abel appears in various religions in different versions, and this theme of brothers at war, or selves colliding, becomes the generator for the piece's urgent, speedy dance material.
An eerily mournful atmosphere is provided by the singers with their almost Arabic descants curling over long-drawn-out ground bass chords, amidst which there is a fourth "dancer", an undersized puppet like an old man, perhaps the iconic father of the household who lays down the orthodoxy. The three dancers physically interrogate him, moving his limbs and body around, carefully lifting him as if he were a fragile old man at one point (they lock in groupings like an El Greco pietà), or flamboyantly running him through with swords at another. Metaphors of questioning old writ, or the power of bigotry to divide and wreck, or the dying of language, seem to fuel Cherkaoui's boneless, tumbleweed dance idiom. All three men have strikingly imagistic solos (ankle bells rustling), and a funny pass-the-book threesome gets a chilly counterblast later when the men become a trio of synchronised destroyers, stabbing books left and right with long blades.
Above all there is a remarkable, rawly emotive section when the splendidly muscled Dimitri Jourde is held down and painted with Japanese characters so that his body becomes writ, the ink seems to eat into his soul, he snaps in whiplashes and flailing somersaults as if the words burned him. Cherkaoui, like a loving brother, runs to him, and a strange Siamese-twin duet develops where their heads never separate yet they are increasingly at war, while the voices of the singers vibrate with distressed protest.
These are riskily slender resources to place such emotional weight upon, and Apocrifu doesn't entirely hold its 80-minute length, but its finale is ravishing, redemptive, the singers like heralds arranging themselves on the staircase to usher the exhausted dancers to the top where they're bathed in transfigurative light. Apocrifu may begin with an agnostic debate about multiple gods, but by the end there's no doubt of a beautifully staged, most affecting declaration of belief. Bravo to a brave and poignant piece of theatre.
Hear A Filetta sing "Di corsia riposu" - singing starts at 0.45