Perspectives: Hugh Laurie Down by the River, ITV1/ Operation Crossbow, BBC Two
Perspectives: Hugh Laurie Down by the River, ITV1/ Operation Crossbow, BBC Two
Maverick MD dumps stethoscope and starts a blues band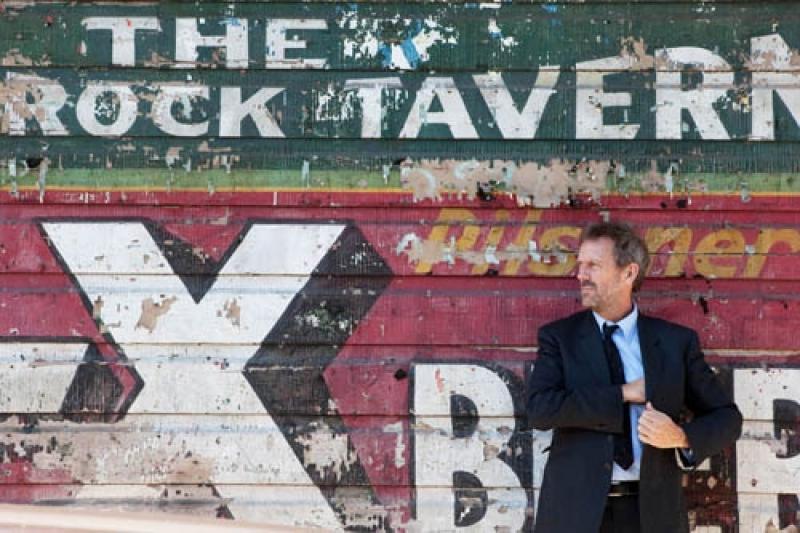 Hugh Laurie: Misanthropic medic turned roots music buff
America has been very good to Hugh Laurie. His starring role as Dr Gregory House has shot him to the top of the earnings tree in US television, while comprehensively demolishing existing preconceptions of him as the blissfully idiotic Bertie Wooster, or the half-witted Prince Regent in Blackadder the Third. You might even say that with House, Laurie finally got the chance to play Blackadder.
It's a mutual transatlantic love affair, and Laurie's triumph as the manipulative medic has given him a platform from which to record an album of his adored blues and New Orleans music, Let Them Talk. In this Perspectives film, Laurie took a journey - a pilgrimage, he'd probably call it - to New Orleans by way of Texas, driving a red 1966 Ford Galaxie and pausing from time to time to deliver an anecdote, or sit by the river plucking out a Leadbelly tune on guitar.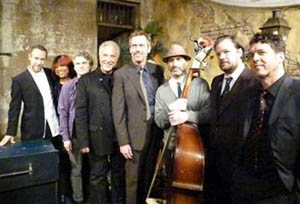 Laurie's album is a more than respectable effort, and if his voice is nothing special, he's a fine piano player and pretty handy on blues guitar too (Laurie and band, pictured right). With hefty backing from the Brothers Warner, he has been able to surround himself with expert musicians, and it was the live performances with his band which supplied most of the film's highlights. Additional lustre was applied by guests Tom Jones, Irma Thomas and brass arranger Allen Toussaint.
But Laurie made a disappointing tour guide. Where you might have anticipated flashes of Wodehousian wit, he was trite and self-conscious, even falling back on that rust-speckled old proverb about there only being "two types of music, good and bad". We also heard far too many treacly paeans to the glories of New Orleans and how much he'd always loved this music. New Orleans was "more than I ever hoped it could be", he intoned. "I used to dream of this city, this has been my Jerusalem." When he finally took the stage in New Orleans with his band, he plummeted through a cliché trapdoor: "This may be what heaven is like! Come to think of it, this may be heaven!"
At the root of the problem was the fact that Warners footed the bill for the production, and are using extracts from the film to promote Laurie's album. It's a shame that a subject so obviously close to his heart should have been dipped in corporate embalming fluid, but that's the Devil's bargain that comes with House's gargantuan success.
Reassessments of famous exploits from World War Two have become regular TV fodder, but Operation Crossbow managed to find a little-known corner of the conflict upon which to shed fresh light. Having become the streamlined superstar of the Battle of Britain, the Spitfire went on to excel as a photo-reconnaissance aircraft, stripped of its armament but loaded up with cameras instead. Streaking over occupied Europe at 30,000 feet, the reconnaissance planes brought back a priceless stream of information, none of it more critical than their shots of Germany's V-weapons projects at Peenemünde on the Baltic coast (RAF reconnaissance pilot Jimmy Taylor, pictured left).
The cunning part was that the Spitfires were taking stereoscopic photos, which created 3D images to be pored over by teams of analysts at RAF Medmenham in Buckinghamshire. The photos were viewed through glasses not dissimilar to ones you'd wear if you went to see Avatar in 3D, and rendered objects in astounding detail. The V2 rocket was identified by the long shadow it cast when raised to its firing position.
There was a fascinating sub-plot about how the RAF had managed to acquire a pair of Vildt machines, capable of sophisticated stereoscopic image processing, from Switzerland, from where they had to be taken to Sweden and transported back to Blighty in Mosquito bombers. There was so little room in the aircraft that one RAF officer had to be strapped in the bomb bay with the equipment, and almost froze to death when the pilot left the bomb doors open all the way across the North Sea.
The upshot of it all was that the analysts were able to detect the terrifying V2s and track down the launching sites for the V1 flying bombs (V1 sites, pictured right), prompting Allied air raids which wreaked enough havoc to prevent them from obliterating London or pulverising the D-Day landings. The Germans were convinced that their secret weapons could reverse the course of the war, and in a Spitfire-free environment, they might have been right.
Share this article