Treme, Sky Atlantic
Treme, Sky Atlantic
Tantalising start for David Simon's saga of post-Katrina New Orleans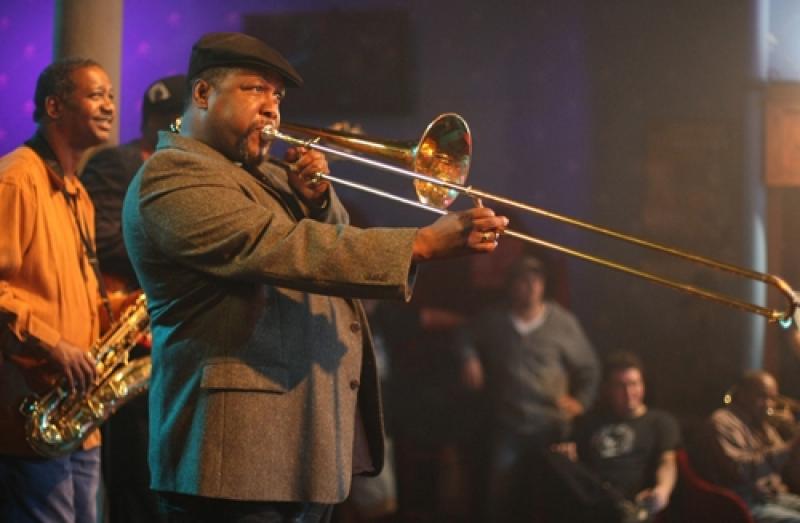 Trombonist Antoine Batiste (Wendell Pierce) tapping into the musical soul of New Orleans
When Treme debuted on HBO in the States, some excitable critics watched the pilot episode and instantly proclaimed it a masterpiece superior even to The Wire. David Simon, who created both shows, may have been delighted. Or on the other hand, he might have wondered how anybody could assess a complex, long-term portrayal of New Orleans in the aftermath of Hurricane Katrina so categorically on so brief an acquaintance.
Now Treme is here, though at the moment sadly confined to the elite mini-monde of Sky Atlantic. Having watched the pilot, I felt ill equipped to deliver a definitive judgment of any kind. But (after consulting the HBO website to fill in some background on who everybody was) I felt I'd taken the first steps on a long but fascinating journey.
As a self-conscious telly auteur blessed with a creative freedom that few ever get to experience (and none in British TV), Simon espouses the "show, don't tell" ethos, allowing characters and narrative themes to mingle and coalesce gradually. You just have to let it wash over you until a few salient points start to get snagged in the seaweed of the mind. It wasn't until almost the final frame that we got a heads-up on what "Treme" means. It's a district of New Orleans, which also lends its name to the Treme Brass Band, which played out the episode with an emotive display of the lugubrious yet somehow celebratory funeral music of the Crescent City. As the cortege rolled somnambulently through the streets, even the carriage horses were doing a syncopated slow march.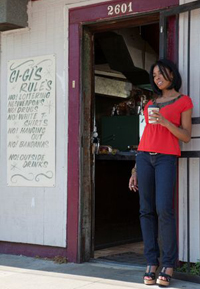 It's the city itself, with its traditions and above all its music, which is the show's central character, and the actors circle around it in orbits of varying eccentricity. Among the key players is trombonist and Treme bandsman Antoine Batiste (Wendell Pierce), who's still trying to adjust to his separation from his wife LaDonna (Khandi Alexander, erstwhile medical examiner from CSI: Miami, pictured right). LaDonna is trying to get her restaurant, Gigi's Place, back on its feet, though the city's still in a state of semi-paralysis three months after the Katrina cataclysm. She's also trying to find her brother Daymo, who hasn't been seen since the hurricane. In this she's assisted by tenacious attorney Toni Bernette (Melissa Leo), who manages to unearth evidence that the missing man was being held in police custody, even though the cops swear black and blue that he wasn't.
To provide a modicum of comic relief there's Toni's husband Creighton (played by a dauntingly mountainous John Goodman), a novelist by trade, but also an energetic spokesman for the city and a warlike critic of the federal government's negligent response to the Katrina disaster. In an early scene, he was interviewed by a farcically sneery and pompous British TV journalist (pictured below) who was more interested in ridiculing N'Awlins's outdated music and artery-clogging cuisine than in the ruinous aftermath of the storm. Creighton quite reasonably attacked the cameraman and hurled his microphone into the canal. I hope this crass caricature doesn't mean David Simon is a raging Anglophobe. Maybe he just couldn't have got away with portraying an American journalist this way.
Oddly, the episode's other jarring note concerned another Englishman, Elvis Costello, who turned up to listen to the band at a New Orleans nightclub. This was used as a pretext for musician/DJ Davis McAlary (played as an irritating, self-obsessed nerd by Steve Zahn) to grovel sycophantically before the greatness of Elvis, while Costello sat there grinning vacantly. This wheeling on of guest stars is usually what happens in the fourth series of sitcoms which are running out of ideas, and it felt really odd here.
But where the piece really succeeded was in its depiction of a devastated community just beginning to awaken from a long and harrowing nightmare. The idea of a city failed by the not-so-United States and forced to dig deep into its own historic resources was evoked with telling force. These characters have a hard road to travel, and volumes of stories to tell.
Watch the trailer for Treme