British Design 1948 - 2012: Innovation in the Modern Age, Victoria & Albert Museum |

reviews, news & interviews
British Design 1948 - 2012: Innovation in the Modern Age, Victoria & Albert Museum
British Design 1948 - 2012: Innovation in the Modern Age, Victoria & Albert Museum
An exhilarating exhibition that celebrates Britain's design creativity
Launched in 1959, the British mini is now manufactured by German company BMW
The V&A has played a blinder. This extraordinary, exciting and unexpected exhibition provides endless trips down memory lane for many and will be a revelation for others. Ignore the clunky title, moving us from the postwar Olympics of 1948 to Olympic year 2012, and just go.
The anthology ranges from the Apple Mac – British-born designer Jonathan Ive – to the Mini (main picture), launched in 1959 by Smyrna-born Sir Alex Issigonis. And these symbolise the story that is implicit in the narrative, which is the vanishing act of industry, of actually making things: Apple Macs made in the USA, the Mini long gone and when revived, owned by BMW. Designed in Britain, made elsewhere.
There is punk rock and creative anarchy alongside increasingly quaint design, evoking nostalgia for a Britain that never was
Manufacturing has all but vanished. Design though, aka the creative industries, has become a significant energiser of the economy, domestically and internationally.
Economically deflated and defeated as a consequence of its wartime victory, Britain defiantly produced Britain Can Make It at the V&A in 1946 (it took the whole two-month supply of new glass in London to repair the museum's windows in time for the show). The current British design show demonstrates that Britain did – more or less – make it, but not by making. Who would have thought that imaginative innovation would have been so much a characteristic of Britain making it, whilst still clinging in so many ways to old fashioned traditions? There is punk rock and creative anarchy alongside increasingly quaint design, successfully evoking nostalgia for a Britain that never was: the poignant example is Laura Ashley smocking, pintucks, floral patterns and all.
The contrast is splendidly shown in the first main section, Tradition and Modernity. Here, of course, is the 1951 Festival of Britain, including the 15ft preparatory drawing for the Skylon, on view for the first time since being unearthed from the National Archives. There's also John Piper's outdoor mural for the Homes and Gardens Pavilion, and Ernst Race's airy metal chairs designed for the South Bank terrace. A nine foot high maquette by John Piper and Patrick Reyntiens of the glorious stained glass Baptistry window for Basil Spence's Coventry Cathedral, rising like the proverbial phoenix from the ashes, is remarkably beautiful and affecting. And just across the way is a Cecil Beaton photograph of the Queen in Coronation robes, and a sumptuous, heavily embroidered Norman Hartnell ball gown for the Queen's visit to Paris.
The stone statue of the Family by Henry Moore, pretty substantial at six foot tall, 1.5 tonnes, normally graces the town centre of Harlow New Town (one of 11 New Towns started after the war, Milton Keynes the most successful and still growing.) It reminds us vividly of the burgeoning optimism and hope, encapsulated in the fledgling welfare state (National Health, anyone?) of the time. Anyone could successfully navigate in this brave new world, particularly when aided by David Mellor's streamlined traffic lights, and the arresting and affecting Children Crossing Sign designed for the Ministry of Transport by Margaret Calvert and Jock Kinneir in 1964 (pictured right), one of a series of pictograph road warnings and instructions now used internationally.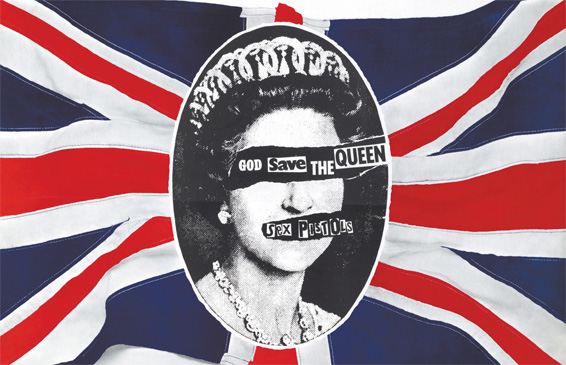 What happened then, as Britain dragged itself out of the deprivations of war and its aftermath was, of course, fragmentation – a social history of starts and stops, boom and bust, economic success and recession. Or, as the exhibition has it, subversion, innovation and creativity. There is the Coldstream Report that transformed for good or ill the nation's art schools; the sparks of rebellion of 1968 led by those same art students; the Sex Pistols poster of the Queen blindfolded and gagged (by Jamie Reid: pictured above). Here is Hockney's iconic painting We 2 Boys Together Clinging as the Wolfenden Report changed the sexual climate of Britain. We see a series of film clips celebrating pop rock from the Pet Shop Boys to Bryan Ferry, Derek Jarman's ingenious and ingenuous Jubilee, an affectionately Rude Britannia, no longer shocking but rather quaintly charming with the passage of time.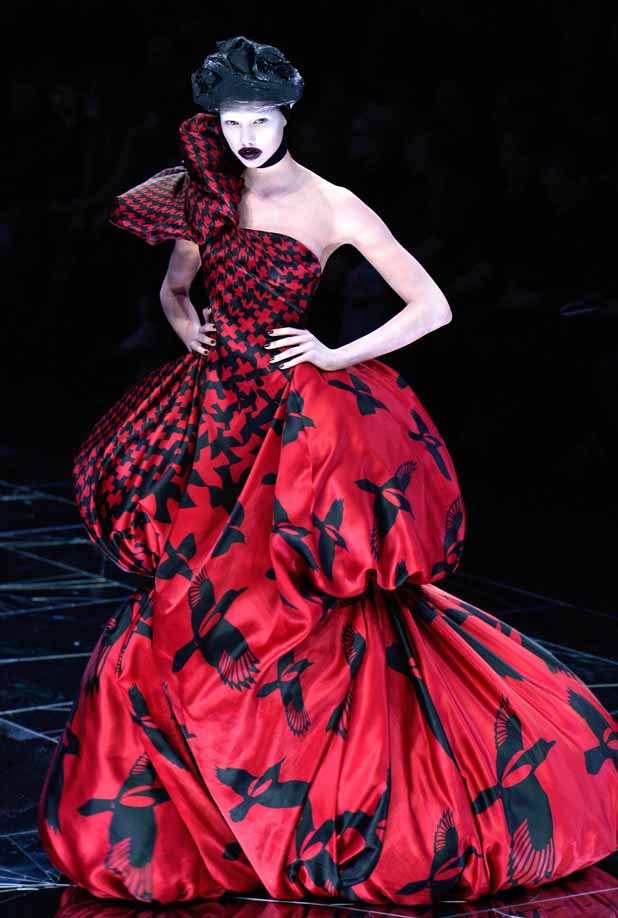 We exit by way of Alexander McQueen's ravishing and impossibly brilliant red-and-black ball gown (pictured right) from his 2009 Horn of Plenty collection – alongside models and photographs of Zaha Hadid's iconic London Aquatics Centre 2011, already an Olympian legacy. Along the way we've noticed the new universities (Denys Lasdun's University of East Anglia, with a bow to Essex and Sussex), we've cleaned up with the Dyson vacuum cleaner, picked up on British Rail's logo and Kenneth Grange's Intercity. Concorde sums up one aspect: magnificent, but already on the scrap heap, fit only for museums (Brooklands, Duxford). Meanwhile the export success of our starchitects – building the brave new world internationally from Richard Rogers to Norman Foster – is another. Richard Hamilton invents pop art and memorialises Swinging London - a print of Mick Jagger in handcuffs. There is Biba and Bazaar, Mary Quant and Vivienne Westwood, and Peter Blake and Jann Haworth's Sgt Pepper's Lonely Heart Club Band.
The show is a glittering Aladdin's cave: 250 objects from the V&A's own collections, 100 borrowed nationally and internationally. But it is also the tiniest of samplings (new parlour game to debate what should have been in, or possibly out: I heard one visitor really upset that there were no Maclaren baby buggies). However, there's more than enough to make us realise how we define ourselves by things, and that those things are designed and made.
Most of us will recognise something we have at home, or something very like it, making the exhibition feel curiously intimate. It is a turnout of the nation's attic combined with our shop front, a multi-layered social history told through objects.
rating
Explore topics
Share this article