Accademia di Santa Cecilia, Pappano, The Anvil, Basingstoke |

reviews, news & interviews
Accademia di Santa Cecilia, Pappano, The Anvil, Basingstoke
Accademia di Santa Cecilia, Pappano, The Anvil, Basingstoke
Colourful, even Italianate Mahler and Liszt from Italy's best orchestra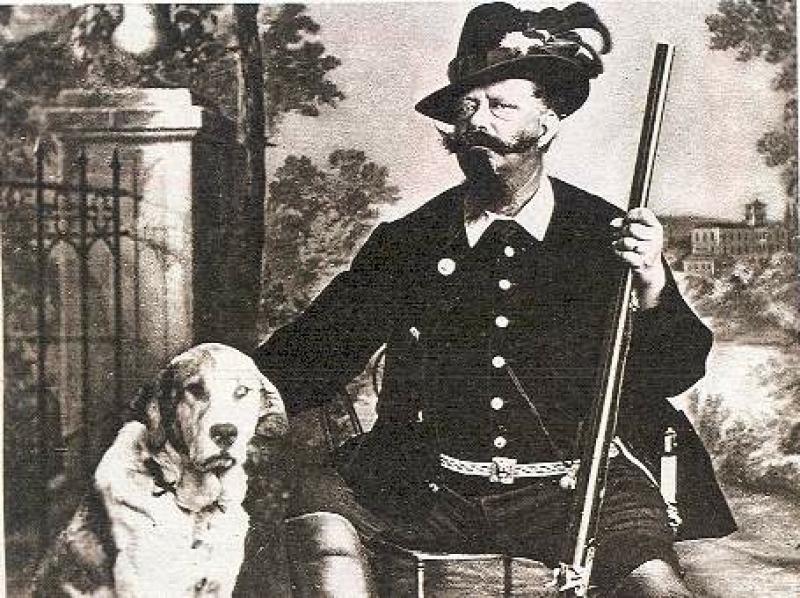 Victor Emmanuel II (and dog): Proclaimed King of Italy 150 years ago yesterday
Yesterday was the 150th anniversary of Italian unification under Victor Emmanuel II - the exiled king whose supporters chanted "Viva Verdi!" (Verdi = Victor Emmanuel, Re D'Italia). Naturally, Italy's premier orchestra, the Orchestra dell'Accademia di Santa Cecilia, under their conductor Antonio Pappano, chose to celebrate this in Basingstoke.
Basingstoke has, in The Anvil, a thunderingly good 1,400-seater concert hall regularly visited by top orchestras (Maazel and the Philharmonia soon, the Bolshoi soon after). It is a fine and moving thing to see that as anonymous a place as this Hampshire new town declared that it will and must have a major symphony hall in its shopping centre.
If Pappano is familiar in Britain largely as the music director of the Royal Opera House, with his symphony orchestra in Rome he remains unmistakably a man of theatre, a storyteller of bright colours, exact pictures and irresistibly direct emotional communication (Pappano pictured right at the Accademia's new base). To behold perhaps 100 musicians on one stage last night, all breathing urgent passions of Verdi, Liszt and Mahler, is a pretty exciting experience for anyone's money, and I wish (if Basingstoke pardons me) that last night's audience hadn't been about 90 per cent over-65 - there could and should have been rows and rows of teenagers and 20-year-olds there.
They would have loved the rip-roaring performance by the giant Russian pianist Boris Berezovsky of Liszt's first piano concerto, a piece whose sheer pianism, after it's stunned you with its torrential plenitude of notes, contains a great deal of winning schmaltz and humour. A little triangle tinkles away along with the Niagara Falls of the piano part, there are dialogues between gruff lower-register orchestral instruments and the ingratiating piano rills and trills, or flecks of sentimental melody from a clarinet or a pair of violins, all of which offers such a pleasing display of Liszt's sheer hedonism of spirit that one would be a curmudgeon to turn one's nose up at it for not having a more serious mind. Pappano seems to take a similar joy in conducting a concerto as he does in opera, rushing eagerly about plucking up rich textures of oboes, violas and brass like luxury materials for the soloist to lie upon. The result is generous, opulent and extremely easy for the listener to enjoy.
Moscow-trained Berezovsky (pictured left) has an infallible touch for this sort of pianism, his technique so secure that he can throw away the arpeggios and double octaves faster and faster, and Pappano and he practically raced each other to the finish, offering a visceral sensation of excitement to the audience, whose explosion into applause they knew they could depend upon by then. This was music as pure fun. (Then they spoiled the effect by encoring the last section, which can never be as good as the first impact.)
The Liszt makes an unexpectedly good partner for the opener, which is Verdi's discarded first thoughts for his Aida overture, a nine-minute "sinfonia" intended for the opera's Italian premiere in 1872, but which he withdrew almost at the last moment. The Aida Sinfonia is rarely played, and one can see why - though it is saturated with extremes of operatic colour, from Aida's wistfulness to cod-Egyptian grand bombast, it has a cut-and-paste feel and several parts sound like music to move scenery to, despite Pappano's unstintingly theatrical care and concern. What stood out early on - recurring through the rest of the concert - was some achingly simple clarinet playing by Alessandro Carbonari, one of several wind soloists outstanding in the evening.
Mahler's symphony, in Pappano's theatrical approach, is as rampant with pictures as a movie
Mahler's first symphony lends itself very well to Pappano's picturesque approach, as rampant with scenes as an Italian movie. Although he may have dubbed it "Titan", it was "Everyman" in Pappano's hands, a rustic and compellingly vivid depiction of a day in a human life, from the still of pre-dawn, the wakening day and the hearty walk to work through to the troubled sleep. Mahler's palette of sounds would become more Expressionist - and indeed they are, in the final movement, much more inward and indeed fascinating - but as Liszt does with the piano, Mahler seizes so instinctively upon combinations of instruments which stir memories or associations that the images flare.
Bird calls on woodwinds darken from morning cuckoos to afternoon crows and sweeten again to midnight nightingales, the almost constant human walking pace quickens cheerfully here, slows in apprehension there - one feels on the road. And yet with Pappano one feels inside, not outside - in a theatre or a cinema or a dance hall (his dance sense is ever present). The "Frère Jacques" theme of the Funeral March emerges almost as a strain from a Coppola film, the little Jewish klezmer band getting swallowed up in the quiet, rich onrush of strings, like a crowd swarming over.
It's a spectacular thing to see so much brass on stage - 16 of them, at least - yet the beefy brass sound is offset by a lightweight, delicate violin-section tone, pushed sometimes to its absolute limit of quietness by Pappano without any loss of clean intonation. There's also a very flavourful viola sound coming from the orchestra's midriff area as well as that serene clarinettist.
That the players seemed to be having as much fun as the audience was evident in the three encores that they gave - Rossini, Puccini and Ponchielli - taking the final bows past 10.15pm. Pappano exuberantly told the audience why they were celebrating their homeland. Evidently it might be Basingstoke, but that was no reason not to party on such a big day for an Italian.
The piano concerto offers such a pleasing display of Liszt's sheer hedonism of spirit that one would be a curmudgeon to turn one's nose up at it
Share this article