Rigoletto, Royal Opera |

reviews, news & interviews
Rigoletto, Royal Opera
Rigoletto, Royal Opera
A creaking set sets the tone for a rather weary revival of Verdi's tragedy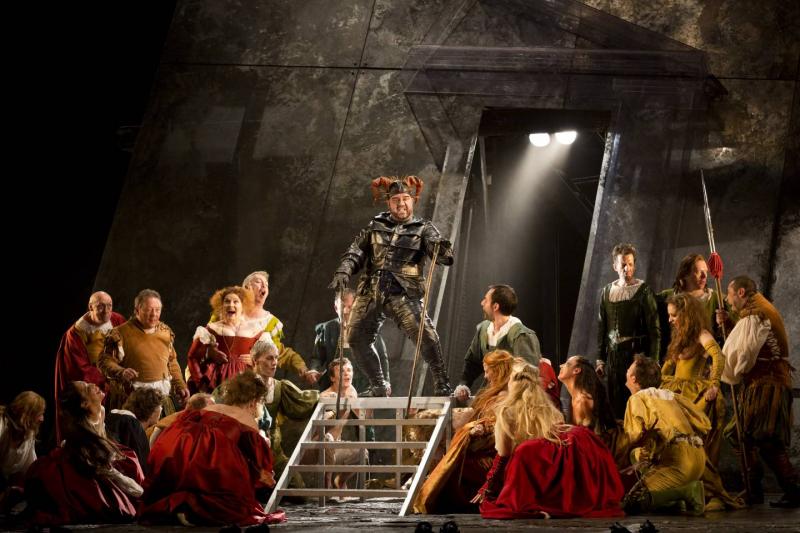 Rigoletto (Dimitri Platanias) entertains the courtiers of Mantua
David McVicar's Rigoletto hurls full-frontal nudity and an orgy at the audience within its opening minutes – dramatic grenades to clear the well-worn ground ahead. Back in 2001 this may have been enough to shock-and-awe, but a decade and a couple of revivals on and it takes rather more. And more we certainly get in the current revival.
Not only does Italian superstar tenor Vittorio Grigolo take his turn in the Duke's tight britches, but John Eliot Gardiner takes charge in the pit for this, his first
Rigoletto
. With Dimitri Platanias also making his Royal Opera debut in the title role, there's a lot going on here – too much, at times.
As artistic battles of wills go it would be hard to imagine a tougher pair of adversaries than Gardiner and Grigolo. Gardiner's rigorous precision, the unfussy directness of his musical lines and his lack of anything approaching indulgence is as familiar as Grigolo's own rather more Italianate approach. Cossetting and coaxing every phrase, his is a voice that luxuriates in its own power, checking itself out in the mirror of his adoring public (cheering and applauding last night after almost every number). There's no denying the quality of his instrument, nor its power, but his musical approach as yet lacks the flexibility to fit into all ensembles.
Spinning some beautifully controlled pianissimos, Siurina's is a poised performance
And so it was here. While Gardiner pushed forward, chivvying the Royal Opera House Orchestra into crisp, brisk little gestures, Grigolo slumped gracefully into his arias, refusing to be hurried or to make any concession to stylistic compromise. His gleaming brightness of tone and sheer volume reduced everyone else on stage to black and white, leaving Grigolo alone as the colourful foreground. It wasn't the most generous of singing, and while "Questa o quella" and "La donna e mobile" – the young Duke's smug expressions of his own position and power – fitted neatly into his scheme, petulance was never quite absent from his transformative moments, undermining the plausibility of Ekaterina Siurina's swift seduction.
Siurina is no match for Grigolo (pictured right) in terms of vocal weight, but musically much more alert to the ensemble around her. Spinning some beautifully controlled pianissimos in "V'ho ingannato", hers is a poised performance that as yet still lacks the final gear of power for the dramatic climaxes. Christine Rice feels criminally underused as Maddalena, but acquits herself with characteristic style – a lovely earthy foil to Siurina's delicate soprano.
All ears however were on Greek baritone Dimitri Platanias (pictured below), making his first appearance at the Royal Opera House. Physically as solid as his voice, he cuts an unusually youthful and sturdy figure in the role of Rigoletto, despite McVicar's best attempts to weaken him with two walking sticks. His evident physical power rather undermines the pathos of proceedings, unbalancing the power dynamic even in the face of Grigolo's overwhelmingly virile Duke.
Vocally we see something of the same problem; beautifully even through the range and strong at the extremes, his is a quality baritone, but lacks character and sensitivity in the delivery. If Grigolo was guilty of fussing over every nuance, of curving every melodic straight line, then Platanias suffered the opposite. Interior moments – his discovery of Gilda in Act III, his stealthy confrontation with the kidnappers – risked baldness, so impersonal were they. As to dramatic arc or character, perhaps it was his awkwardly armadillo-like armour, but little attempt at either of these was able to penetrate out and reach the audience.
Gardiner may be best-known as a period specialist, but he is by no means new to the later repertoire. It's too easy an argument to see the Baroque textures at work here, but it is perhaps the only explanation for the rather bloodless rendition we got last night. Bringing unexpected clarity to Verdi's chamber textures (moments for oboe and cello during Rigoletto's plea for the return of Gilda, and some beautiful orchestral characterisation during Rigoletto's first encounter with Sparafucile), his climaxes however lacked momentum and weight. And the less said about the mess the Royal Opera's brass section made of the lowering opening (here was unease of quite the wrong kind), or the battle of tempos between chorus and offstage band, the better.
McVicar's production is a characteristic mash-up of medieval and contemporary elements, and, judging by the creaking of the revolve, is getting as tired physically as it is beginning to look visually. There's just too much fuss here, both dramatically and in the competing musical accounts of the opera offered by Gardiner and his cast. Amongst it all Verdi's tragedy is all but lost.
Rigoletto is at The Royal Opera House until 21 April
The less said about the mess the Royal Opera's brass section made of the lowering opening, or the battle of tempos between chorus and offstage band, the better
Explore topics
Share this article