Anna Nicole, Royal Opera |

reviews, news & interviews
Anna Nicole, Royal Opera
Anna Nicole, Royal Opera
New opera from Mark-Anthony Turnage and Richard Thomas has its attractions
Thursday, 17 February 2011
Voluptuous Anna Nicole could not have received a more sympathetic characterisation from Eva-Maria Westbroek
Look past the cum buckets, the trucker pussy, the fuck you-ing and cunt-hungry beasting (librettist Richard Thomas's words, not mine), the mountainous titties and cheap promotional candy that had been confected for the legions of rubbishy celebrity opera virgins scattered in the Royal Opera House audience at last night's world premiere and you will find a profoundly conservative, and mostly not unattractive, new opera in Anna Nicole.
Most conservative was the story. Put-upon female has life destroyed for evening's entertainment - ie, classic operatic fallen-woman porn. Ask Violetta, Lulu, Kundry or Lucrezia Borgia about it. Last night it was the turn of big-titted glamour model and professional gold digger Anna Nicole to have her tragic low life feasted upon by Royal Opera House high life.
There's probably more bare tits and dirty chat in any given season at Covent Garden and the ENO than on many porn channels
Her journey up from her "young, single, flat-chested and in debt" Texas white-trash roots to her 89-year-old-billionaire-marrying infamy was a mixed blessing. Many of Thomas's try-hard attempts to get down with the kids and be funny (and he's failed at this before) were nauseating. As was the over-enthusiastic laughter from the audience at every "fuck you". They obviously thought that Thomas was delivering some sort of daringly radical assault on the propriety of the world of opera, when in truth there's probably more bare tits and dirty chat in any given season at Covent Garden and the ENO than on many porn channels. Having said that, every now and again Thomas does strike gold. Lines like "We are the restless, breastless masses", sung by a quartet of girls readying themselves for plastic surgery, and Anna Nicole's Imelda Marcos moment (my favourite song of the evening), "That's the sound of Jimmy Choo, ooo-ooo-ooo", are unforgettably good.
Whenever Thomas's versification and humour went awry, however, (which was often), there were great distractions to be had in director Richard Jones and set designer Miriam Buether's celebration of American Eighties and Nineties kitsch. Their oversized neon world, deliciously bathed and epically lit in pinks, blues and oranges by Jones's genius long-time lighting designer Mimi Jordan Sherin, were never anything but thrilling.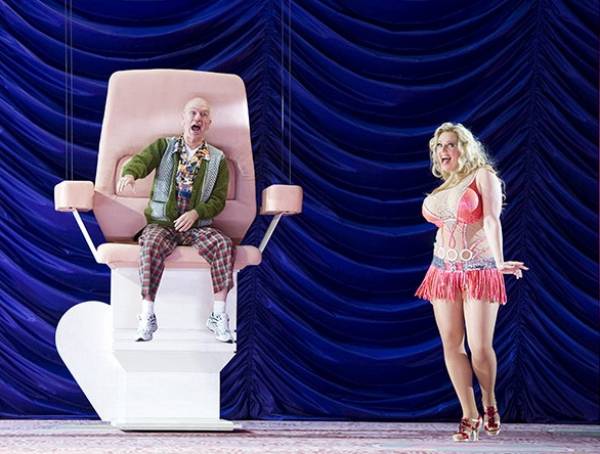 Interest nosedived in the second half as we processed to Anna Nicole's grave. Thomas's libretto buckled under the pressure to be soulful and give wider meaning to the plethora of tragic events to befall Anna Nicole and her family that we rattle through soap-style. A designated conscience of the opera, Anna Nicole's mother, Virgie (strongly sung by Susan Bickley), offers up insights like "shit happens, then you die". The increasing poverty of the libretto was doubly embarrassing as the second half was where Mark-Anthony Turnage's music began to achieve some genuine emotional power.
That isn't to say that, musically speaking, one was shortchanged in the first half. For, though it is a conservative score, often clear in colour and meaning, often following the lead of the words, often dividing into ariosi, duet, chorus or lyrically propulsive recitative in familiar fashion, rarely leaving a jazzed-up 1940s classical American idiom, it certainly sustains our interest. There is no let-up of steadily shifting but easily recognisable vernacular sounds and forms. Conductor Antonio Pappano and the Opera House orchestra worked hard to make the handovers between jazz band, drum kit and orchestra seamless.
The singing and acting was exemplary. Anna Nicole could not have received a more sympathetic characterisation from Eva-Maria Westbroek. Alan Oke (J Howard Marshall II, pictured above right with Westbroek) was a surprisingly subtle and winning billionaire.
Gerald Finlay (pictured left with Westbroek) pulls back from Thomas's crudely villainous set-up for lawyer Stern - though, poor thing, still has to deliver Thomas's ludicrous lines. Of the minor roles, there are two memorably loveable hicks, Grant Doyle's Billy, Anna Nicole's first husband, and Jeffrey Lloyd-Roberts's lap-dance punter, Trucker.
For any students of American popular culture, much of the joy was watching the underrated cultural artefacts of America - plastic surgery, KFC, Walmart - and their hick sponsors receiving privileged hard study and musical paean with a degree of sincerity and love. As this love turned into an all-too-familiar indictment, one had to retreat into the glories of the set, lighting and music. Society, capitalism, America, lawyers, the media, men all exploited Anna Nicole, claims the opera. But wouldn't it have been more interesting to explore the possibility that Anna Nicole exploited society? And had a great time doing it?