WOW – Women of the World, Southbank Centre |

reviews, news & interviews
WOW – Women of the World, Southbank Centre
WOW – Women of the World, Southbank Centre
Squabbles, sisters, songs - and issues that won't go away in culture or life
Feminism is a dirty word. Ask anybody. Do they want to be tarred with the label? Do they, hell. The word still carries connotations of man-haters. Even today's young women fighting against harassment in tube carriages, horrified by the easy access and the violence of pornography, even they complain that fessing up to being "feminist" lays them open to ostracisation and isolation. Yet with rates of violence against women, unequal pay, the lack of women on boards, pregnancy as a cause of job dismissal, sex trafficking - rightly or wrongly, feminism is on the march again.
I know, I've seen it – and it's been alive and well this past weekend down on London's South Bank - pulled apart, to be sure, hung up for ridicule, certainly. But providing the backbone to a remarkable festival of culture and debate, the perhaps unfortunately hyperbolically titled WOW – Women of the World – initiated by the Southbank Centre's Artistic Director Jude Kelly.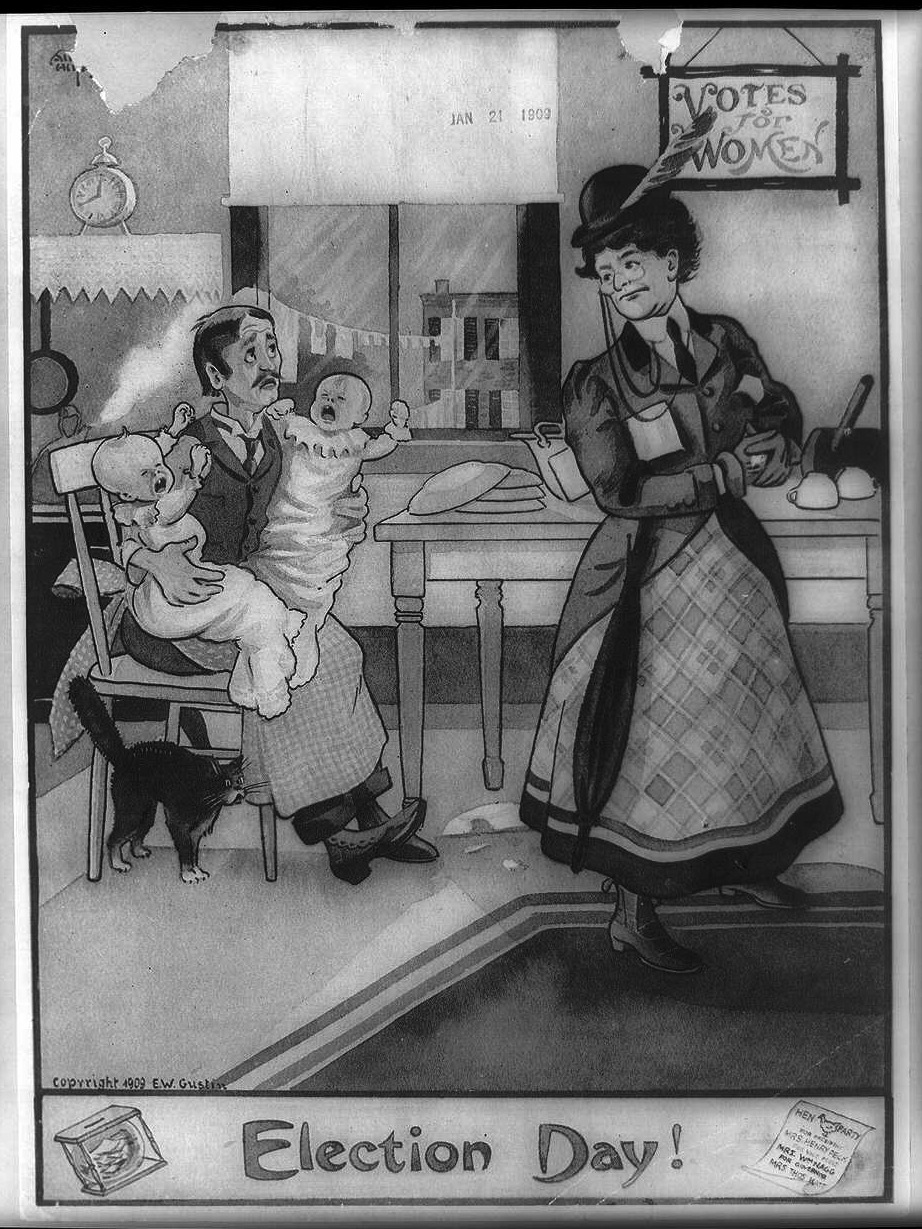 This joined into the global celebration of International Women's Day, which - you may be surprised to learn - has its centenary this week. This day, almost ignored in Britain, was first proposed as long ago as 1909 in the USA by protesting women oppressed with inequality (pictured, EW Gustin's 1909 cartoon about the event), and officially began on an international scale on 18 March, 1911. The UK has taken a long time to catch up, therefore.
But why would any sane journalist want to subject themselves to spending three hard-pressed days sitting in hot and clammy rooms listening to arguments rehearsed many times before? Curiosity, for one thing. A headline list of speakers – amongst them Shami Chakrabarti, Helena Kennedy and Sandi Toksvig. Not to mention two major music concerts thrown in. And I wouldn't have missed it for the world.
I wouldn't have wanted to miss Kathy Lette putting down the current fad of young women to wax their pubes in her inimical, crisply very funny way in the "Femme Fatale" workshop and arguing for the "pubic bush".
I wouldn't have wanted to miss playwright Kwame Kwei-Armah and BBC Asian Network DJ Nihal practically coming to blows in the "Bring out your feminist side – Men Talk" workshop on Sunday morning over Nihal's slip of the tongue regarding hip-hop clubs as sexualised and Kwame taking it as an insult to all black men.
I wouldn't have wanted to miss the Saturday afternoon "Future of Feminism" workshop and seeing young American documentary film-maker Marcie MacLellan's film Summer School – a case study in empowerment as a young middle-class girl from Rugby learns how to stand her ground.
I wouldn't have wanted to miss listening, in the subsequent discussion, to the wise words of Pragna Patel from Southall Black Sisters, the women's rights group set up 32 years ago to campaign for black and Asian women and still going strong, reminding us that in other parts of the world women's rights are hard won. Even in recently triumphant Egypt, once the main "revolution" was over - in which women had taken part, on the streets with their male colleagues - they have since been ruthlessly suppressed once they tried to demonstrate on their own behalf.
I wouldn't have wanted to miss meeting Kat Banyard, founder of UKFeminista – bright, articulate and so quietly persuasive on the evils and dangers of pornography in this internet, transit-busting world.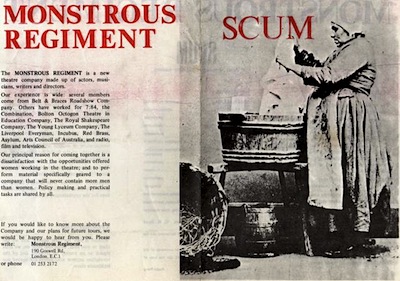 I wouldn't have wanted to miss Saturday night's "Whatever happened to Cunning Stunts?" billed as a celebration of the trailblazing women's theatre groups of the 1970s and Eighties which featured explosive readings on violence against women from, amongst others, Simone de Beauvoir, Sarah Daniels and Andrea Dworkin by Diana Quick, Ann Mitchell, Kathryn Pogson, Julia Pascal and others, and which somehow ended up more dishevelled than it should have done. On reflection, it mirrored the anarchic, freewheeling, jumping-off-a-cliff chutzpah of those times when, as Lily Ann Todd, director and member of the Monstrous Regiment theatre company's Scum, put it, "we were making theatre we'd never seen before". Harum scarum and all the more groundbreaking for that. (Pictured above left, the Scum programme sheet.)
Nor would I have wanted to miss Jude Kelly's own address – at 10am, on a grey, rainy Sunday morning, informal, intimate and unadorned – about her motives for the festival; how it was inspired by talking to a Women in Music group in Jordan and the restrictions they face to practise their art, about commitment and Jude's own belief in art as the democratic means to equality, equal space for all. And how the Southbank and the Royal Festival Hall, spawned in the Festival of Britain – which celebrates its 60th birthday this year – epitomises that art for all, that access-for-all principle, so endorsed by government in the 1950s as a way of raising morale to a population beaten down by years of war. And on how, echoing Zoë Wanamaker's lament this week, there are still in her Southbank open spaces "so few of the stories being told by women" in comparison with those being told by men.
Eska is Nina Simone as she might be if she was reincarnated to here, now, with a voice of pure liquid
But, best of all, amongst all the debate, questions and serious issues was the music. Being a theatre reviewer, I don't get out as much as I would like to where popular music is concerned. But I caught a young black British-Zimbabwean singer, Eska Mtungwazi, in one of the Royal Festival Hall's foyers on Friday evening.
She is Nina Simone as she might be if she was reincarnated to here, now. She is a singer, songwriter, musician with a voice of pure liquid – that floats, reaches bluesy base, then soars again. On Saturday night she took took part in Baaba Maal the Sengalese superstar's concert, In Praise of the Female Voice, and performed two numbers with such delicacy and musicianship that even those who had never seen her before knew they were witnessing something and somebody very special. She raised the roof.
As, of course, did Annie Lennox who, in a different, more recognised way in another concert, proved why she has stayed at the top for so long. Sheer magnetism. Fantastic evenings, thought-provoking days. Feminism lives.
Hear Eska sing the vocals on the Cinematic Orchestra's "Breathe" at the Barbican 2007
Share this article