Jessie Ware, The Nave |

reviews, news & interviews
Jessie Ware, The Nave
Jessie Ware, The Nave
A stunning solo showcase from the much-vaunted London soul singer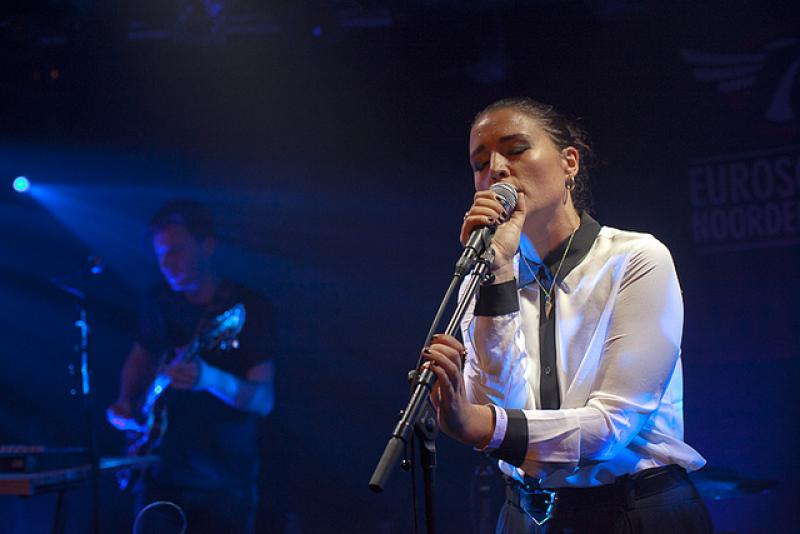 Jessie Ware: chilled, brooding and absolutely the real deal
It's sometimes difficult to imagine that a new pop star can ever live up to even the most optimistic fan's expectations. Spiralling hype and contagious squeals over mp3s are one thing, but with the subject standing before them to perform a full live set it's all too often a different story - the cloak is removed and hark, there's a human being behind it. A human being who talks, sings and performs songs we've never heard before!
How are we supposed to love something clothed in properties from the ether?
However, real pop fans always live in hope of stumbling across the star who can transcend these fears, and in Jessie Ware it looks like we've found one; she's here to prove that she's the real deal. The London singer has been cropping up as a guest vocalist over the past few years for artists including SBTRKT and Joker, and is now making her mark as a solo artist. While her versatile vocals previously helped push dance music into a more mainstream sound, her debut singles "Strangest Feeling" and "Running", felt far more free and natural; the soulful, bittersweet restraint begged for repeated plays and, moreover, gave us something deeper and glossier.
Last night's showcase in a church was the perfect setting for her, and a colossal anticipation-builder for her upcoming album, Devotion. Previously unheard songs sounded chilled and brooding, while Ware's confident stride made a mockery of our pre-show nervous excitement. The way her whispered sultry vocal turned into a floor-trembling soar on the title track left no doubt over how assured she was about these new songs. Lyrically they were about love, with sadness and jubilation flowing from the same heart.
If last night was any indication, Ware's upcoming album will be a modern classic. Its producer Dave Okumu (front man of The Invisible, who have also served as backing band for Mara Carlyle) guested on guitar, while co-writer Julio Bashmore watched from the front row. Her collaborators have major kudos and it's no wonder why - in Jessie Ware we have a big personality with a phenomenally fresh sounding set of songs.
Watch the video for "Running"
If last night was any indication, Ware's upcoming album will be a modern classic
rating
Share this article