Sbtrkt, Koko |

reviews, news & interviews
Sbtrkt, Koko
Sbtrkt, Koko
Can the indie-dance experimentalist reconcile his various sides?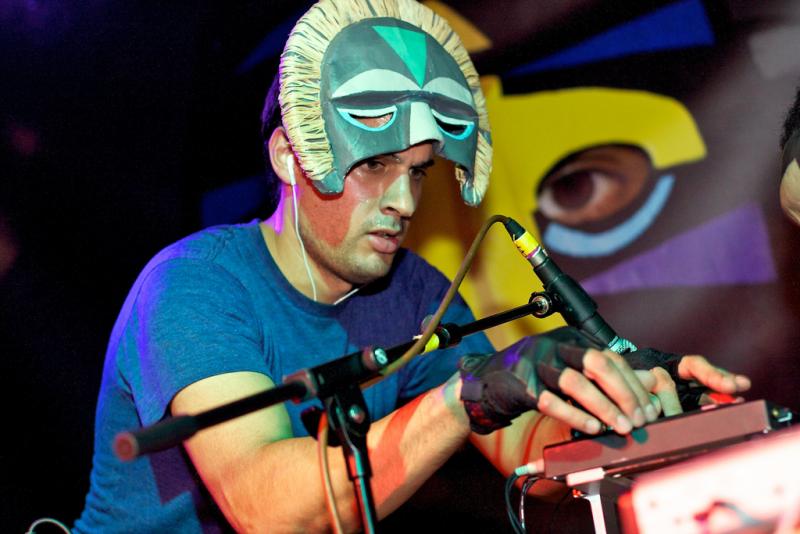 Aaron Jerome aka Sbtrkt: 'a distinct and often deliciously absorbing character'
A mea culpa from me: I never gave Sbtrkt's records the attention they deserved. I always thought they were a capitulation, a softening of the radical developments of the post grime and dubstep generation with more traditional musicality and indie affectations to reach out to a more generalist, NME reading audience... and in a way they are – but, I came to realise, that's not a bad thing, and certainly not cynically done.
Having listened to last year's self-titled debut album more thoroughly, it became clear that there is a distinct and often deliciously absorbing character to Aaron Jerome's music, with the indie introversion and pop hooks uniquely well absorbed into the whole. And watching his show last night it was obvious that there's a real passion to what he does which is reciprocated in bucketloads by his audience.
As the set began, the stage was partially obscured by a giant African mask – like Jerome's trademark stagewear, which also appears on his record sleeves – stencilled on a mesh curtain, behind which Jerome and singer/instrumentalist Sampha (pictured right) built up a hypnotic jam. The tumbling arpeggios, vigorous drumming and abstract vocal sounds actually came as close to 1970s Krautrock as to anything in recent electronica, and straight away set up a sweatily energetic feel.
The psychedelic spell was broken when the curtain came up and Jerome spoke to the audience in oddly showbiz tones, thanking us for coming, saying how nice it was to be back in his hometown and so forth. The dissonance of such prosaic, if heartfelt, sentiments coming from behind a tribal mask was distinctly odd, but very quickly the duo started playing and the sweaty atmosphere returned – on stage and on the ground floor of the multi-tiered Koko which became a busy dancefloor.
The set from there veered wildly, in a most engaging way. Jerome spent most of the time behind his drumkit, multitasking like crazy as he kept a beat going and reached over occasionally to change something on his computer sequencer or apply an effect to the sounds. Sampha also had tables full of electronic kit, and sampled and looped his own voice and added more electronic sounds as he sung.
Where the rhythms of Sbtrkt on record are intricate and off-beat, even with a hint of jazz-funk, live they were much more rugged, either with an indie-rock heft, or – when Jerome moved away from his drumkit and the duo concentrated purely on the electronic gear on the table between them – with the driving intensity of classic techno. There was very little spectacle to it, just two guys doing their thing and some simple visuals projected onto a screen behind them.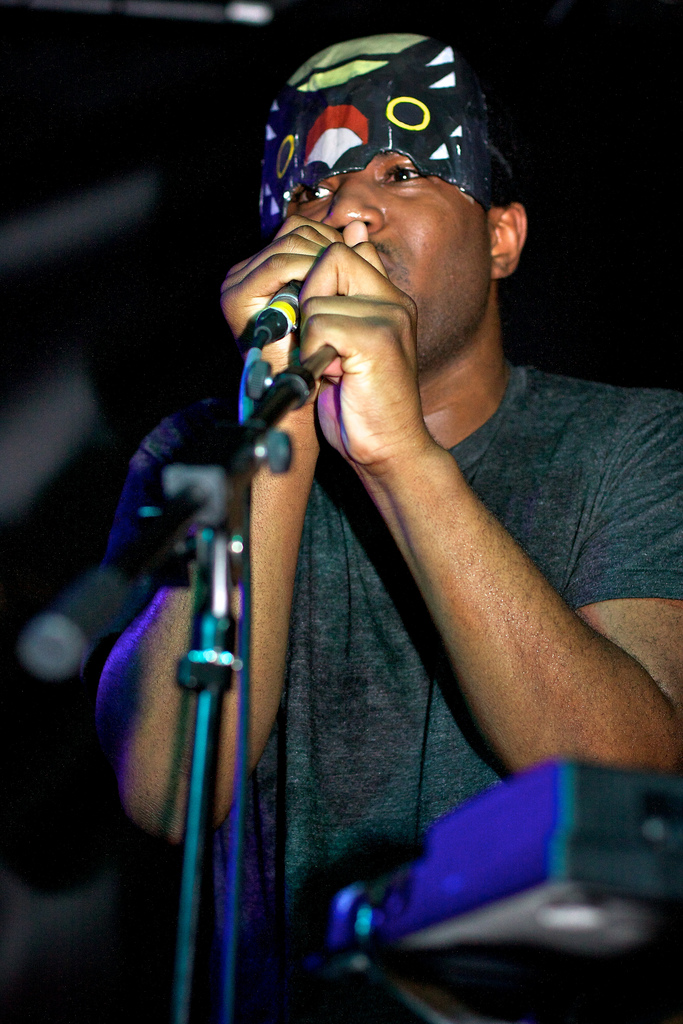 It was the total opposite of the visual extravaganza of modern dance acts like, say, Justice in this sense, and also unlike the slick juggernaut of many electronic music shows in that there was a very real feel of "liveness" to the music. That is to say, it had that crucial feeling that the duo were driving and changing the sound as they went, and that things could go wrong; indeed beats did occasionally clash, Sampha's ever so slightly choked indie-soul vocal didn't hit every note perfectly, and it was all the better for it. As with Little Dragon, who collaborated with Sbtrkt on the recorded version of "Wildfire", it felt as if the music is being created in front of us.
Sbtrkt's live show has a sense of being a work in progress. In contrast to the records, the indie, pop and electronic dance elements – and even a sense of epic stadium ambition – are each pushed to extremes so they pull in separate directions rather than integrating smoothly. Sometimes the cracks show – but that's OK, it's as engaging as Jerome's guileless patter on stage, and it clearly resonates with the crowd who cheered the intros to every track they knew and danced vigorously to those they didn't. Far from being a capitulation, Sbtrkt's attempt to bring electronic music out of the clubs is brave, enjoyable and, as it is clearly developing and evolving, augurs very well for the future.
Watch Sbrkt's "Hold On (Sisi BakBak Remix)":
The dissonance of prosaic sentiments coming from behind a tribal mask was distinctly odd
rating
Share this article