The Mikado, English National Opera |

reviews, news & interviews
The Mikado, English National Opera
The Mikado, English National Opera
The crisp lines of Miller's production sag ever so slightly in this anniversary revival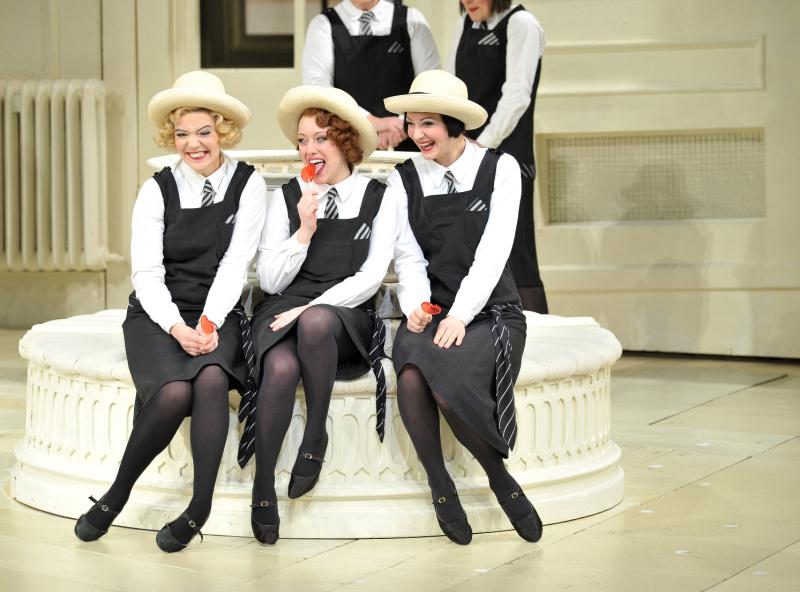 Three little maids from school: Sophie Bevan, Fiona Canfield and Claudia Huckle
At 25 years old, Jonathan Miller's Mikado may be more Grande Dame than ingénue, but it still has a Charleston kick in its step and a shimmy in its pearls. Styled and stylised, chic and slick, it's as far from the operetta's ubiquitous am-dram incarnations as from the Japan of the original.
Yet just as the Minimalist decor and monochrome palette of an Art Deco interior prove unforgiving to the smallest hint of dust or casual clutter, so the sharp lines of this production provide little cover for the relaxed paunch or middle-aged spreadings of a revival.
Bathed in a lava flow of white lacquer, Stefanos Lazaridis's set is still a thing of beauty, albeit one best appreciated through dark glasses. Embracing its kitschy 1930s setting, everything is brighter and larger than life – from an oversized Martini glass casually deposited on the (white) grand piano, to the gramophone and double bass (yes, white as well) hovering wallflower-like at the back. The opening tableau of Act II with its kimono-clad chorus drew applause – a monochrome fantasy of female charm – and Ko-Ko's first entrance is a carnival of visual excess, with a chorus of dancing bell boys ("with his Nancy on his knee") all but stealing the show.
Yet with Miller himself back in charge for this anniversary celebration, I can't help feeling that things could have been just a little tighter dramatically. The pinched period accents season the delicious humour of Gilbert's dialogue, but for many also seem to inhibit. Alfie Boe – surely a natural fit as Nanki-Poo – seems lost behind his kiss curl and white make-up, delivering his lines in a gripped, Kermit-like patter with little pause for comedy. When you draw neither a laugh nor a groan for, "...but she was betrothed to her guardian Ko-Ko, a cheap tailor, and I saw at once that my suit was hopeless", something is just not right.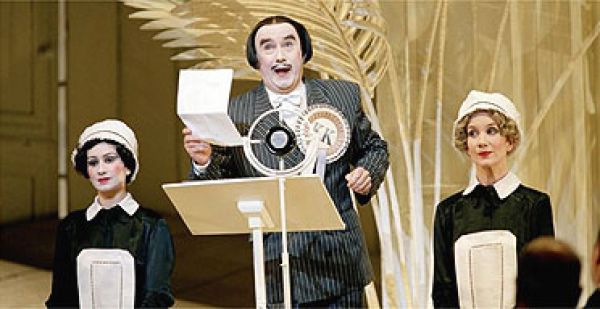 Act II saw a little loosening up from Boe, but still little sign of the wide-eyed, good-natured innocence that Nanki-Poo must project if he is to balance Ko-Ko's wheedling, weasling campery. Richard Suart's Ko-Ko (pictured right) is a creature honed over many years, and pitched just on the right side of hysteria. Doing violence to his vowels with the gusto of a drunken Boris Johnson, his convulsions of body and tongue are outdone solely by the satire of his self-penned Little List. The present incarnation features among its unlucky stars Wayne Rooney, Berlusconi (a rhyme of "hunger" and "bunga bunga" drew cheers), "those hacking journalists", and of course the newly ubiquitous "coalitionists".
Sophie Bevan, making her role debut as Yum-Yum, is as pert as a supermodel's bottom and every bit as enticing. Matching beautifully secure vocals with girlish giggling aplenty, she carries an otherwise rather underpowered trio of little maids with vivacity and plenty of backbiting wit.
Less successful is Anne Marie Owens's Katisha, who captures some of the stately pathos of the role, but little of its darker comedy. Projection was an issue throughout, but particularly in the glorious closing duet "There is beauty in the bellow of the blast". While hefting a voice of such weight around patter faces all the challenges of Richard Griffiths in a ballet studio, these cannot be ignored if the humour isn't crisply and vehemently pointed.
This is still a supremely good show. Small details – the headless, dancing men in the "I am so proud" trio, Ko-Ko's antics with a maid in the airing cupboard, the tiny chipmunk squeaks of the female chorus – all speak to the lively quality of the production. Yes, there's currently still a looseness to the flow of onstage action, and a lack of fizz from Peter Robinson's pit, that blots the lean clarity of Miller's vision. Modified rapture.
Richard Suart does violence to his vowels with the gusto of a drunken Boris Johnson
Share this article