The Speech Project, Purcell Room |

reviews, news & interviews
The Speech Project, Purcell Room
The Speech Project, Purcell Room
Transcending genre, Gerry Diver's multimedia extravaganza packs a profound emotional charge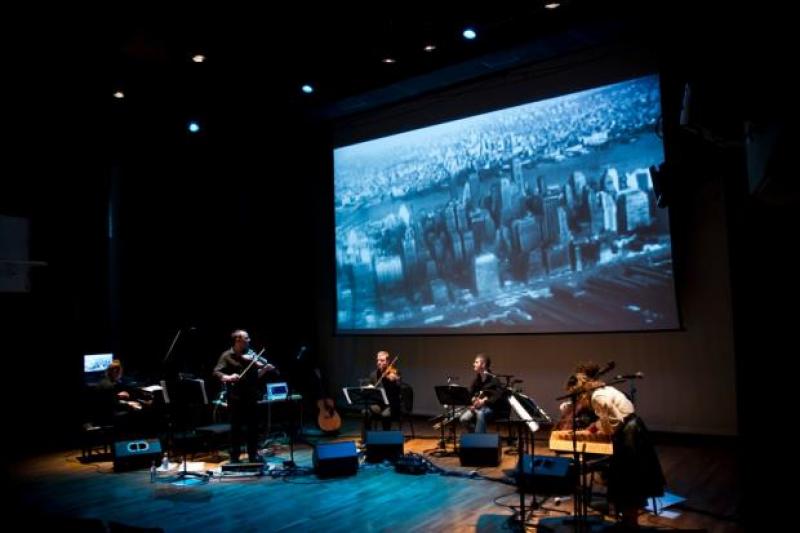 Expressing nothing less than the infinite mystery of life: The Speech Project
Released last month on One Fine Day Records to excellent reviews, last night saw the first of an 11-date UK tour for Gerry Diver's remarkable multimedia work, The Speech Project.
Conceived over the past four years by musician, composer and producer Diver, a former member of Irish world music group Sin é and Shane McGowan's The Popes, at its heart
The Speech Project
features new and archival spoken word recordings of seminal Irish musicians and singers including Shane MacGowan, Christy Moore, Damien Dempsey, Joe Cooley, Danny Meehan, Martin Hayes and Margaret Barry.
Specific motifs or phrases from the speech recordings, whose pitch is clearly defined, are selected to provide the musical material for a sextet of live musicians, a technique pioneered by the US composer, Steve Reich, in works such as Different Trains (1988), City Life (1995) and WTC 9/11 (2010). Whether heard as a documentary, a thoughtful meditation on the Irish diaspora, or simply as pure sound, the cumulative power of the work was incontrovertible.
From Danny Meehan's evocative recitation of W. B. Yeats's mystical "The Ballad of Father Gilligan" ("I have no rest, nor joy, nor peace, For people die and die") and Margaret Barry's heartbreaking description of the death of her mother ("I cried for days and days"), to the lightly dancing cadences of Martin Hayes ("To play music well, you have to get out of the way") and Shane MacGowan harking back to the days of recording "A Rainy Night in Soho" with The Pogues, each of the 10 stand-alone pieces resonated in its own entirely distinctive way. Recorded just a month before he passed away, the second of two Joe Cooley pieces ("Old Time Musicians") provided the suitably rousing finale, building from a lone fiddle to a richly detailed palette of sound.
Of the instrumental sextet, Lisa Knapp proved to be worth her weight in gold. Not only did she contribute some brilliantly atmospheric wordless vocalisations, she also performed heroically on hammered dulcimer, fiddle and what I think was a tiny autoharp, which looked rather like something you might see on an episode of Bagpuss.
After a slightly nail-biting start – with Diver hitting the computer keys and having no joy whatsoever – the sound in the Purcell Room once this brief technical hitch had been surmounted proved entirely enveloping. The Damien Dempsey piece, "Feel No Pain", possessed an elemental bottom end which a recording can only hint at.
Rather like another great multimedia work on an Irish theme, John Cage's Roaratorio: An Irish Circus on Finnegans Wake (1979), which similarly brings together three sonic layers of speech, recorded sound and live musicians, The Speech Project expresses nothing less than the infinite mystery of life: joyous, sorrowful, endlessly surprising. Playing on a large screen directly behind the musicians, the specially commissioned video footage by James McDonald was hugely effective.
Before The Speech Project we were treated to a short solo set by the Cumbrian singer, Maz O'Connor, a previous finalist in the 2009 BBC Radio 2 Young Folk Award. Ranging from the traditional ("The Butcher Boy") to the contemporary (Dylan's "It Ain't Me Babe"), as well as a rather wonderful original ("Rose Garden"), O'Connor's purity of tone and disarming stage presence gained her more than a few new fans.
Watch "Music for Tape Loop" from The Speech Project:
Whether heard as documentary, meditation or pure sound, the cumulative power of the work was incontrovertible
rating
Explore topics
Share this article