If Not Us, Who? |

reviews, news & interviews
If Not Us, Who?
If Not Us, Who?
Little's fair in love or war in 1960s revolutionary Germany
Wednesday, 29 February 2012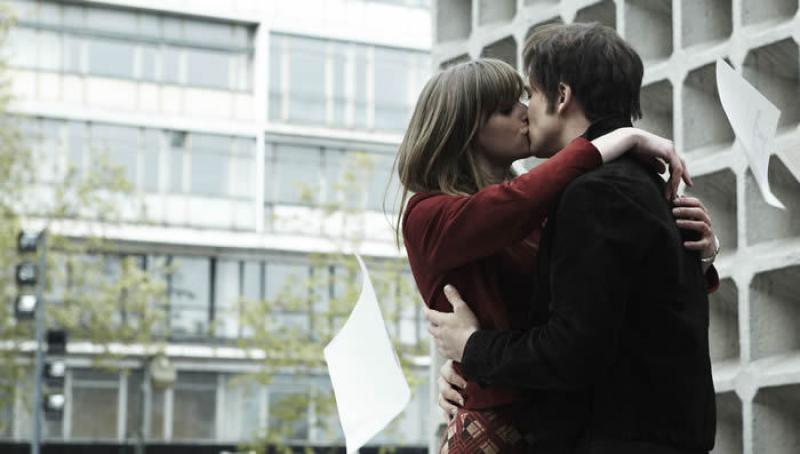 A very rare moment of happiness for Gudrun Ensslin (Lena Lauzemis) and Bernwald Vesper (August Diehl)
The Red Army Faction was Germany's key revolutionary force for a decade from the late 1960s onwards, and its story, especially the characters of Ulrike Meinhof and Andreas Baader, has proved highly attractive to the country's filmmakers. Uli Edel's 2008 The Baader Meinhof Complex told the key political story in lengthy detail through to its end in 1977 when four of its key members (in the official version) committed suicide in prison.
One of them was Gudrun Ensslin, who became radicalized after she became a lover of Andreas Baader.
In his first feature documentarist Andres Veiel tells a prequel story of Ensslin's more than decade-long relationship with publisher and writer Bernward Vesper (they're played by Lena Lauzemis and August Diehl). Its achingly earnest subject is as much the identity of post-War Germany, and viewers not considerably familiar with that history will find precious little to orient themselves around here.
The first time we encountered Ensslin in Edel's film, if I remember right, she was in a bath in a house shared by fellow-travellers. A newcomer, recently escaped from a youth prison, came in, and she invited to join her in the tub, completely undeterred when Baader appeared. That heady sense of sex and revolution has often characterized depictions of the group, its high-speed actions, from torching public buildings to assassinating state officials, somehow symbolically expressed in Baader's love of fast cars.
If Not Us, Who? makes us wonder if Ensslin was ever actually happy at all, and her relationship with Vesper, although it gave them a child, moves from uneasy rebellion against society's mores to full rejection of family bonds. Post-Third Reich guilt sits heavily on their world, not least because Vesper's father was a bestselling writer always faithful to Hitler's doctrines (he spoke at the 1933 book burnings), and paternal influence clearly marked the son indelibly.
All of which had Bernwald starting a publishing house to bring out new editions of his father's Nazi-era works, and Ensslin enlisted as assistant, as well as lover (the scope of their sexual experimentation considerably outside the conservative 1950s). Later they expanded the list to cover the left-wing as well as the resurgent right-wing, moving eventually to Berlin and into radical literary and political circles (a gloomy enough bunch, pictured right). Ensslin drifted towards extremist politics, Vesper towards literary experimentation, aided by mind-extending drugs. She left him for Baader (Alexander Fehling), and brutally cut the "personal", including her son, out of her life. He killed himself in 1971 and his prose work The Trip, published in 1977, was acclaimed as a major work of German literature of its era (the fact that no English-language translation seems to have been published is indicative of how hard going the film is going to be for non-German audiences).
One thing does stand out, however, rather tragically: the consequences of that supposed sexual liberation, the open relationships that came as part and parcel of the revolutionary movement. The phrase the film uses to articulate it – loosely, "why shrink a triangle to straight lines?" – hits first Gudrunn, as Bernwald plays around, and then in reverse, as he's pushed aside by her involvement with Baader. The portrayal of the latter, as a kind of Julian Clary with guns, may not be the one we are used to, but is perfectly possible given that Baader began as a male model and prostitute. If Meinhof was surely the most complex character of this contradictory bunch (something very well explored in Shane O'Sullivan's documentary Children of the Revolution from last year), Ensslin followed a similarly thoughtful but ultimately tragic journey. All the same, they were characters held in awe by the greater part of their contemporaries, not only in Germany.
The couple's occasionally addictive, mutually exploitative relationship has depths that fall somewhat out of view given the sheer details of passing history (blink and you've missed the two Chancellors between Adenauer and Brandt). Newsreels and accompanying music, often pop of the period, sometimes illuminate, but increasingly distract; at least they make clear that while these radicals were deploring the US and its involvement in Vietnam, the tunes of their lives were pretty remorselessly American. The film's ending may seem abrupt – though at more than two hours we may be wondering, If Not Now, When?: so much more of the same could follow. Nevertheless, there's a cold heart to this perfectly decent film about a cold enough decade which does speak beyond its immediate borders, even if its details remain so resoundingly local.
If Not Us, Who? opens on March 2
Watch the official If Not Us, Who? trailer