Storyville: Pablo's Hippos, BBC Four |

reviews, news & interviews
Storyville: Pablo's Hippos, BBC Four
Storyville: Pablo's Hippos, BBC Four
Odd, original documentary about the infamous drug baron's private zoo
It's not so much the children of mad celebs I feel sorry for as their animals. The private zoo stuffed with exotic, non-indigenous wildlife is a sure sign of money, power and hubris run riot. The tigers and chimps at the Neverland ranch became powerful symbols of Michael Jackson's dislocation. Similarly, last night's Storyville told how an abandoned brood of pet hippos have come to define the worst excesses of the late Colombian drug baron Pablo Escobar.
Escobar was not a conventional star, but he enjoyed all the trappings of celebrity: wealth, glamour, infamy. He was hailed as a hero at Colombian football matches and was mobbed when he visited villages to dispense his favours. When he was finally tracked down and killed in 1993, there was grief-stricken pandemonium at his funeral.
Last night's film by Antonio Von Hildebrand and Lawrence Elman recounted the, by now, familiar story of Escobar's rise from poverty to become the world's seventh richest man - only this retelling came with a big fat ready-made metaphor tacked on to it. In his pomp as the head of the Medellin cocaine cartel, Escobar had wild animals shipped over from Africa to his home at Hacienda Napoles. Elephants (one called Maggie; he had a crush on Thatcher, apparently), giraffes and hippos arrived at the airport in Hercules aircraft, while Escobar's other playthings, an endless intake of Brazilian whores, were ferried in on Lear jets.
What larks were had in this alpha-male playground. There was an anti-aircraft machine gun by the swimming pool, helicopters ceaselessly hovering overhead, and legions of narcos tearing around on motorbikes and quads, sometimes handing out cigarettes to the emus.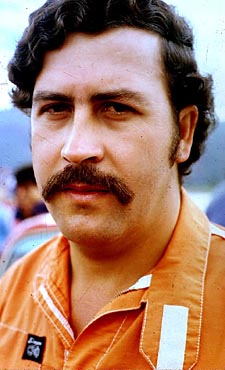 Rather than lay down thunderous judgement on Escobar (pictured right) and his antics, the film opted instead for detached, satirical amusement. Dramatic archive footage was linked by animated segments featuring talking cartoon hippos who provided a wry external narrative. Flesh-and-blood interviewees included Escobar's sister; "Popeye", his "chief of assassins"; his "personal photographer" (who had clearly seen things no human should ever see and was rapidly trying to drink them out of reach); cops, politicians and even an ex-President. They offered colourful insight into the boggling, decade-long reign of a man who seemed very much like a real-life Scarface, had Tony Montana been dressed by BHS and played by Steve Coogan's Tony Ferrino rather than Al Pacino.
Escobar's former maid gamely recalled what a sweetie "Mr Pablo" was. This tubby little charmer certainly looked harmless enough, like a Fast Show caricature of a South American baddie, yet he was utterly ruthless. Beginning his "career" as one of the many "Magicians" selling drugs in 1970s Medellin, he thrived in the yawning vacuum left by state neglect, befriending and supporting the socially vulnerable.
He was elected to Congress in 1982. As his power grew Escobar became especially exercised by the introduction of an extradition treaty between Colombia and the US. Those who supported it or spoke out against the narcos, including Minister of Justice Rodrigo Lara and three Presidential candidates, were murdered, alongside judges, lawyers and witnesses. "When bullets didn't work, the car bombs started," shrugged one interviewee. Escobar's cartel bombed security buildings and even brought down a passenger plane. It was a campaign of full-blown terrorism against the State.
Even when Escobar finally negotiated a peace settlement in 1991 it was on condition that the extradition treaty with the US be banned. Rather carelessly, he was allowed to build his own jail – a luxury villa on the hillside with a few token fences surrounding it. From within, his gang continued its internecine warfare with the rival Cali cartel, even murdering and dismembering two of its own members inside this "prison". Celebrity friends, drugs, alcohol and girls were freighted in, until one night, inevitably, Escobar was spirited out.
Like the narcos in the 1980s, the hippos rapidly multiplied and turned feral
But the net was closing. Escobar was finally tracked down and killed in 1993 by a dubious coalition of crack security forces and narco-sponsored vigilantes. His property was seized by the government - including all those wild animals. The film returned to Escobar's Hacienda Napoles – it's a haunted place now, all rust, weeds and shattered glass, an almost archetypal emblem of ruined empire. The only heirs to this kingdom, said the lively caretaker, are the "hippos, ants and bats". The giraffes had disappeared (presumed eaten), the elephants "were stolen by the circus", but the hippos remain.
Escobar's original pair have spawned an estimated 30 others; they are a living legacy of his untamed, brutal reign and Colombia's fatal collusion with its own destroyers. Like the narcos in the 1980s, the hippos rapidly multiplied and turned feral. What to do with them has become a matter of national debate: should they be hunted down and killed; or left to their own devices and allowed to do battle with the forces of Darwinism?
When the government announced a cull they were denounced as murderers, as they had been by many in Medellin when Escobar was killed. After widespread protests following the shooting of Pepe (pictured above left in happier times) in 2010, the hippo hunt was called off. Meanwhile, Colombia's premier narco may be long dead but the country is now home to not just 30 wild hippos but over 100 even wilder drug cartels producing tens of thousands more kilos of cocaine with each passing year.
It's hard to be subtle with up to 20 tonnes of Hippopotamus amphibius in shot, but this was a gripping, original little film which approached a sad, oft-told story from a refeshing new angle. It was a fable about what happens when brute force is allowed to breed unchecked - with some hippos thrown in for light relief.