DVD: Midnight in Paris |

reviews, news & interviews
DVD: Midnight in Paris
DVD: Midnight in Paris
Woody Allen's cute time-travel fantasy isn't the sum of its parts
'Midnight in Paris': Owen Wilson tells Carla Bruni-Sarkozy how big the book he's written is
Gil Pender is in Paris with his intended and future in-laws. He wants to be a proper writer, rather than hacking for Hollywood. No one else cares about that and he's belittled by his girl, her Tea Party father and her overbearing American friend who just happens to roll up.
Strolling off on his own, midnight strikes, he climbs into a car and is transported back to a golden age to hang out with Scott and Zelda Fitzgerald, Cole Porter, Picasso, Hemingway, TS Eliot and Marion Cotillard's artist's muse Adriana. Naturally, Gertrude Stein loves the book Gil is writing. He even gets to meet a tour guide played by Carla Bruni-Sarkozy and snare a princess at the end. But this isn't an upside-down
Cinderella
, it's Woody Allen's most recent flight of fancy.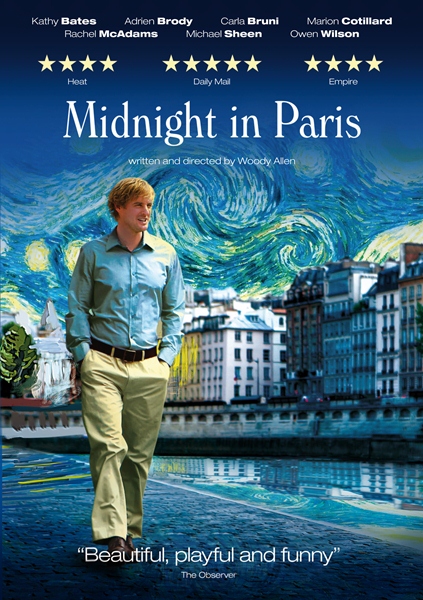 We've already seen an American abroad about to get married in Allen's infinitely sharper Vicky Cristina Barcelona. The Paris setting echoes Everyone Says I Love You. The imagined becoming reality is an Allen perennial. Also familiar is Owen Wilson's Gil Pender, the acme of Allen analogues. Which is fine, but he sleepwalks through the film. Supposedly a successful Hollywood scriptwriter, Pender has none of the pizzazz necessary to surviving that cut-throat world.
There are no extras on the DVD, but there are yucks. Having Sorbonne pronounced as "saw-bone" is amusing, but Michael Sheen's pompous pseud Paul Bates declaring Versailles's name is derived from "terrain where the weeds have been pulled" is plenty smart. So is Kathy Bates's Gertrude Stein noting "the sound of hyenas in your ears at night when you're trying to sleep in a tent just drives you crazy". Less fun is the cringe-inducing farce of a scene centred on missing earrings. The film is most comfortable when the present day is abandoned. Gil's encounter with Adrian Brody's Dali, Buñuel and Man Ray is terrific, the most well-executed scenario. As a series of set pieces Midnight in Paris's success rests on how well they're integrated. But with ill-fitting building blocks, Midnight in Paris is little more than a cute, frou-frou fantasy.
Watch the trailer for Midnight in Paris
Owen Wilson's Gil Pender is the acme of Allen analogues and sleepwalks through the film
rating
Share this article