The Underbelly Project: Paris |

reviews, news & interviews
The Underbelly Project: Paris
The Underbelly Project: Paris
The uniquely ambitious street art project moves to Europe to create another time capsule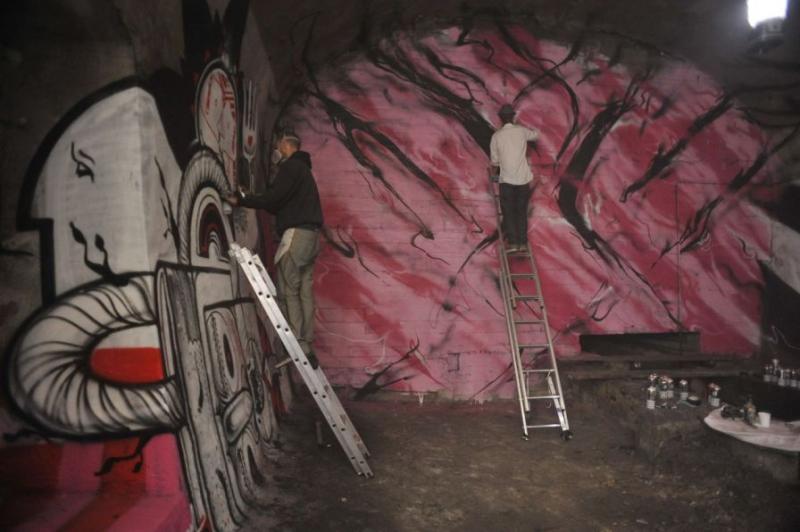 Artists at work: the Paris Underbelly
Witnesses will have been puzzled. In a southern suburb of Paris, a group of maybe 16 figures trudge with purpose along the pavement at the witching hour of half past four in the morning. Some are carrying rucksacks. We are mostly male. Mostly tattooed. We loiter, attempting anonymity.
In groups of five we are instructed to march across a main road, then slip furtively out of sight behind a low barrier. The grammar of the covert military operation is unmistakable, it occurs to me, as we scuttle into position and skulk behind the wall at this ungodly time before dawn. I look at the faces around me. Varieties of piercings, of weird beards, a jaunty porkpie hat can mean only one thing: artists. Street artists.
One by one we sink through a manhole, down a long hoop-ringed ladder (pictured right, image by Martha Cooper) to a small concrete platform, flanked on either side by high walls. We have plummeted 10 metres below the Parisian street but still we are enjoined to keep shtum. This thing has been a long time in the planning and it would disastrous to be discovered now.
In one wall is a door. Through we all go, one by one, into total darkness. Someone flicks a switch to fire up some lights and the space where we will spend the next six hours is revealed: a dingy tunnel perhaps 30 metres in length. This is a disused outcrop of the Paris Metro, whose trains are soon howling along just the other side of the wall. Along the right-hand side of the tunnel is a trench, dug presumably to allow access to the undercarriage of trains for mechanical repairs. When the tunnel was last used, if indeed it ever was, is anyone's guess, and not the concern of the 10 artists who are now being told by two American curators which stretch of the wall they've each been allotted. There are four plots along each length, one at the far end, one either side of the door at the near end.
They get going. The identical twins from Dusseldorf and based in the Bronx who collectively work as HowNosm (pictured below left, image by Martha Cooper) are already preparing methodically, removing their matching jeans, turning them inside out and putting them back on again, donning pouched belts for holding spray cans, sealing their trainers in matching plastic bags. No one else seems to worry about getting paint all over themselves as, sharing a couple of brooms, they get to brushing down the walls to remove a cakey film of muck and gunge and, in one or two cases, to spray on a white base.
This is the second instalment of The Underbelly Project. The first was in New York, specifically an unfinished subway station somewhere under Brooklyn. Its existence was revealed in November 2010, but it had taken 18 months to complete as the two curators of the project brought over 100 artists down into the tunnel and gave them a few hours to leave their mark. For Workhorse and PAC – the two New Yorkers like to keep their identity concealed behind street art pseudonyms - it entailed around 70 trips to the site. For the Paris Underbelly, they have decided to do things differently. The space being smaller (and, it must be admitted, uglier), they are going in with a much smaller group of artists, and painting the space in one day only. For this time capsule, it's now or never.
One thing is staying the same. The idea of The Underbelly Project is to give art back to the artists and remove it to a safe place beyond the smothering clutches of the commercial sector. No one makes any money. The project's disappearance underground is therefore both symbolic and pragmatic. Unlike most street art, The Underbelly is invisible to passers-by. Its existence as a created space is confined initially to the moment of its making, then to an afterlife online where the idea is that it will acquire the patina of an urban myth.
For this second outing for The Underbelly Project, the 10 artists include a couple of Underbelly veterans – the Cork artist Conor Harrington, a tall man with a ginger goatee, and SheOne, a whippet-thin Londoner who seems very much like a superannuated member of The Specials. (Workhorse and PAC have chosen this time to supervise rather than paint.) SheOne has been given the vast end wall because he is known for working fast. He takes a loin-girding nip from a small bottle of Jack Daniels and picks up a can of spray paint from the long serried rows, all brought down by the curators in a week's worth of prep work. It is six in the morning.
The best-known artist down here is Futura, whom the others without exception hail as a legend of the street art movement. In New York in the Eighties, he was the first artist to daub subway cars with abstract images rather than a relentless succession of tags. "I have no idea what his piece is going to be like," says Workhorse drily. Nor it seems does Futura, a thin and silky figure with dangly dreads (pictured above right) who has dreamy way of addressing his patch of wall. Wrapped in a red airline blanket, he picks up a spray can and cuts a few random shapes, now stretching up, now crouching on his haunches before standing back, then sitting down and eventually lying down for a breather. "It's a question of slowing down a little bit and just see how everything's coming along," he explains in a slow lisping high-pitched drawl. "Once you start going the lines kinda tell you what needs to go where. I think I want to keep it pretty minimal."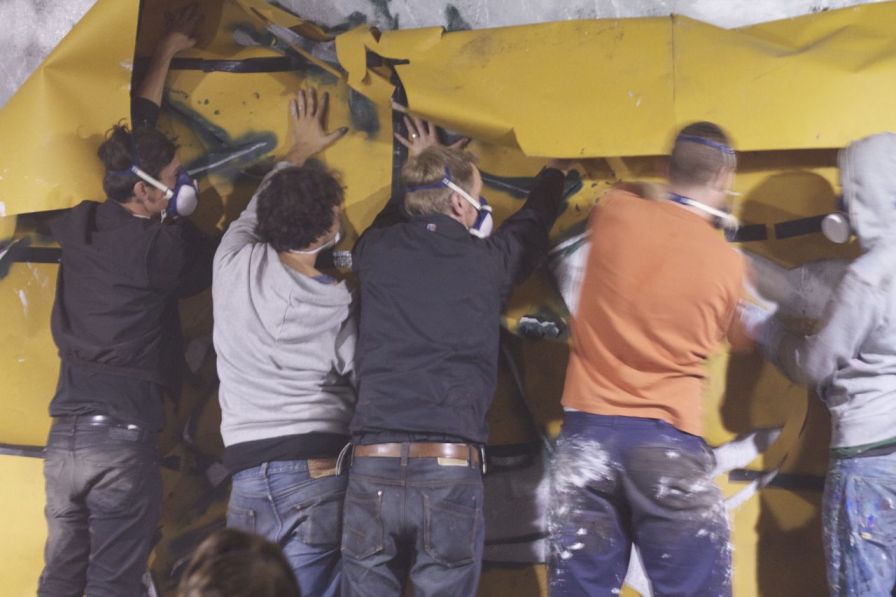 On the end wall by the door the French artist C215 is taking an even more relaxed stance to the job in hand. Everyone knows they are down here for hours. His work is a stencil. "Stencil is very good when you want to paint in the city without authorisation," he explains. "It's very quick. Free hand I take four hours. Here I take 15 minutes." So there's no point in hurrying, he adds with a gallic moue.
Without wishing to buy into the notion of national stereotypes, the contrast on Futura's right flank could not be starker. The identical German twins are robotically attacking the wall with an apparently computerised knowledge of the overall plan. They are like mechanical dervishes on speed, spraying precise geometric arcs and angles as if copied from an architectural design in their heads. They work without let-up. After the first hour it has become necessary to wear the breathing masks supplied as the confined space is thick with paint particles irradiated by the arc lights hung along the length of the tunnel. Everyone feels the need to escape at regular intervals through the door and out onto the platform, down which a shaft of bright light shines from high above. The sun has risen and the trains can be seen thrumming past just down below. The rest of Paris is waking up. Tired paint-spattered figures decontaminate their lungs with cigarette smoke. Everyone, that is, apart from the Germans, who paint on and on, and don't have time to talk. "Those German guys are absolutely insane," says Workhorse. "They are the most hardcore and prolific guys I've ever met."
Back inside, while Futura takes a nap, head shrouded under his blanket, while others helps Harrington unfurl and put a huge stencil up onto his whitewashed expanse of wall (pictured above left). They hold, he sprays. The image which takes shape is of a military man on a charger. "It's what I always do," he says. "It ties in with the whole street art-graffiti thing - different, tribes, different crews. The idea of colonialism which was a land grab is no different to graffiti and street artists battling it out for space on walls. And the whole hierarchy: when you're younger you have to climb up the ranks and when you're top you're a king."
As was graphically illustrated by the fiery response last year to the documentary Graffiti Wars, the world these artists move in is indeed a place of turf conflict. But in Los Angeles, one of the traditional hubs of the art form, artists are having to close ranks to take on a foe from the outside. The city has clamped down ferociously on all graffiti and street art. One of the most affected practitioners is Saber (pictured above right), a shortish plumpish man with shaved hair who has endured a tortuous journey from LAX to get to the opening of the Paris Underbelly.
Gallery by Martha Cooper (click on the images to enlarge)
[bg|/ART/jasper_rees/UnderbellyParis]
"Right now the city attorney is trying to make a war against all the graffiti," he says. "The campaign is called the end of days scenario. He's allocated over $3.4 million, then the numbers change to 3.8 to 4.3, just on removing graffiti in the LA river. There's where my biggest piece just got buffed. The schools are crumbling, the hospitals are crumbling and now there's a whole sheriff's unit that are basically like SWAT armed units that focus primarily on street artists and graffiti. So we've got a big problem on our hands." To Saber, The Underbelly Project is a chance to work outside without the long arm of the law feeling for his shoulder.
It's eye-opening to watch a cross-section of artists address the same type of space in such different styles. At the end wall, SheOne is using the ladder to cover his vast space with his signature tag, skeletal wisps and abstract scrawls which evoke the art form's most distant ancestry in the cave art featured in Werner Herzog's Cave of Forgotten Dreams. Round the corner in the tunnel's darkest space, Tristan Eaton from Brooklyn is at work on a mural of a red spear-wielding devil (pictured above right, image by Martha Cooper) which feels like a cartoon sibling of an early Renaissance fresco depicting a guardian of hell. "I thought I'd do a demon down here to protect the rest of the walls," he says. "It's my version of Michelangelo fresco style."
The most intriguing artist to watch is Will Baras, a graphic artist from Birmingham whose work for several hours resembles a kind of splashy patchwork of pinks, blues and purples. He gives the impression that he has no idea where he is going with it. Unlike Futura, who has awoken to apply a few more speculative dabs to his wall, Baras seems bothered. Street artists are used to time pressures, but not to the working conditions, where the paint fumes prick eyes and the walls are sweating with damp. "It's the least hospitable place I've ever been by a long shot," says PAC. There are two photographers recording the Paris Underbelly and also a 360 time lapse camera. "I'm assuming that the time lapse is going to go from crystal clear to a complete fog. It's like a storm settling in."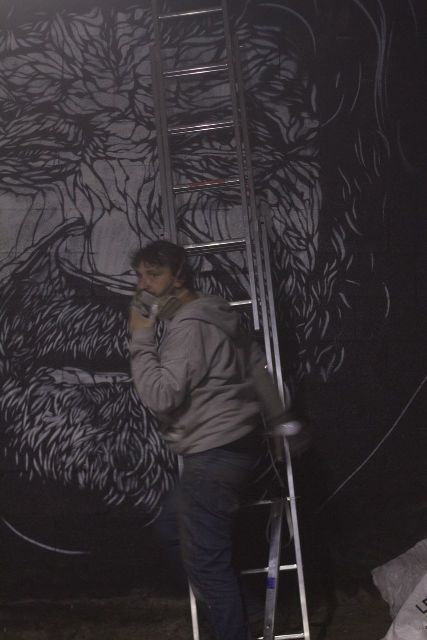 In the corner to the left of the door Italian artist Alice Pasquini (pictured above left) is working up a stencilled image of a pretty young woman, her face half concealed behind a mask. "It's a protest," she says enigmatically. "Don't ask me the meaning." C215 (pictured right) has by now thrown up his own stencil, an image of a stubbly old man whose image he found online. "He's a homeless man from Paris," he explains. "It's good to place him in the Metro because he'll find shelter. I wanted to make something catchy at the end of the tunnel."
The hours pass. SheOne's tag starts to fill the end wall (main image). Harrington has encouraged paint drips to slide down over the image of his Napoleonic charger. The Germans have created an intensely complex narrative image mingling elements of the comic book and sci-fi and have now moved on to decorate a neighbouring recess. Eaton's devil thrums in dark red. Against the odds Baras's picture has suddenly blossomed from an indecipherable set of swirls into a beautiful many-tentacled she-creature. Futura takes a further kip under his blanket (pictured below, image by Martha Cooper) It's creeeping close to lunchtime but it feels as if we've been down in this gas chamber forever. Artists are now spending longer and longer in the stairwell, breathing unpoisoned air. Mention is made of an early escape and it turns out to be a universarlly popular option. Everyone wants to wash and sleep. HowNosm have another wall to do somewhere else in the city.
The Paris tunnel is as finished as it will ever be. The artists have left it looking a lot better than we found it, strange allusive images thrown up onto its walls as in an industrial storm. Some tell their own story. Others keep their secrets to themselves – none more than Futura's blanched rectangle of blotches and swooshes. Another instalment of The Underbelly Project is in lock-down and once more, no one will ever see it other than those who were there to make it.
One by one we make the return journey, up into the light and the surprising warmth. This is what it must feel like returning to the surface after a shift at the coalface. It's Saber, fresh from daubing a huge purple tag in the corner next to Futura, who puts his finger on what drives the street artists to do what they do, and specifically to take part in the uniquely quixotic adventure that is The Underbelly Project.
"I have a real love for filth," he says. "I guess we're all do. That's why we're all here. Who comes to Paris and decides to go into the deepest, darkest, most disgusting mould-infest pit filled with toxic fumes other than us dirty vandals, as opposed to going to the Louvre? But that's where we live to do it. I felt like I've accomplished something. But the whole idea of being part of a time capsule, a space that could potentially last a really long time in another country, especially in as important a city as Paris is a really really good feeling. Time capsules are something that as artists we all search for. For the art itself to remain."
The Paris Underbelly completed (click on the images to enlarge)
[bg|/ART/jasper_rees/UnderbellyParis2]
Its existence as a created space is confined initially to the moment of its making, then to an afterlife online where the idea is that it will acquire the patina of an urban myth
Explore topics
Share this article