2011: All Watched Over by Matilda and Melancholia |

reviews, news & interviews
2011: All Watched Over by Matilda and Melancholia
2011: All Watched Over by Matilda and Melancholia
A musical and a comedy head this year's theatre, but film and television have a more imaginative reach
West End triumph: Jez Butterworth's 'Jerusalem' returns for another binge!
At its best, theatre is enthralling, and this year's offerings were led by one brilliant musical and one amazing comedy. With the West End immune to the chills of the recession, its profits went up, and it warmly welcomed a couple of hits from the subsidised sector: enter Tim Minchin and Dennis Kelly's Matilda, a gorgeous RSC musical, plus Richard Bean's hilarious One Man Two Guvnors from the National.
And then Jez Butterworth's
Jerusalem
(pictured above)
returned for yet another must-see run to become the signature play of our times. All of these sent you out into the night feeling better than when you came in.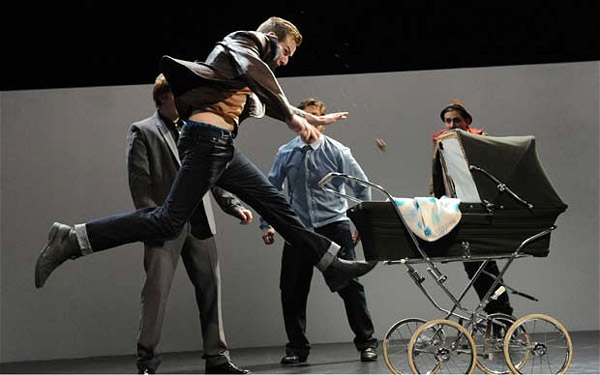 Other theatre that stayed in the memory was Adam Cork and Alecky Blythe's London Road, a really innovative musical about the Ipswich street which housed a notorious serial killer; Mike Bartlett's ambitious and sprawling 13 (both at the National) and compelling revivals of modern classics such as Eugene O'Neill's Anna Christie, Mike Leigh's Ecstasy and Anthony Neilson's Realism. New plays from Richard Bean, Simon Stephens, Alexi Kaye Campbell and Philip Ridley also increased my sluggish pulse rate. From abroad, Patrice Chéreau's masterly version of I Am the Wind by Norwegian playwright Jon Fosse at the Young Vic was my favourite import.
All of these sent you out into the night feeling better than when you came in As usual, other art forms often reminded me of the limitations of theatre. Films such as Lars von Trier's Melancholia and Terrence Malick's The Tree of Life had the kind of sheer imaginative power that makes you feel you're leaving the planet; even when they didn't completely come off, they gave you the feeling that other art forms seem banal and earthbound. Locally, Joe Cornish's film Attack the Block was a lot of fun, and the year's television fed some of my obsessions. If The Hour and Hidden disappointed because the style was clearly better than the content, Stephen Poliakoff's Glorious 39 (starring Romola Garai pictured below) breathed new life into the familiar subjects of appeasement and holocaust by using some startling visual metaphors, while Adam Curtis's documentary All Watched Over by Machines of Loving Grace showed a world dominated by computers, and our fantasies about them. Then there's Charlie Brooker's Black Mirror, a series of powerfully dystopic satires.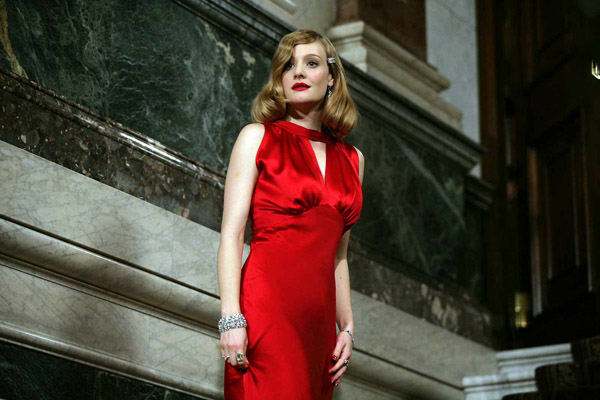 To return to the Scandinavian theme, two series of The Killing invited us into the dark rainy dismal world of murder and political intrigue in Denmark, creating a cityscape saturated in the shades of anguish and fear. The literary equivalent, in terms of darkness, are books such as Jo Nesbo's The Snowman, although I preferred John le Carré's Our Kind of Traitor or the Tudor historical fiction of CJ Sansom's Heartstone, whose paperback release was a definite highlight of my year. Then Nick Davies's Flat Earth News told me all I ever have to know about why the phone hacking crisis happened and why the newspapers are so irresponsible (clue: the profit motive).
Elsewhere, Deborah Warner directed the opera of the year with her visually stunning and beautifully conservative (in a good way) version of Tchaikovsky's Eugene Onegin at the English National Opera, and I thoroughly enjoyed my trip to see the Serpentine Gallery Pavilion, designed this year by Peter Zumthor, and to the Royal Academy to stand transfixed at Eyewitness: Hungarian Photography in the 20th Century, which I thought was genuinely eye-opening.

2011 Highlight: Edward Bond's classic 1965 play Saved (pictured above left) was given a superb production by Sean Holmes at the Lyric Hammersmith.
2011 Letdown: Terence Davies's film version of Terence Rattigan's Deep Blue Sea was a total disgrace, boring, inept and unwatchable.
2012 Recommendation: Cate Blanchett in Martin Crimp's translation of Botho Strauss's Big and Small (Gross und Klein) at the Barbican in April.
Films such as Lars von Trier's Melancholia and Terrence Mallick's The Tree of Life have the kind of sheer imaginative power that makes you feel you're leaving the planet
Share this article