Zaide, Sadler's Wells |

reviews, news & interviews
Zaide, Sadler's Wells
Zaide, Sadler's Wells
Mozart's unfinished opera fails to sparkle in this new completion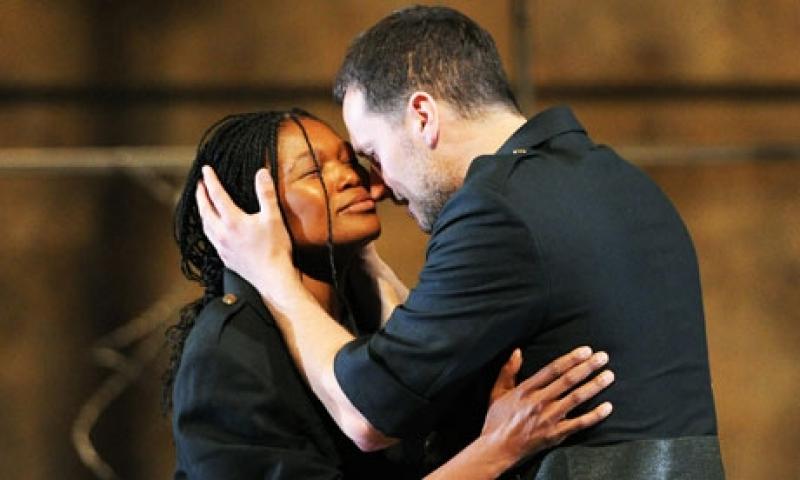 Andrew Goodwin and Pumeza Matshikiza
The story starts promisingly with a love story between a prisoner Gomatz and Zaide, the favourite concubine of the tyrant Soliman. The two lovers escape with the help of Allazim. They are re-captured. Then Mozart gave up. His sources for the story, by Sebastiani and Voltaire's Zaïre, ended it by the dubious plot twist that Zaide and Gomatz are actually brother and sister and that Allazim saved Soliman's life some years earlier and he lets them all free.
The strongest bits of the unfinished opera are a few arias, notably "
Ruhe sanft
" – which has become a concert staple. Perhaps Mozart realised his great love aria would have to end up being incestuous and lost the will to finish it. Or he could have had Soliman kill them all off, but had been told the Viennese found the story too serious already.
This production does finish the opera, with bits of other Mozart music used and English words by Michael Symmons Roberts (sung text) and Ben Power and Molly Still (spoken text) but in an unconvincing manner. Soliman does the right thing in the end. One of the problems is the modern setting as Soliman looks, with his white shirt and silk trousers, like a suburban nightclub owner running a smart but casual evening, rather than a vicious tyrant. A red carpet with a few scattered cushions from Heals does not a harem or tyrant's HQ make.

The orchestra were blameless and had an excellent esprit de corps, even if the sound was a bit muddy at times, and the cast are generally fine singers. The Classical Opera Company are known for nurturing singers, notably the rich, unconventional and strong (if unstable at times) voice of the South African Pumeza Matshikiza in the title role, but the modern setting and English translations require a level of acting that is beyond this cast. You yearned, as I never thought I would, for the old days: stick a fabulous costume on and "park and bark", as the expressive phrase had it.

The direction is busy at all times, with lots of little actions happening off-centre (prison guards playing cards, that kind of thing) which is distracting. There was some kind of shadow puppetry going on, which either more should have been made of or cut. A half-seen scaffold was laboriously wheeled about at the back for no good reason.

The wordsmiths made a sterling effort but the English lyrics, when they could be heard, were often banal, perhaps inevitably: "Don't leave me" has to rhyme like any of a thousand pop songs with "deceive me" and "believe me". Occasionally it strayed into higher levels, with some effective verses: "When love is just possession, and lust becomes obsession/The fruit dies on its vine, and no one drinks the wine".

Perhaps unfortunately, this production had to compete with Peter Sellars's version of a couple of years ago, which I saw in Vienna, and which had a wonderful design, set in a New York sweatshop. Sellars may well be off his trolley in claiming that Mozart was a hardcore revolutionary, but his production brought out the racial and slavery elements inherent in the piece (with the likes of Amnesty giving a talk before the show) and confronted the "clash of civilisations" between the Muslim and Christian worlds head on. Sellars, probably sensibly, didn't finish the piece, but left hanging in the air the question, as he put it, "Do we want compassion and to discover mutual truths, or have a fight to the death?" Which at least gave the piece a rich contemporary reference.

This production, by not setting the piece anywhere in particular, raised little in the way of such thought-provoking questions. Nor did it go the other potential direction and provide the audience with some un-PC erotic orientalism which the piece would have also justified. There was distinct lack of elegance or magic about the production and design, which was oppressively earnest in every respect.

If you do want to see a great opera done in English, you could always nip over to Paris where Chistophe Rousset's version of Handel's Semele, full of fabulous tunes and a wonderful design, is on next week. The rehearsals suggest a thrilling show. A semi-staged version is on at the Barbican the week after.
A red carpet with a few scattered cushions from Heals does not a harem or tyrant's HQ make
Share this article