Downton Abbey, ITV1/ Lulu - Something to Shout About, BBC Two |

reviews, news & interviews
Downton Abbey, ITV1/ Lulu - Something to Shout About, BBC Two
Downton Abbey, ITV1/ Lulu - Something to Shout About, BBC Two
Tears and tragedy at Downton, and a Lulu doc that could have done better
Downton's butler Carson (Jim Carter, left) with the ill-fated William (Thomas Howes)
I suspect writer Julian Fellowes's guilty secret is that he has an attic stuffed with novels from Mills & Boon, such are the luridly romantic plotlines and cliché-flirting characters in Downton Abbey. If you think you can see it coming, then you probably can.
Though Downton is an original story, you get more déja vu moments than in the 27th televised version of Pride and Prejudice, and the way the speeding narrative seems to fling out another major dramatic development in between each ad break - and we know there are far too many of those - is like being trapped in a carriage being driven by a madman lashing his horses towards a precipice. Fellowes has shamelessly loaded the dice in his own favour by milking the carnage and upheaval of the First World War for all it's worth, as all those rose-tinted Edwardian certainties are left shattered in the Flanders mud and high-speed lifts seem to have been installed to leave the Upstairs and Downstairs worlds incestuously interconnected. Yet it works like an intravenous adrenalin shot, and halfway through series two, the machine-gun rattle of cathartic tear-jerker moments is rising to a climax.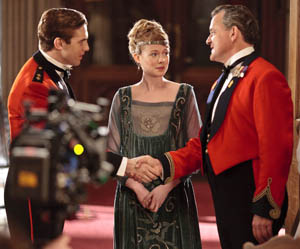 Last night's episode five was a motorway pile-up of heartbreak, comedy and tragedy. Whoosh! It's 1918 already, and Lt Matthew Crawley (Dan Stevens, pictured right with Zoe Boyle and Hugh Bonneville) leads his men over the top at the battle of Amiens. At his side amid shot and shell is Downton's dim but resolute footman William. Our heroes are caught in an explosion, and flung into a shell crater. "Ooh!" says Daisy, William's inamorata, back at Downton. "Someone walked over my grave." Upstairs, Michelle Dockery's Lady Mary drops her tea cup and complains of feeling "terribly cold".
The core of the episode was the way the Downton ladies rallied round in this hour of the family's darkness. Lady Sybil, when not dallying improbably with the Fenian chauffeur, is demonstrating nonchalant professionalism as a nurse, as indeed is Lady Edith, who has "found" herself in wartime in ways she never could in series one. It is she who nurses poor William as he marries dithering Daisy with his dying breath, largely so she can claim a war widow's pension. Reverend Travis saw through this little scam, but his reservations were crushed by a magnificent salvo from Maggie Smith's Lady Violet. "I would point out that your living is within Lord Grantham's gift... I hope it is not vulgar of me to suggest that you find some way to overcome your scruples."
In other news, the fates of Bates and Lady Mary have become craftily intertwined with the merciless newspaper mogul whom Mary proposes to marry, while Matthew's spinal injury may have drastic consequences for the Downton inheritance. "We can never be properly married," as he put it to his fiancée, Lavinia. Meanwhile, the Tsar and his family have been murdered in Russia. If they don't slow down we'll be at Dunkirk by episode eight.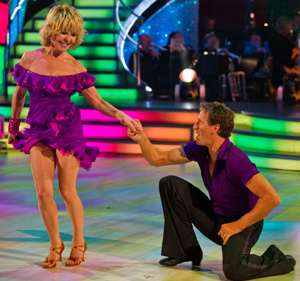 Although only 5ft 1in tall, Lulu has powered through five decades in the music and entertainment industries like a tiny nuclear reactor, and at 62 is still game for almost anything, including Strictly Come Dancing (pictured left) and live touring. In her career, she has sung a James Bond theme and won Eurovision, hit the top of the US charts with "To Sir, With Love", had a hit record produced by David Bowie, been a star of TV light entertainment and married a Bee Gee.
It's a fairly awesome saga, though some of her exploits at the tackier end of showbiz have meant that she has rarely merited serious critical scrutiny. Sadly, she didn't get much in Saturday night's Lulu - Something to Shout About either, which had assembled a football crowd of celebs - Elton, Sir Cliff, Barry Manilow, Melanie C, Kylie etc - to deliver gushing feel-good soundbites about the gamine singer. The invitation from the researchers must have been, "Would you like to praise Lulu uncritically on BBC Two?" (Sixties Lulu, pictured below).
They could have rectified the excessive 90-minute length by axing the turgid footage from a gig she played in Scotland earlier this year, and done themselves a favour by rewriting a voiceover commentary which left no platitude unregurgitated ("Soon she was saying goodbye to Garfield Street and hello to Swinging London!"). They might also have included a bit of Lulu's storming appearance in Mike Figgis's film Red, White and Blues, the story of how the Brits sold the blues back to the Americans in the Sixties. The saving grace was the archive material which evoked some inkling of Lulu's raucous journey, especially some great footage of hit-making mogul Mickie Most, while Lulu's own interviews were delivered with an energy and frankness which did her credit.
The fates of Bates and Lady Mary have become intertwined, while Matthew's spinal injury may have drastic consequences for the Downton inheritance
Explore topics
Share this article