Pacifica Quartet, Wigmore Hall |

reviews, news & interviews
Pacifica Quartet, Wigmore Hall
Pacifica Quartet, Wigmore Hall
New generation of Shostakovich interpreters goes for universal substance rather than Soviet-era suffering
Thursday, 13 October 2011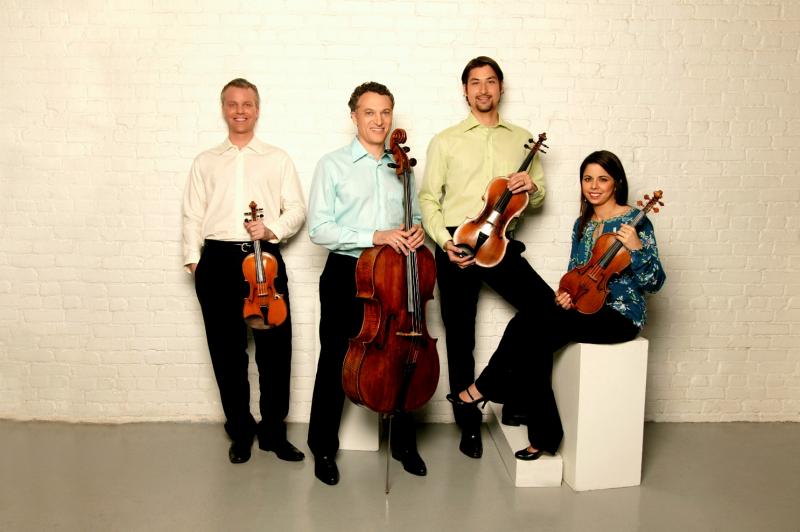 The players of the Pacifica Quartet: violinists Sibbi Bernhardson (left) and Simin Ganatra (right), cellist Brandon Vamos and viola player Masumi Per Rostad
How good it feels, after several decades of Shostakovich quartet series, to be able to say not just "what a tragic life" but also "what ingenious treatment of great ideas, what a range of universal human emotions". And even, walking on air away from the second concert in the Pacifica Quartet's Wigmore Shostakovich cycle, "how accepting, how at one with the world".
That light-serious aspect to Shostakovich's music has usually been a bit booted aside, often by the composer himself. Knowing that Russian quartets like the legendary Borodins understood from personal experience something of what Shostakovich himself had suffered under his Soviet masters inclined one to listen for subtexts at every turn: the first dissonance wrinkling a smooth opening as the canker in the rose, with everything hurtling rapidly towards the abyss thereafter (and a bit of a frisson at the thought of all that soul-baring).
A new generation of artists with wise heads now proves that it doesn't have to be that way. What Vasily Petrenko in Liverpool is now doing for the symphonies, this likeable and modest foursome from across the pond seems to be striving for in the 15 quartets. Not that three per concert was ever going to be an easy ride. We could have done with two intervals rather than one to unravel in our heads all that complex thinking after each quartet, even if the grounded approach meant that emotionally we didn't have to pick ourselves up off the floor.
The Sixth Quartet evolved by enfolding pain and suffering in an atmosphere of Shakespearean romance
Yet with the second band of three, there was more than sufficient contrast. The Fourth seemed to evolve naturally and unanimously with every phrase; only towards the end, with Shostakovich's unequivocal references to his sympathies for oppressed Jewish friends, did the individual players step forward – above all Brandon Vamos, a real golden anchor of a cellist – and at last we got to realise how pointedly self-effacing first violinist Simin Ganatra had been up to that point.
The Fifth came across with clear-cut energy, no phrase wasted in a first-movement development where the Pacificas shone effortless light on transfigured material. But the real magic happened after the interval, where the G major starting point of the Sixth Quartet proved no deceptive fair weather, but simply evolved by enfolding pain and suffering in an atmosphere of Shakespearean romance. You'd have been hard-pressed to spot the composer in a Lento movement worthy of late Beethoven (the Pacificas are working their way through his great oeuvre, too, at New York's Metropolitan Museum of Art). And those wistful, near-identical cadences that round off all four movements could not have been more ineffable, the final chord more beautifully shaded down to nothing: the unbearable lightness of being indeed.
We could have done with two intervals rather than one to unravel in our heads all that complex thinking after each of the three Shostakovich quartets in the programme
Explore topics
Share this article