Why everyone should see The Mysteries from Cape Town |

reviews, news & interviews
Why everyone should see The Mysteries from Cape Town
Why everyone should see The Mysteries from Cape Town
How a medieval play from Chester ended up in Xhosa and Zulu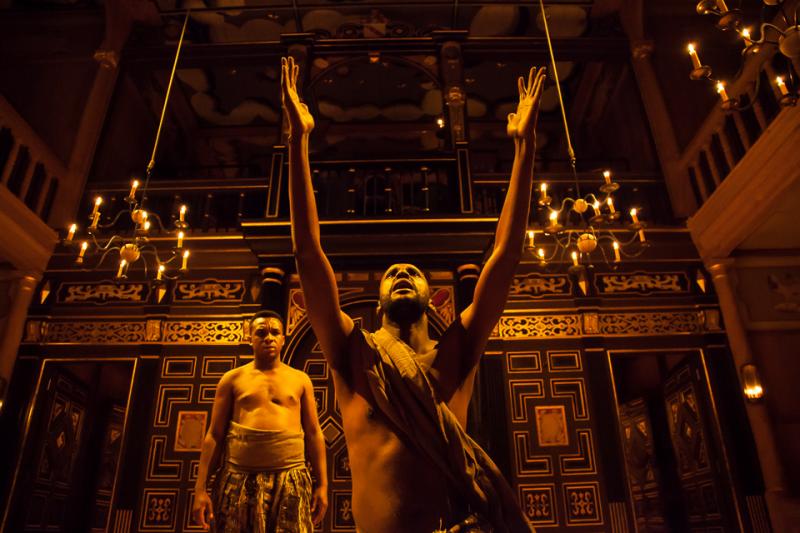 In the beginning: The Mysteries at the Sam Wanamaker Playhouse
One night in Cape Town, I was caught in a power cut. Like an untenanted theatre, the city went utterly dark, darker than perhaps it had been since settlers first arrived three centuries earlier. Street lamps, restaurants, car showrooms, offices were all plunged into Stygian gloom.
Without traffic lights to impose order, we drove tentatively over the shoulder of Table Mountain and suddenly, sprawled out on the Cape Flats and shining as brightly as the stars overhead, were Guguletu and Khayelitsha. The lights were on in the townships.
In purely theatrical terms, the symbolism of this image is irresistible: the privileged end of the city cast into outer darkness, the teeming maze of one-storey shacks, sheds and brick bungalows ablaze with life. Anyone who goes to see the Isango Ensemble's The Mysteries during its short Easter run at the Sam Wanamaker Playhouse will get a similar sort of feeling. A glorious, vibrant, hypnotic account of the medieval Chester mystery plays, it makes other shows look just a little bit underpowered. The same company's version of The Magic Flute had a similar impact when it deservedly won an Olivier Award in 2008. The company's vibrant version of Venus and Adonis was a fitting curtain raiser to the Globe to Globe festival in 2012.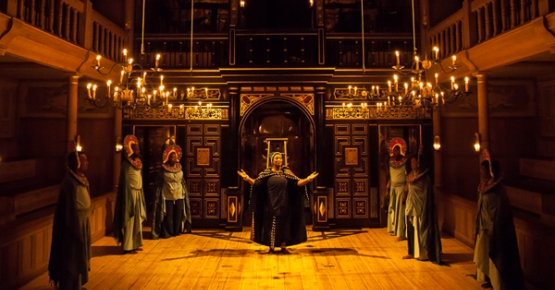 The production of The Mysteries has a long history, and it is utterly intertwined with those blazing townships. When I first went to Cape Town to write about the production in 2001, I was shown round Guguletu - Gugs for short – by none other than God, Jesus and the Devil. OK, the actors playing them in The Mysteries. We ducked into a shebeen and talked about Xhosa circumcision rituals. On another trip I was given a guided tour of Khayelitsha, and this time my guides were the Queen of the Night and Papageno. While Mozart's birdman looked on, by the side of the road a young man pulled live chickens from a supermarket trolley and broke their necks.
These places are a long way from Chester, and indeed Vienna. How is that the Cape Flats have been the wellspring for productions as different from each other as The Mysteries and The Magic Flute? The short answer is vocal talent. The teeming legacy of apartheid, which fans across from Table Mountain towards the Indian Ocean, is home to millions of black South Africans. On every sandy alley and metalled highway there is a church, sometimes several, with the result that the townships are home to hundreds and hundreds of choirs.
It was this tradition that Mark Dornford-May, a British opera director, discovered when invited to South Africa to mount a production of Fidelio. Based in Durban, it didn't take him and his musical director Charles Hazlewood long to dip into an immense, untapped reservoir.
Two years later they came back and trawled the townships for more talent to mount a double bill. A total of 1,000 people from five cities auditioned. About a quarter of the eventual cast had the advantage of a music college training, but for the most part auditions were unconventional. The man who ended up as the devil did a UB40 song. While practically none had acted professionally, many had not even sung solos before. "One of the big surprises," says Dornford-May, "was it wasn't people who were desperate to act or sing. It was often people who just wanted a job. We could have been representatives of McDonalds looking for waitresses. If you got this job you got 1,000 rand a week, so people wanted to get the job." Two hundred were invited back for a second day-long workshop, and from there the 40-strong company mustered in Cape Town. They weren't even told what shows they would be rehearsing. And when they were, some were none the wiser. They vaguely knew about Carmen. But The Mysteries were a mystery. "We didn't even know what The Mysteries was all about until we did it," recalls Pauline Malufane, a smoky soprano who doubled as Carmen and the Virgin Mary.
It took the cast a couple of weeks just to get used to the accents of their employers, and it became apparent in the course of rehearsals that actors were much more comfortable delivering speech in their own language. Thus Carmen was delivered in the percussive click tongue of Xhosa, while God spoke in all the South African languages, plus a smattering of Latin and Greek. The music was multilingual too. The cast burst into song in a resplendent array of idioms – Zulu chanting, Dutch polyphony, Xhosa hymns of praise, Afrikaans carols, old English folk tunes. They also danced more seductively than Salome herself.
The shows were premiered at a vineyard festival, an exclusive honeytrap near Stellenbosch about half an hour's drive from Cape Town where previous headliners had included a pre-disgrace Rolf Harris and Jasper Carrott. Audiences, a rare mixture of white and black, were not entirely overwhelmed. When in the summer of 2001 the double bill came to Wilton's, the tiny music hall in the East End, it arrived entirely unfanned by a trumpeting wind of buzz. "We knew that they would like it because they are not used to those kind of things," says Malufane. "We didn't expect the way they loved it."
It's not as if South African theatre-makers have not made their presence felt in the capital of the old colonial power. Many young actors, directors and writers who fled apartheid in the late 1960s are now the senior figures in British theatre. The actor Antony Sher, the playwright Nicholas Wright and the directors Jonathan Kent and David Lan all hail from Cape Town. The plays of Athol Fugard have been regular visitors and, since the end of apartheid, black South African theatre has become more powerfully present, most commercially in Lebo M's intoxicating choral flavouring in The Lion King.
The Mysteries, however, was something different. A medieval play cycle based on Genesis and the Gospels has not been common theatrical fare in its country of origin for about 500 years. The next year The Mysteries came back on its own for three successful months on Shaftsbury Avenue. God had truly entered the territory of Mammon.
Since then Dornford-May, a Pickwickian sort of paterfamilias, has taken his shifting company of actors all over the world, and expanded the repertoire to include The Beggar's Opera, A Christmas Carol and, triumphantly, The Magic Flute with orchestral accompaniment performed entirely on marimbas. A film version of u-Carmen eKhayelitsha, to give it its full name, won the Golden Bear in Berlin. Son of Man, a film adaptation of The Mysteries focusing on the New Testament, followed. There was a season of Italian operas at Hackney Empire. Some funders have come, others gone. The company's initial name was the South African Academy of Performing Arts, which morphed into Dimpho Di Kopane. They now trade as the Isango Ensemble.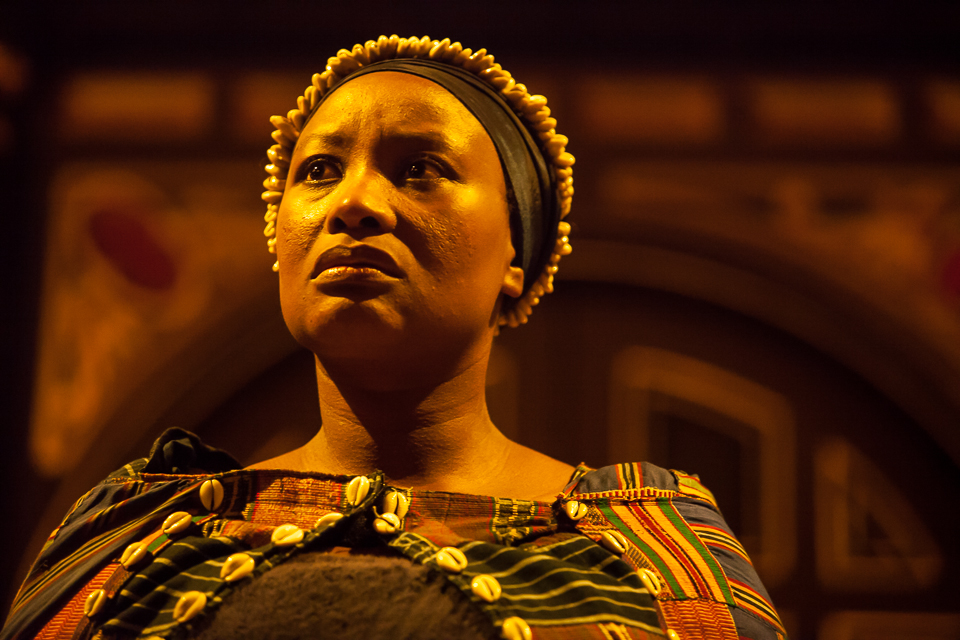 Mannie Manim, whose term in charge of the Market Theatre in Johannesburg led the cultural defiance of the apartheid regime, was the company's original lighting designer. "What we're trying to do as a young country," he says, "is show the rest of you that we don't have as many theatres or productions but when we do something that's really good, it's good anywhere in the world. South Africa is more than lions and elephants and game reserves and rugby."
In this current resurrection of The Mysteries, God is played by Pauline Malufane (pictured above). No performer has come on a longer journey. A township chorister and opera student, Malufane's star quality was identified early on by Dornford-May. They have since married and created a family - she was perhaps the first person to play the immaculately conceived Jesus while with child herself. Her subsequent career has included singing Weill at the Proms and a recital with the Berlin Philharmonic, as well as playing the Queen of the Night and Scrooge in the Young Vic's double bill. So how does Malufane, as company leader, a survivor from the original production and a native of Khayelitsha, explain the raw talent of township culture that underpins The Mysteries and all the other shows she has been involved in?
"You grow up in an environment that is music-friendly," she explains. "Music is part of our tradition. In our celebrations, whether it's a wedding or it's initiation or maybe a funeral, it's all based on song. This goes way back to our great-grandmothers. We've always told stories through song." In The Mysteries, that includes the greatest story ever told.