theartsdesk MOT: The Lion King, Lyceum Theatre |

reviews, news & interviews
theartsdesk MOT: The Lion King, Lyceum Theatre
theartsdesk MOT: The Lion King, Lyceum Theatre
Disney's anthropomorphic magic still holds its appeal for all the family
Sunday, 04 September 2011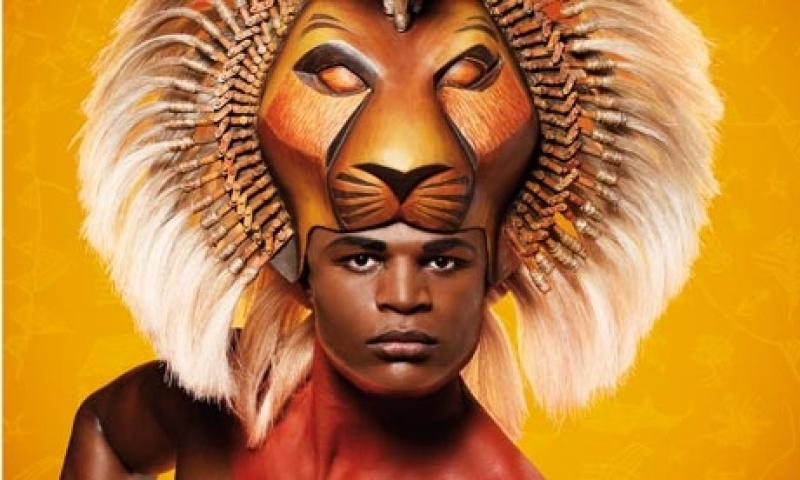 Andile Gumbi as Simba in 'The Lion King'
When The Lion King first opened in London in October 1999, there were cries from some quarters that it was merely following in a long line of stage shows that had been lifted lazily from films.
When The Lion King first opened in London in October 1999, there were cries from some quarters that it was merely following in a long line of stage shows that had been lifted lazily from films. Indeed its creator, Julie Taymor, didn't depart too far from Disney's 1994 animated film of the same name for dramatic inspiration, but why would she when the movie had been a huge hit, winning two Oscars (for composer Elton John, lyricist Tim Rice and Hans Zimmer's original score), grossing nearly $800 million worldwide on its release and selling more than 60 million DVDs. The stage version was, then, always going to be a sure-fire hit.
With its clever melding of biblical stories, the Malian folklore Epic of Sundiata, Disney's trademark brand of anthropomorphism, and even Hamlet, The Lion King taps into some knowledge within us that we may have forgotten we had, but which is comfortingly familiar none the less when we see those stories being subtly referenced on stage. Younger members of the audience, meanwhile, are captivated by talking animals, bright colours and rhythmic music.
The costumes, masks and puppetry are a visual treat, and the hyenas and vultures are genuinely scary
It's a neat trick to pull off as lions, as we all know, are dangerous animals. They're also incredibly smelly, as any visitor to a zoo or wildlife park can attest. I'm reminded of the time I watched Stephen K Amos doing an open-air gig at Adelaide Zoo as part of the Adelaide Comedy Festival, when the comic was reduced to helpless laughter by the combination of the stink emanating from the enclosure behind the stage and the lions' ear-shattering roars.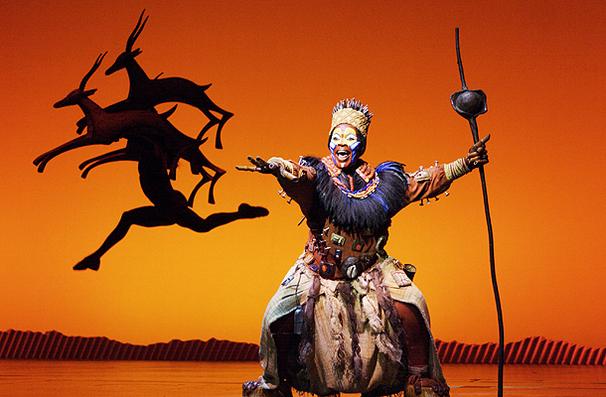 The stage show at the Lyceum Theatre is stunning from the off, as baboon and soothsayer Rafiki (Brown Lindiwe Mkhize, pictured right) delivers the clarion call of "Nants' Ingonyama" and the entire cast walk in procession through the aisles to the stage, dressed as all manner of wildlife, including giraffes, birds, hyenas and, of course, lions.
Taymor and Michael Curry's costumes, masks and puppetry designs are a visual treat – colourful and richly detailed, and the ensemble cast convey the animals' movement and personalities with athletic aplomb (elegant giraffes pictured below). (Although I have to admit I got a fit of the giggles myself when later in the show the cast, similarly attired as another bunch of animals, lined up on stage. It reminded me of a television ad from years ago set in an infant-school play, where the children were dressed as various vegetables and one forlorn voice said, "I want to be a tomato.") Back to the show: there's a magnificent coup de théâtre at the end of the opening procession, but for those who haven't yet seen the show - and six million have around the world in various locations - I won't spoil it.
The story concerns the adventurous lion cub Simba, who "just can't wait to be king" after his father the mighty Mufasa (Shaun Escoffery being suitably magisterial). But his devious Uncle Scar (a nicely villainous George Asprey) has plans to ascend the throne himself, even if it means taking out half his family.
Scar tricks the hotheaded Simba into escaping the clutches of his kindly minder Zazu the hornbill (played with great warmth by Stephen Matthews), leaving the kingdom and heading into the forbidden territory of the elephants' graveyard, where he is befriended by the pleasing comedy pairing of a meerkat named Timon (who appears to be channelling Barry Manilow) and a warthog called Pumbaa. Their happy-go-lucky attitude is summed up in their catchy song "Hakuna Matata". But then Simba realises his destiny and after overcoming some dangers, he is reunited with his pride and the baddies, led by the dastardly Scar, are vanquished.
The show has lots of songs, but none matches "Nants' Ingonyama" and "Hakuna Matata" for the power to stay in your head and some feel shoehorned into the action to ensure that young audience members aren't bored by too much talking on stage. Even "Circle of Life" and the Oscar-winning "Can You Feel the Love Tonight" are unmemorable. The ambient music under musical director Fraser Skeoch, however, is powerful, rhythmic and nicely underscores the action.
At two and a half hours, the show feels overlong and the pace dips badly during the danger scenes as Simba makes his way back to the Pride Lands; there's no real sense of excitement or indeed danger in these scenes – even if the hyenas and vultures are genuinely scary. And the transition from young Simba and Nala to adult Simba and Nala isn't terribly smooth - and clearly rather confusing to the youngsters in the audience, some of whom were asking what was going on at that point.
The two child actors playing young Simba and young Nala at the show I saw – Jermaine Alexander and Amelia Monet Kennedy - were magnificent, but there isn't a weak performance here, and special mention must go to Damien Baldet as Timon, who gets every ounce of comedy out of his scenes without ever overstaying his welcome.
Taymor's visionary treatment of the story still pleases greatly and, a few cavils aside, this is a show that deserves its longevity in the West End and beyond.
The costumes, masks and puppetry designs are a visual treat
rating
Share this article