Globe to Globe: Venus and Adonis, Shakespeare's Globe |

reviews, news & interviews
Globe to Globe: Venus and Adonis, Shakespeare's Globe
Globe to Globe: Venus and Adonis, Shakespeare's Globe
The World Shakespeare Festival begins triumphantly with a poem in six languages from a South African township
Globe to Globe gets off to a flying start: Isango Ensemble's 'Venus and Adonis'
"Shakespeare's Coming Home," boasts the strapline of a highly ambitious strand of London 2012's Cultural Olympiad. Between now and 9 June, 37 productions of the complete canon by Shakespeare (with apologies to Two Noble Kinsmen fans) will be seen at Shakespeare's Globe by 37 different theatre companies from all over the world.
Hence the catchy title, Globe to Globe, which forms only a part of a World Shakespeare Festival continuing until September and taking place all over England and Wales, from Stratford-upon-Avon to the National Eisteddfod.
But the whole thing is starting this weekend at the Globe, where just in the next week you can see a Troilus and Cressida in Maori, Measure for Measure in Russian, a Swahili Merry Wives, a Pericles who for once speaks in his native Greek, Twelfth Night in Hindi and a Richard III who will trade his kingdom for a horse in Mandarin. The Globe's programming has plumped for some shrewd cultural and/or political cross-pollinations: look out for a charged account of The Merchant of Venice in Hebrew, while the three parts of Henry VI, which tell of civil war, will be heard in Serbian, Albanian and Macedonian, all of them languages which have recent knowledge of national division. Globe to Globe's Henry VIII will be heard in Castilian, the language of the titular king's unlucky first wife. Among the left-field offerings is a hip-hop Othello, while Love's Labours Lost, the comedy most in thrall to language for its own sake, will be seen but not heard in British Sign Language.
This Venus embarks on essentially the most flagrant campaign of sexual harassment in all of Shakespeare
The claim, however, that this strand of the World Shakespeare Festival features 37 languages is not quite accurate. Globe to Globe has begun with a poem - Venus and Adonis - performed in six languages: English, Zulu, Xhosa, Sotho, Setswana and Afrikaans. The honour of opening this Shakespearean celebration falls to perhaps the best known and most widely fêted of the theatre practitioners on the entire guest list. The Isango Ensemble from Cape Town has had a name change or two over the past decade, but it is essentially the same company which won an Olivier Award for its West End reinvention of The Magic Flute in 2008, and is even better known for its ravishing township-flavoured account of The Mysteries.
This is not their first foray into the English literary canon – previous shows include The Beggar's Opera and A Christmas Carol - but it is the first time the company has favoured London, one of its regular pitstops, with a world premiere. And Venus and Adonis - or U-Venas no Adonisi - feels like much the most successful coalescence of English material and a multilingual house style which showcases the company's comedic acting skills and full-throated singing chops honed in the South African townships' choral tradition.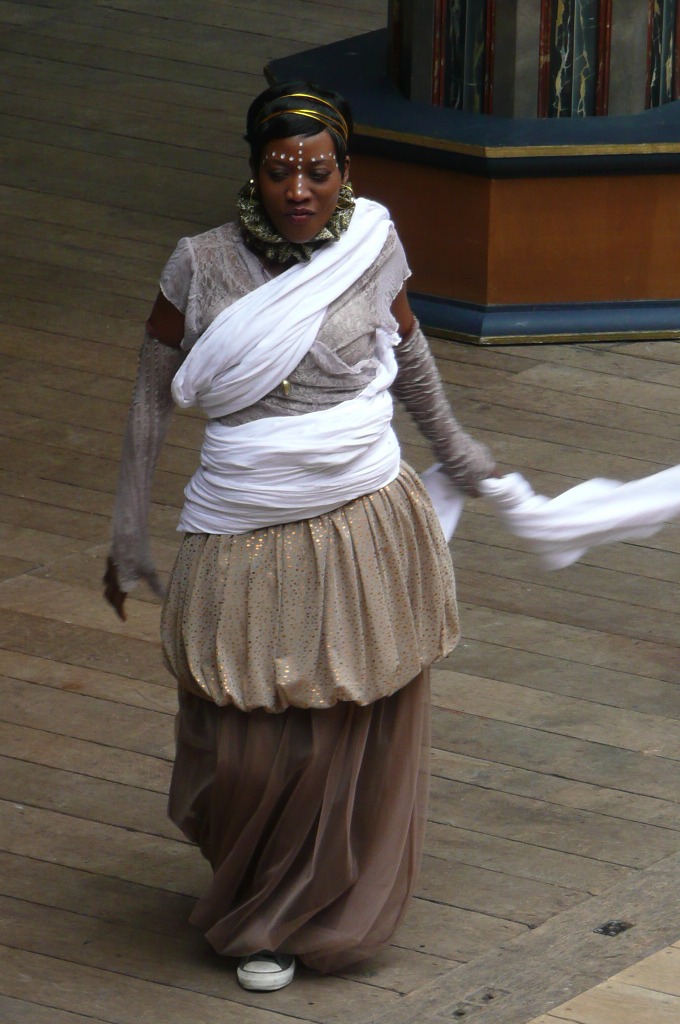 As adapted and directed by Mark Dornford-May, the emphasis of the story is firmly on its comic elements. This Venus, pricked by her son Cupid's arrow and falling in love with the strapping huntsman Adonis, embarks on essentially the most flagrant campaign of sexual harassment in all of Shakespeare (pictured right, Noluthando Ngejane). Much of the action, as in Shakespeare's narrative poem, concentrates on her attempts to find a way past his defences. "Fie, fie, you crush me! Let me go!" yells the thin young hero as a domineering Venus straddles him. In an ingenious stroke of multi-casting, the mantle of Venus – a long white sheet like the shroud familiar from images of the Deposition – is passed around the company. There are seven actresses in all representing the goddess of love as a protean everywoman who between them put on the kind of full-bodied display of seductive technique that won't be seen in any other decent performance space in London. They begin and end with Pauline Malufane, the company's undoubted star, who beautifully sings out the show's mournful conclusion with a distinctly modern aria by composer and musical director Mandisi Dyantyis. Of the rest of the company, Mhlekazi Whawha Mosiea's Adonis beguiles as he patiently rolls his eyeballs and waits for Venus's tedious erotic onslaught to end so he can go and hunt boar. Zamile Gantana's Cupid, his Falstaffian rotundity clad in figure-hugging white, also brings the house down, while Katlego Mmusi (pictured below) as skeletal, scythe-wielding Death irresistibly evokes memories of voodoo villainy in Live and Let Die.
Naturally some of the poetry is lost as the story commutes in and out of English - that's going to be par for the course in Globe to Globe. But the well telegraphed drama remains accessible throughout. Among other pleasures in the company's ever inventive stagecraft is Adonis's lordly stallion, represented by a silver head and four tubes of scaffolding, and a seductive array of sound effects – birdsong, winds, dog howls, a haunting kudu horn - supplied by the cast ranged around the fringes of the stage, while up in the gallery an ever-changing section works the marimbas.
This is a wonderfully auspicious start for Globe to Globe, but also for a new production of a rarely performed work. The Globe would be missing a trick not to bring it back for a longer run next year. If you didn't catch the company this time, don't worry. The Isango Ensemble is returning next month to Hackney Empire with a trio of new productions: Aesop's Fables, The Ragged-Trousered Philanthropist and La Bohème. All this and Shakespeare too: there's probably no other company of performers in the world who could take on such a breadth of repertoire.
Explore topics
Share this article