Globe to Globe: The Two Gentlemen of Verona, Shakespeare's Globe |

reviews, news & interviews
Globe to Globe: The Two Gentlemen of Verona, Shakespeare's Globe
Globe to Globe: The Two Gentlemen of Verona, Shakespeare's Globe
Two Zimbabweans people Shakespeare's Italy with a few props and a lot of comedic skill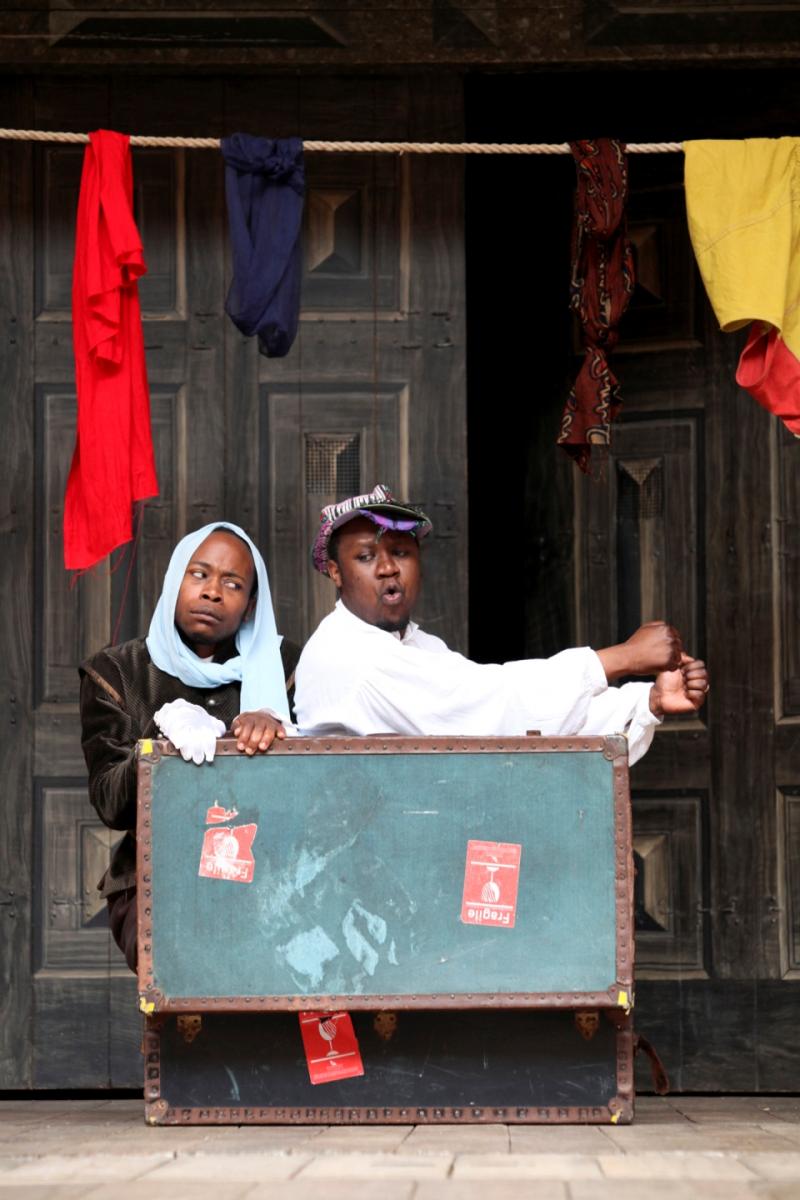 Two gentlemen in Shona: Tonderai Munyevu and Denton Chikura
The concept sounds like something dreamed up towards the bottom of a bottle in a Harare shebeen: Two Gentlemen of Verona performed by two gentlemen in Shona. But if any of the plays can withstand the stripped-down treatment, it's the likeable but formulaic early comedy featuring a couple of chums who compete for the same girl. In this account, two actors undertook to perform all the roles with only a few bits of cloth and considerable acting chops to see them through.
On a drizzly spring afternoon at the Globe, it was utterly delightful.
Unlike the many shows travelling to London for Globe to Globe, this production was cooked up here by a Zimbabwean company in exile. Any anxiety that a staging best fitted for a smaller venue would be swallowed up in the wooden O evaporated the minute Two Gents' two gents Denton Chikura and Tonderai Munyevu in undoubletted hose entered Shakespeare HQ through the trap sporting broad grins and spouting jumbled bits of the Romeo and Juliet prologue. On the vast prairies of the Globe's stage, they looked very much at home. From an old leather trunk – which would soon see service as a bath, a hotel counter, a car and, er, a trunk – they plucked scarves, wraps, a green beret and a single white glove and hung them on a line. With these scant props, they proceeded to people the teeming streets of Verona and Milan, whither Proteus and Valentine move and both fall in love with Silvia, only for the jilted Julia to follow in male disguise.
The two performers, both alike in versatility, took one male and female lead each, and divvied up any other roles that came along, including gobby servants,shouty innkeepers, a stern paterfamilias and, wonderfully, a slobbering dog on a leash. If necessary they would also swap parts. Their female character definition brought the house down - Chikura, meaty and solid, playfully splashing in a bath as Julia, camp-as-a-cat Munyevu (pictured right) gurning in erotic excitement as Silvia clapping eyes on Valentine.
Monotony never loomed as they deployed every vaudevilliean trick in the book: plucking groundlings to play a gang of bandits (including one who came up unbidden), sitting in the audience themselves, singing cheesy pop, breaking into English to step outside the traffic of the play. Now and then they made a joke of their numerical disadvantage at which they found themselves. A servant called Speed was anything but. If expedient they would summon a character by simply saying his name. At one point a baffled Chikura seemed to consult the synoptic side panel for assistance. In a final surprise, the broad-brush visual slapstick made way for a moving tableau featuring the two heroines in silent repose.
These two gents and their director Arne Pohlmeier have ingeniously injected fresh life into a comedy whose breathlessness can be ever so slightly wearying. The Zimbabweans in the audience I questioned afterwards all said they'd be back at the Globe for more. Two Gents have other productions in their locker, which you would be well advised to catch.
Any anxiety that a show best fitted for a smaller venue would be swallowed up in the wooden O evaporated the minute the two gents entered through the trap
Share this article