Globe to Globe: The Merry Wives of Windsor, Shakespeare's Globe |

reviews, news & interviews
Globe to Globe: The Merry Wives of Windsor, Shakespeare's Globe
Globe to Globe: The Merry Wives of Windsor, Shakespeare's Globe
A fast-paced Swahili romp through Shakespeare's timeless domestic comedy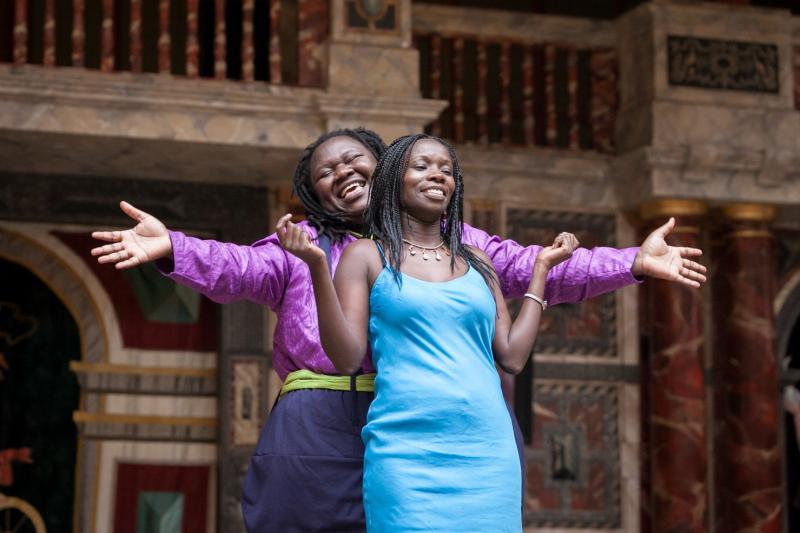 Mrisho Mpoto's Falstaff woos Lydiah Gitachu's Mistress Ford
Of all Shakespeare's plays, his reprise of Falstaffian humour to please Queen Bess is surely the most specific in its prosaic gallimaufry of earthy English vocabulary. Yet it's also the most universal in its target-practice at the lecherous, traditionally overbuilt gentleman-hero.
So it was easy enough to forego relish of words like "wittol", "frampold" and "drumble", not to mention the choicest fat-man insults, and just enjoy the broader brushstrokes of the fun had by independent-minded Nairobi wives at the expense of Mrisho Mpoto's jolly Sir John throughout this exuberant production in Swahili from Bitter Pill and The Theatre Company Kenya.
The bald summaries of each scene on the electronic screens either side of the stage – no texts are to be expected, I'm surmising, in any of Globe to Globe's remaining 33 foreign-language productions - disappoint less here than in Ngakau Toa's visceral Troilus and Cressida, where swathes of poetry and rhetoric had to pass uncomprehended by all but the Maori spectators among the groundlings. Falstaff's dunking in the river, his drag escape as the Fat Woman of Brentford and his drubbing by suspect fairies in a forest can be understood by all, and this production, by Daniel Goldman and Sarah Norman with eight actors taking on 20 roles, carries off each episode with unflagging zest; there's none of the sense of mindless repetition which can dog less well-paced Merry Wives.
Where Christopher Luscombe's smash-hit Globe production was period-pretty, this is sassily up to date in its contemporary African setting. Falstaff sports shiny purple and orange shirts, lime green tie, braces and braided locks; the wives are sleek in blue and crimson dresses. Props are few but mined for comic potential: caught red-handed in the Ford household, Falstaff hides his face behind a family portrait before tumbling nimbly into the buck-basket which the weedy servants need the help of two bemused groundlings to shift. The final foray in Windsor game park is dispatched in double quick time to a ritual of masks and drum.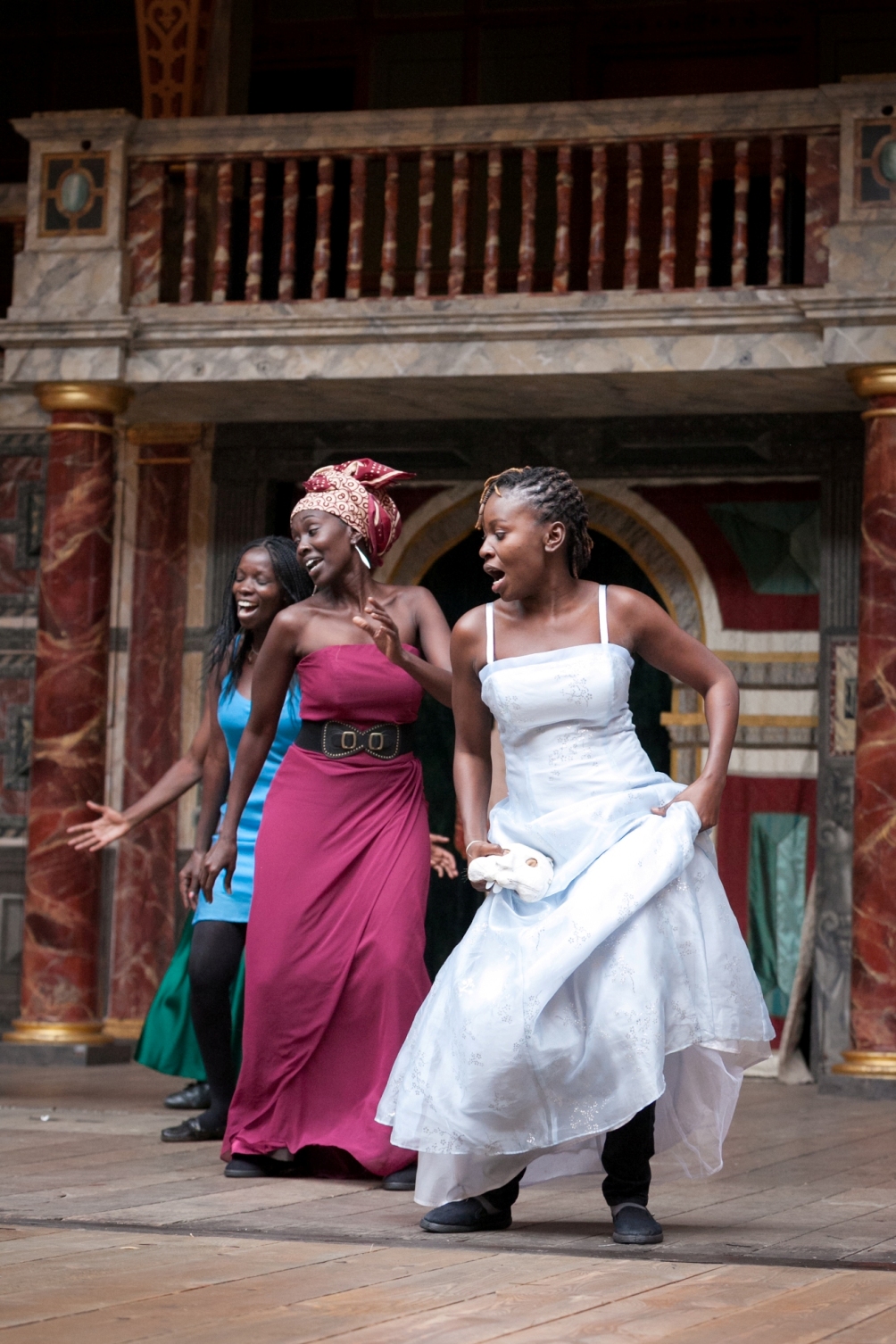 Resonant voices effortlessly project in a space which resident Globe actors sometimes struggle to fill. Chichi Seii's poised soprano Mistress Page neatly counterpoints Lydiah Gitachu's sexy mezzo Mistress Ford (both pictured right with Sharon Nanjos's Anne). Their playfulness to front of house is well matched by the plaintive jealousy of James Gathitu's Ford, though I could have done without another camp stereotype to follow the ones in the Maori Troilus when he impersonates "Brook" to find out Falstaff's intentions. The slow-kindling subplot concerning Anne Page's suitors gets a much needed kick from Joshua Ogatu's energetic drag Quickly and the deftness with which Neville Sanganyi quick-changes between hot favourite Fenton and affected non-starter Slender.
Ultimately, though, any Merry Wives stands or falls by its Falstaff, and Mpoto's spherical roisterer is more generous-spirited than most: vigorous in laying his snares for the ladies, a surprisingly good mover and cuddly enough in brief dejection to elicit sympathetic "ah"s from the audience. At the end, as the couples sing and dance away, it seems he's to be left alone, but he sweeps up a nubile groundling to join him in a quick exit. Thursday night's ululating ovation was well deserved.
Any production stands or falls by its Falstaff, and Mrisho Mpoto's spherical roisterer is more generous-spirited than most
Share this article