theartsdesk on Vinyl: Record Store Day Special 2023 |

reviews, news & interviews
theartsdesk on Vinyl: Record Store Day Special 2023
theartsdesk on Vinyl: Record Store Day Special 2023
27 records available briefly and exclusively in the shops this Saturday
Time to go shopping
Record Store Day is nearly here. At theartsdesk on Vinyl we have a selection of goodies which are appearing exclusively in record shops. See anything you fancy?
THEARTSDESK ON VINYL'S VINYL OF RECORD STORE DAY APRIL 2023
Suicide A Way of Life Rareties (BMG)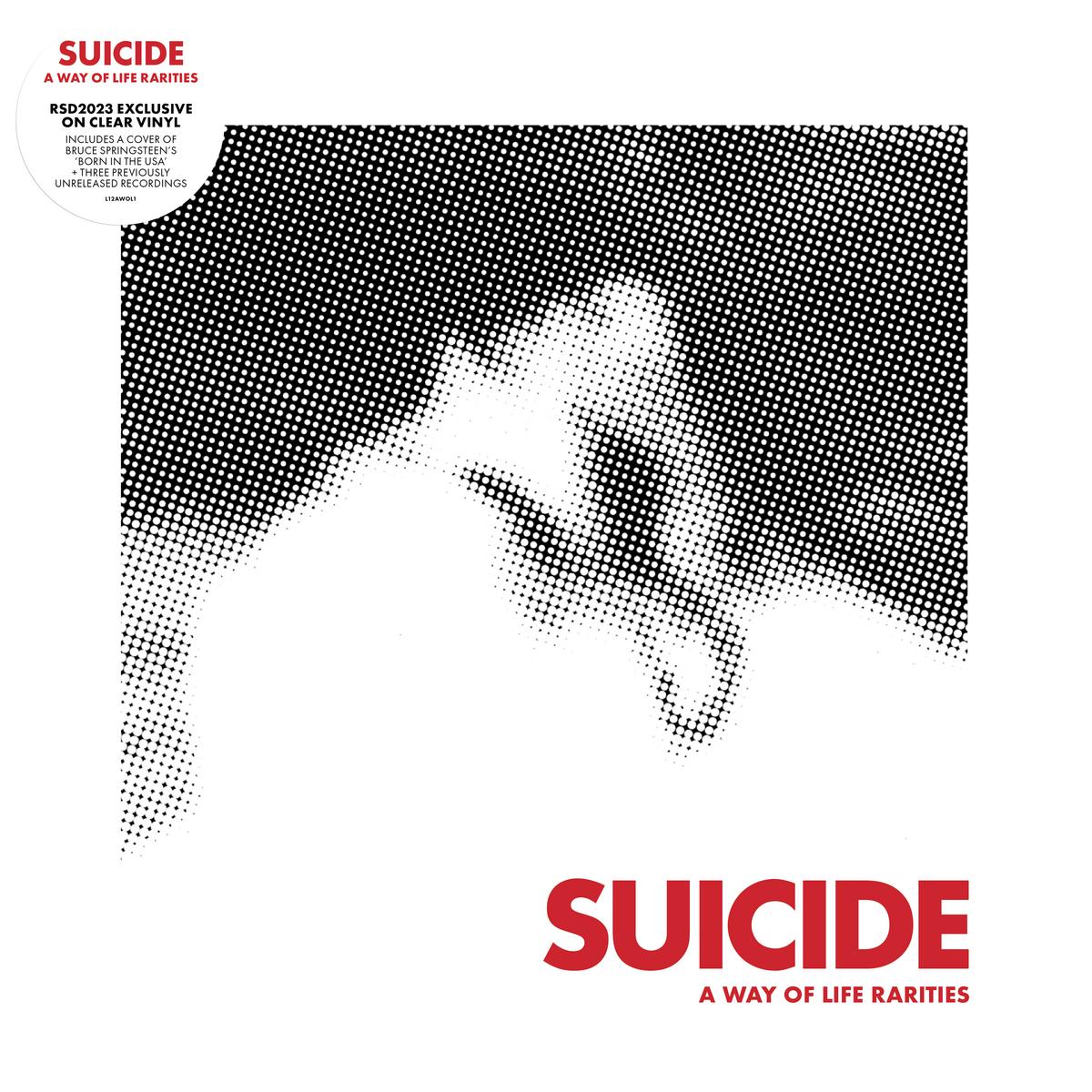 With Suicide's underrated 1988 album A Way of Life heading for reissue, this Record Store Day release amps the anticipation with a four-track 12" of associated odds'n'ends. It opens with a live version of, supposedly, Bruce Springsteen's "Born in the USA", but it is, in fact, frontman Alan Vega vamping around songs including Fats Domino's "Blueberry Hill", the Sixties classic "96 Tears", Velvet Underground's "Sister Ray", and The Stooges' "I Wanna Be Your Dog" and "No Fun", all over a typical Martin Rev synth pulse. It's a blast. Then there's a French-themed live take on "Devastation" (live in Paris, after all). On the other side is a murky psychedelic demo version of "Dominic Christ" and yet another live-in-Paris number, this time a simple rock'n'roll-ish take on their 1977 classic "Cheree". An all-round off-beat winner, on transparent vinyl in photo inner sleeve.
VINYL REVIEWS FOR RECORD STORE DAY APRIL 2023
Björk The Fossora Remixes (One Little Independent)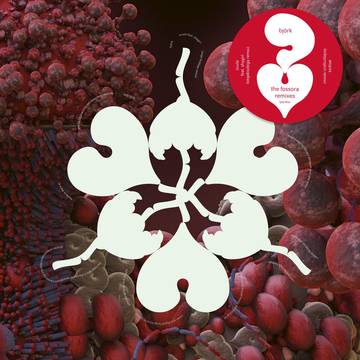 A 12" single containing one remix per side of of songs from last year's Fossora album. Both are worthwhile. "Ovule" is one of the album's more memorable songs. It features rapper Shygirl and is here pulled apart by her producer pal and collaborator Sega Bodega who's area of expertise is the realm between twisted electronica and hip hop. That's what he brings most effectively to the song. Icelandic group sideproject (small "s") worked on the backing track for the original "Ovule" and, on the flip, are given a chance to reimagine another song, "Atopos", as twitched-out post-drum & bass trickery. It's grittier and not as immediate as the A-side but still ear-interesting. Comes on off-white vinyl in an inner sleeve full of suitably bizarre and colourful Björk-centric photo-art
Wilco Crosseyed Strangers (Nonesuch)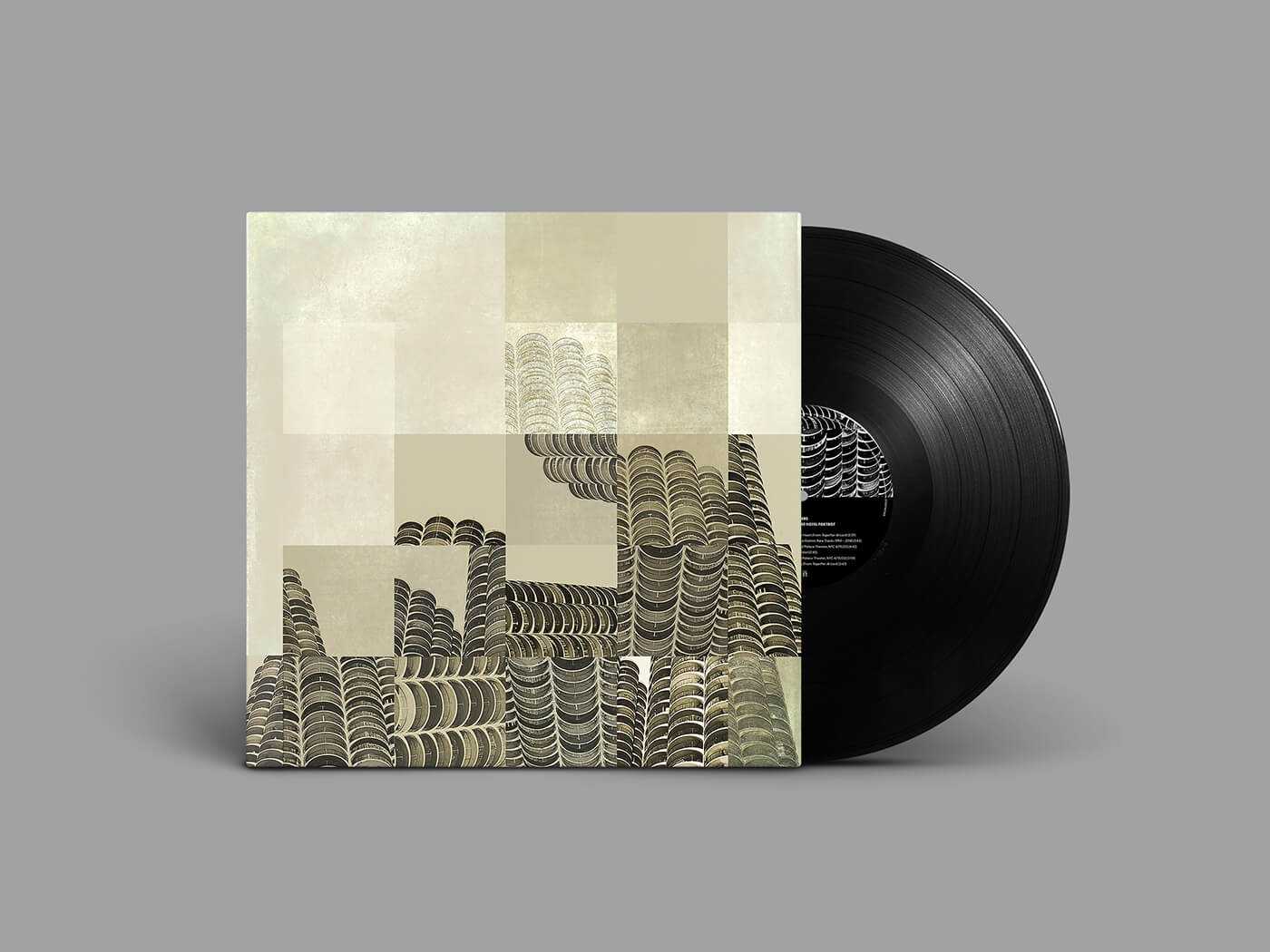 This is a witty idea, well executed, and perfect fare for Record Store Day, in that it offers devoted fans of a band something one-off, new but familiar. It's a reimagining of American indie perennials Wilco's 2001 album, Yankee Hotel Foxtrot, arguably their best-loved, but rather than a "new version", which no-one ever really likes unless it's a complete conceptual remix, Crosseyed Strangers simply offers up the same tracks in the same order but live versions, alternate versions, and even acoustic solo versions by band leader Jeff Tweedy. The result somehow makes the familiar fresh. Good work.
Echo & the Bunnymen Peel Session 1997 (London)
A scorching four-song set from the recently reformed Bunnymen circa their Evergreen comeback album. It incudes two tracks off that, "Altamont" and the single "Don't Let it Get You Down", as well as invigorated takes on a couple from their 1980 debut album Crocodiles, "Villiers Terrace" and their second single "Rescue". Playing at the BBC, they have garage-punk-psyche fire in their bellies, and the listener is given a hint of what they must have been like in the dives of Liverpool when they first began. First time on vinyl. Tasty.
David Bowie Laughing With Liza: The Vocalion and Deram Singles 1964-1967 Plus 7" Boxset (Decca)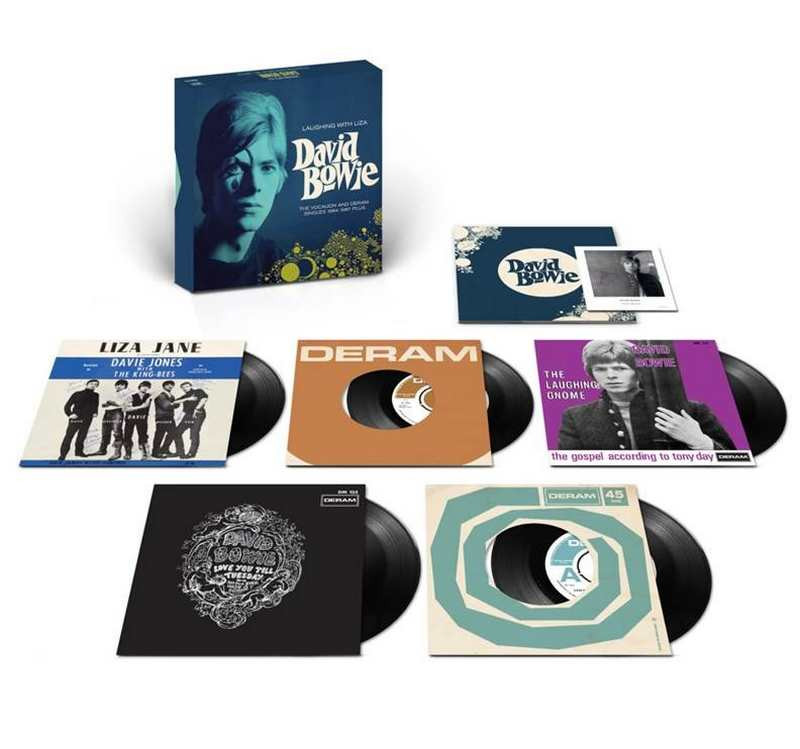 Bowie famously took a while to find fame, from the callow, primped youth who appeared in a mid-Sixties black'n'white TV chat show talking about the importance of mod, to his first flash-in-the-pan taste of fame in 1969 with "Space Oddity". That callow, primped youth appears on this five 7" single boxset as Dave Jones with the King Bees, doing an enjoyable-but-could-be-anyone early-Beatles-style 1964 rhythm'n'blues stomper "Liza Jane", while the latter song appears in a version that was in the half-hour 1969 Bowie promo film Love You Till Tuesday. The collection swerves Bowie/Jones's Pye Records output and work with The Manish Boys and The Lower Third, jumping straight to "Rubber Band", "The Gospel According to Tony Day" and, of course, the notorious, infantile "The Laughing Gnome", all of which showcase tuneful but embarrassingly twee exaggerations of The Beatles' English, music hall psychedelia, featuring French horn parping and lines such as "Rubber band won't you play your haunting theme again to me/ While I eat my scones and drink my cup of tea". There is also a speedy, raucous "Take 1" mix of "The Laughing Gnome". Aside from the deathless, lovely "Space Oddity", "The London Boys" is the only song that hints at the talent to be unleashed on the world in the next decade.
Belinda Carlisle Remixes (Demon)
The eternally enthused, Buddhist and always busy Go-Go girl Belinda Carlisle gathers together a double set of remixes from her golden hit years, the late-Eighties and early-Nineties. The club names on board are Shep Pettibone and William Orbit, but, of the three remixes by the latter, the only cut that's characteristic of his luscious trance-Balearic style is the Beach Party mix of "Circle in the Sand". Other remixers include Steve Beltran, Justin Strauss and Richard Feldman. Too cheesy for invested dance music fans, this one's for retro nights and those besotted with Carlisle.
Haircut One Hundred Haircut 100% Live: Hammersmith Odeon Spring 1982 (Demon)
Critical arbiters of 1980s taste often cut Haircut One Hundred a raw deal. The gist of their thinking is that the Beckenham band were a teenybop group whose M.O. was to blatantly rip off Orange Juice's style and garner a bunch of Top 10 hits (four to Orange Juice's one). I have no idea what frontman Nick Heyward, a pin-up when I was a boy, was like as a person then, and it's true they DO sound like Orange Juice, but this live set is pepped and hugely enjoyable. One difference between contemporary young male groups aimed at teen girls, and their 1980s equivalent, is that the latter tended to form and learn to play music together, which is, by its nature, exciting, rather than being put together by businessmen and presented with contracted songs and producers. This album is evidence that Haircut One Hundred's were a "proper" band, also that their hyper indie-funk, in this raw live incarnation, is catchy, driving, and full of the right stuff. Their amphetamine drive through the single "Love Plus One" alone is an exhilarating case in point. Comes on bright scarlet vinyl in photo/info inner sleeve. This does have cover art but unavailable in useable form at time of going to press.
Alison Goldfrapp Remix EP (BMG/Skint)
Without Will Gregory and, hence, not Goldfrapp, the band, frontwoman Alison Goldfrapp has a solo album coming in May. This EP gives us four of its songs remixed. She and Claptone turn "Digging Deeper" into a steady, tech-ish house thing, with her vocals floating about on top, her Touch The Sky edit of Röyksopp's mix of "Impossible" is a gnarlier, atmospheric synth-pulse, she and Paul Woolford's take on "Fever" buzzes on a 4/4 journey of dancefloor bangin' that retains some of the original song structure, and the best one might be Niina's remix of "Gatto Gelato" which takes a less-is-more approach, keeping it dancefloor but allowing squelchy electro space to build into something sturdier.
Porcupine Tree IA / DW / XT (Transmission)
Steven Wilson's eternal prog outfit, a band who may be The Most Popular British Band No-One Has Ever Heard Of (their last album, last year, sold respectably in at least 10 countries, was a chart-topper in three of them and a No.2 hit in the UK) offer their Record Store Day contribution. It's a 12" EP which puts on vinyl for the first time two bonus tracks from the 2003 Special edition of their 2002 album In Absentia (Side A, "Drown With Me" and "Chloroform") and the same from the DVD-Audio edition of 2005 album Deadwing (Side B, "Revenant" and "Mother and Child Divided"). I am not a fan of Porcupine Tree but the tuneful indie-grunge strum of "Drown With Me" and the Mogwai-ish instrumental "Mother and Child Divided" both make a convincing case for the band.
Yusef Lateef Detroit Latitude 42° 30′ Longitude 83° (Arc)
Gilles Peterson has been let loose on the Warner Music archives and allowed to reissue this 1969 album on his Arc Records label. Detroit jazz innovator Yusuf Lateef was a multi-instrumentalist and one of the late-Fifties/early-Sixties wave of jazzers keen to explore global influences, all the while injecting his spiritual exploration into proceedings (Lateef was an Ahmadiyya Muslim devotee). Detroit, however, is a fairly straightforward album, funky and propulsive, with great basslines from Cecil McBee and Chuck Rainey. Other players on board include the mighty Ray Barretto on percussion, and Jimmy Owens and Thad Jones on trumpet. It's easy to see why Peterson was drawn to this one. It's a treat of an album, warm and immediate, also often ready for the dancefloor. The photo/info inner sleeve has notes by bebop titan Dexter Gordon's widow Maxine, a close friend of the late Lateef, who died in 2013.
The Prodigy Invaders Must Die Remixes + (Cooking Vinyl)
This one gathers together a bunch of remixes and off-cuts around The Prodigy's 2009 comeback album Invaders Must Die. It's never less than battering, comes on bright orange vinyl in photo gatefold and info inner sleeve, and includes material rarely or never available on vinyl. This includes the monster originals "Wild West", and "The Big Gundown", which were on special editions of the album, and "Mescaline" which was on the CD single of "Invaders Must Die", as well as a lo-fi live version of "Take Me to the Hospital", and remixes by Chase & Status, Benga, Yuksek, Arvene & Misk, Pengshui and Josh Homme with Liam Howlett. Oddly, some of the cuts seem better mastered to vinyl than others, in that they have a richer, deeper sound, but the best of this is stonking.
The Joboxers Gangbusters (Cooking Vinyl)
The Joboxers were a flash-in-the-pan 1983 sensation mainly known for the great single "Just Got Lucky". Mostly made of ex-members of punk outfit Subway Sect, their sound combined Stray Cats-ish rockabilly revivalism with a smidgeon of Adam & the Ants Burdundi drumming, catchy, smirky pop suss, and a boy band image that channelled retro New York street gang chic. Their debut album receives a 40th anniversary reissue, cut well from old masters. It's bubbly and enjoyable, doesn't take itself too seriously but musters solid bouncing songs.
John Lunn, Eivør & Danny Saul The Last Kingdom – Destiny is All: Music From the TV Series and Movie (Carnival Film & Television Ltd)
The rise of Norwegian group Wardruna, following their soundtrack to the TV series Vikings, has created an unlikely appetite for, well, it's hard to describe, kind of paganist, percussive, cod-classical, folk-horror-ish, bombastic, new agey sounds. This double on gatefold gathers together the best of what Faroese singer Eivør Pálsdóttir, Downtown Abbey soundtrack composer John Lunn, and electronica whizz Danny Saul created for the five seasons of Netflix's pre-medieval action-drama, presumably to herald the concluding film, Seven Kings Must Die, which appeared only last week. It's kind of Clannad and Enya for 2023, but with more warrior-sounding oomph.
The Black Keys Live at Beachland Tavern March 31, 2002 (Nonesuch)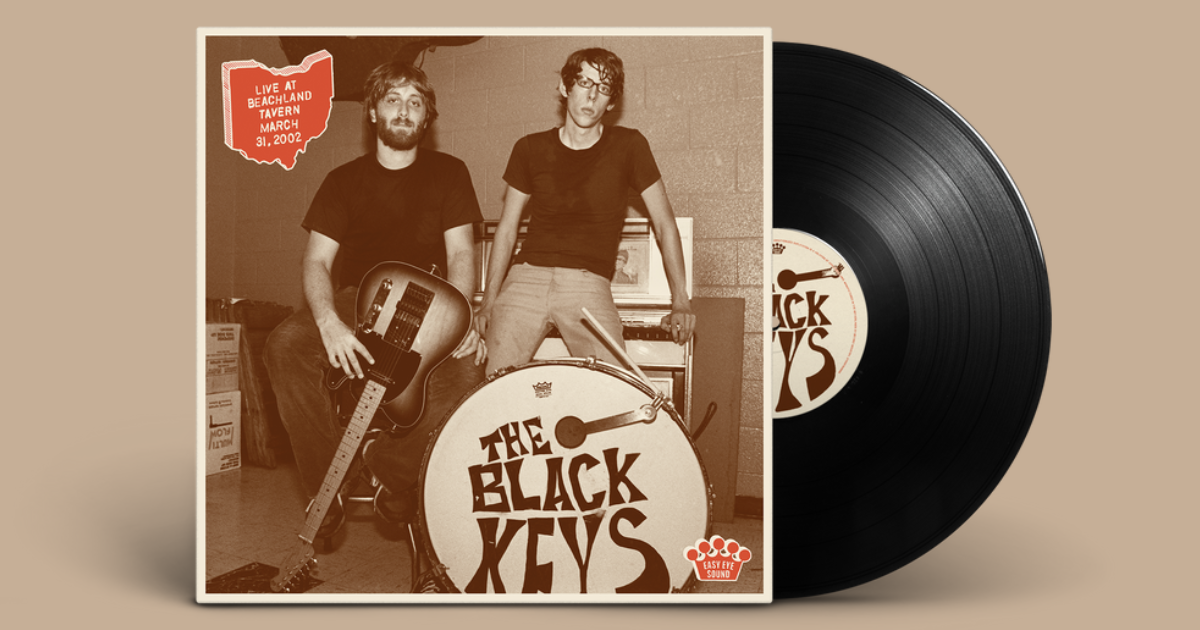 Guitarist Dan Auerbach and drummer Patrick Carney had been pals playing music together in Akron, Ohio, since they were kids, but debuted their new band, The Black Keys, at Cleveland's Beachland Ballroom & Tavern in 2002. The audience consisted of less than 10 people but now, thanks to this nifty Record Store Day release, first time on vinyl, tangerine vinyl at that, you can join them. Given the circumstances, the recording is surprisingly good, the sound is rowdy and loud. The set consists of wonderfully raw early stabs at material from their first album, including Junior Kimbrough's "Do the Rump" and RL Burnside's "Busted", plus early single "The Moan", "No Trust" which ended up on their second album, and the rarer song "I'm For You". It's a sweaty livener of a concert, well-captured.
Mike Flowers Pops Wonderwall EP (London)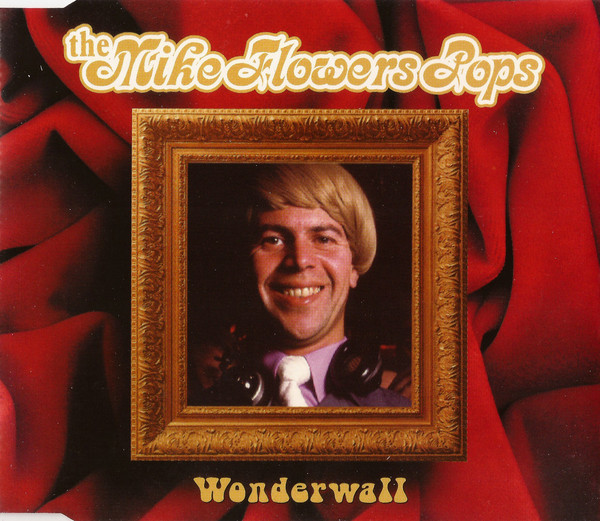 In an expansion of musical post-modernism, the mid-Nineties saw a small boom in self-consciously retro lounge music. At the forefront was working musician Mike Roberts who invented the cheesy Mike Flowers persona and almost made the top of the UK charts in 1995 with his frothy, passably entertaining cover of Oasis's "Wonderwall". Perhaps the best cut on this first-time-on-12" four-track EP, though, is Björk's "Venus As a Boy", which really does sound like those classic Mike Sammes Singers easy listening covers from the Sixties/Seventies. There's also a vampy cover of The Doors' "Light My Fire", but the less said about the version of Prince's "1999", the better.
Mansun Before the Grey Lantern (KScope)
A collection with purpose, Before the Grey Lantern, as its title suggests, gathers together music released over the two years before Chester band Mansun's chart-topping 1997 debut album Attack of the Grey Lantern. Like Suede, who they bear resemblance to, this was a band in thrall to Bowie, but adding a very Britpop belligerence (as exemplified on "Ski Jump Nose"). This compilation, clearly for fans who want deep cuts on vinyl, sensibly ignores lead songs from their collectible first five EPs (such as "Stripper Vicar", "Wide Open Space" and "She Makes My Nose Bleed") in favour of all the other material, including the Soundgarden-ish hugeness of "Things Keep Falling Off Buildings". The exception is the energized rock of early singles "Take It Easy Chicken" and "Skin Up Pin Up". This does have cover art but unavailable in useable form at time of going to press.
Christopher Nightingale and Tim Minchin Roald Dahl's Matilda The Musical: Soundtrack From the Netflix Film (Sony Classical)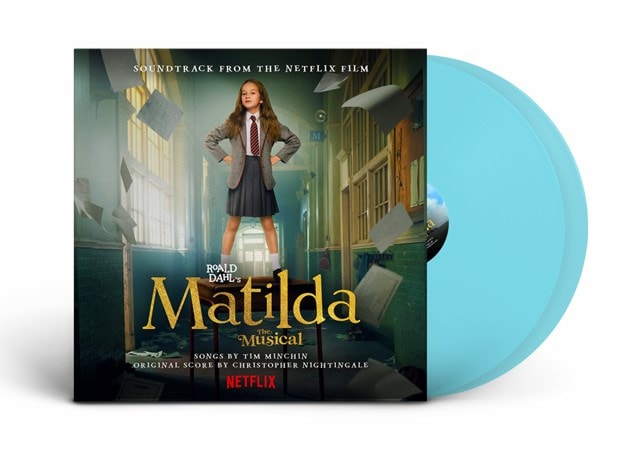 The Netflix film of the successful stage musical Matilda is available to stream in the US but fans in the UK are awaiting a cinema release (because that's what Sony and Netflix agreed regarding its distribution in Europe). Those that wish to be ahead of the curve - and who own a record player - can grab this double set on gatefold, featuring Emma Thompson as the bullishly awful Miss Trunchbull, singing songs such as "The Smell of Rebellion", alongside the Annie-style cast-of-kids numbers. Tim Minchin's songs are child-friendly, frolicking and, in this version, fizz garish, primary coloured energy.
Carter the Unstoppable Sex Machine 30 Something Picture Disc (Chrysalis)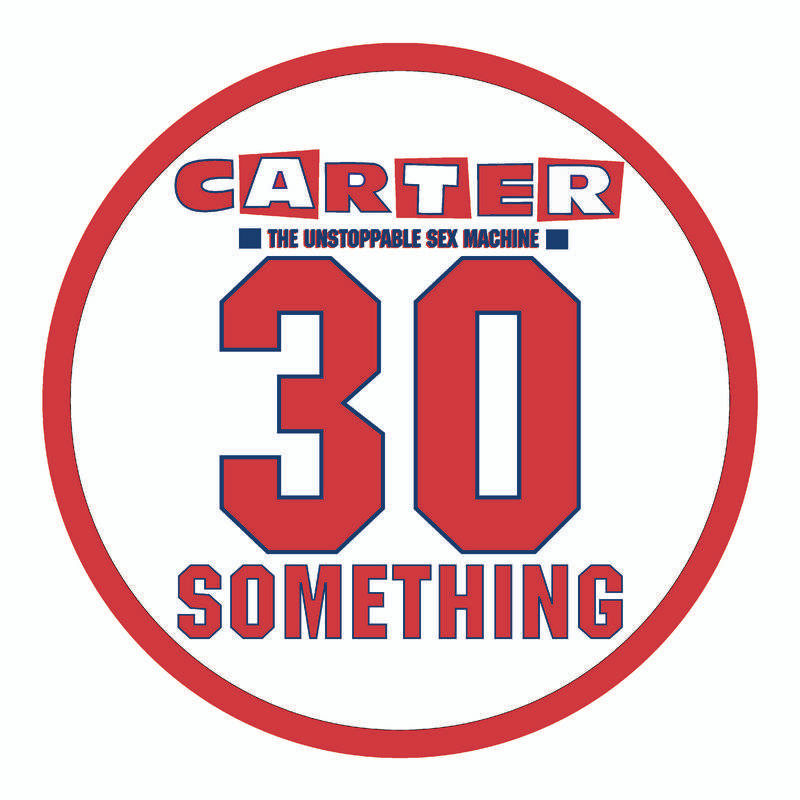 Parallel to rave music's dominance at the start of the 1990s was the rise to surprising popularity of two shouty old punks with a drum machine, Carter The Unstoppable Sex Machine, who headlined Glastonbury and had a UK No.1 album. 30 Something is not the chart-topper (that was 1992 -The Love Album). Their second album, 30 Something contains the catchy single "Bloodsport For All" and the booze anthem "Anytime, Anyplace, Anywhere". The latter, while probably anti-alcoholic in intent, used to be one of my go-to post-pub anthems. It has one of my favourite opening couplets of all time, "The tequila sun is rising/And the Harvey's Bristol moon is sinking," and the desperately sung line, "The Thunderbirds have gone, and the wagon's rolling on, and I'm on it," is brilliant too. Overall, "A Prince in a Pauper's Grave" is probably a better song, mind. Carter here combine a Poguesy vibe with clattering electronic percussion, smart words, and a catchy, epic musical theatre-ish songcraft. Now on RSD picture disc.
Envy of None Envy of None Picture Disc (KScope)
Envy of None is a synth-rock group formed by Alex Lifeson of the now-defunct Rush and featuring singer Maiah Wynn (the other members are Andy Curran, once of Eighties rockers Coney Hatch, and producer/keyboard sessioneer Alfio Annibalini). As you might expect, given the band's make-up, their 2022 debut album is hardly straightforward, and is instead laced with moody swirling cuts such as "Look Inside". Wynn's vocals are airy and spaced and the whole thing has more in common with US alt-rock than, say, Depeche Mode. This Record Store Day edition is a picture disc of the striking cover art (pictured above left but not in picture disc edition).
Happy Mondays Balearic Beats (London)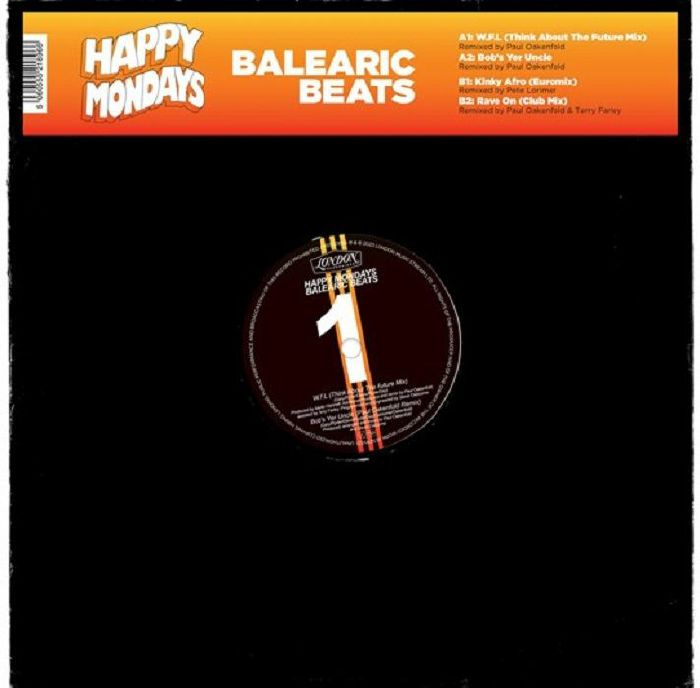 An EP that gathers together a smart selection of four remixes from back-in-the-day by the best and most Madchester outfit of them all. Paul Oakenfold's "W.F.L. (Think About the Future Mix)" was, in 1989, a key tune in turning indie kids into eyes-rolled-back, jog-on-the-spot rave sorts, and still sounds mesmerically superb, one of Oakenfold's very best, as his mellow saucy roll through "Bob's Yer Uncle". The angular Pete Lorimer "Euromix" of "Kinky Afro" doesn't really work for me, missing the warm funk of the rest, but Oakenfold & Terry Farley's take on "Rave On", while less song-based, is proper groovy.
Various Music From the Motion Picture Akilla's Escape (Chrysalis)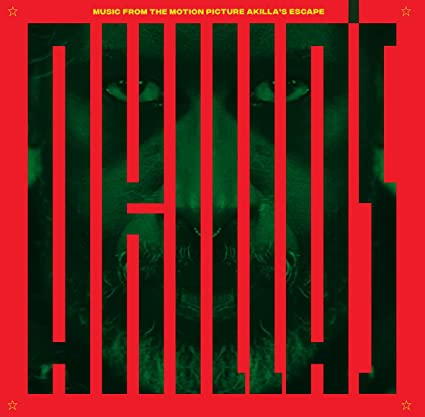 A double gatefold of the music from Canadian crime'n'drugs thriller Akilla's Escape, limited Record Store Day edition on green and red vinyl. Moody original music by Massive Attack's 3D, with regular production collaborator Euan Dickinson, and including cuts featuring the voice of the film's star, Saul Williams, sits beside soothingly spaced-out guitar instrumentals from Toronto's Tom Iconescu, and two reggae classics, Bob Marley's "Punky Reggae Party" and The Gladiators' "Ship Without a Captain". Williams also works with Trent Reznor on one number. I've not seen the film but it wasn't very well reviewed, so I'd guess this is for its superfans.
Poison Girls Hex (Cooking Vinyl)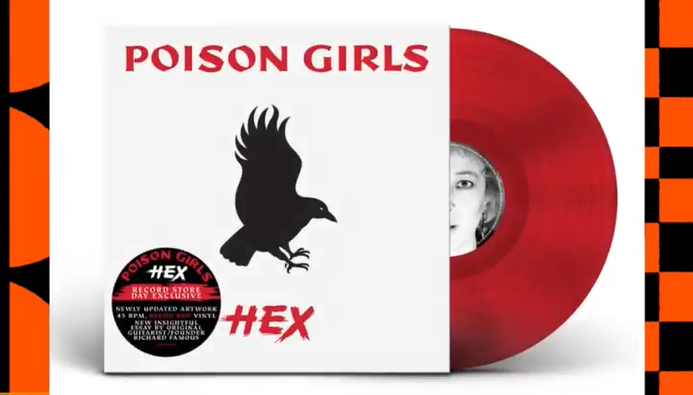 The 1979 debut album by Crass-affiliated outfit Poison Girls receives a well-deserved Record Store Day gatefold re-release on blood red vinyl and featuring a thoughtful new essay by the band's guitarist Richard Famous. Frontwoman Vi Subversa, who died in 2016, stood out from the punk movement of the time as she was a mother, in her 40s, and brought to her lyrics world-weary experience of sexism, also a sound that isn't really punk at all, but kind of abstract edgy cabaret, her gruff voice denouncing and spitting fire amidst it all. It's an album that defies easy categorization, full of unpredictable music, sound thinking and hard-earned perspectives.
T. Rex Rockin' & Rollin' (Demon)
This is one for the T.Rex completists, as it's a reproduction, on pink vinyl, of a Japan-only compilation from 1973. Side one is all the monster hits, plus B-sides such as "Cadillac" (the flip of "Telegram Sam") and "Midnight (flipside of "The Groover"), and Side 2 contains a mish-mash of tracks from the albums The Slider and Tanx. Not much more to say, except that most of the songs are ace, clearly.
Travis The Invisible Band (Live) (Craft)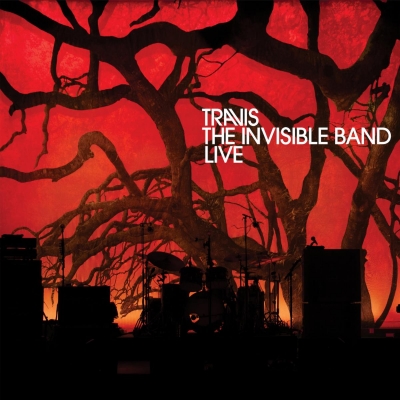 This one puts me in a quandary. One of my rules for theartsdesk on Vinyl is simply not to review music unless I can find at least one thing good to say about it (unlike when I review anywhere else, and both barrels are always available). So… I can't stand Travis, the original fleece-wearing boys-next-doors pop-rockers who opened the door to Coldplay and a million other pleasant, nice people, ruining rock'n'roll forever… but I need to tell you about this release, as it's a Record Store Day special. Let's try this: it's a recording of a concert celebrating the 20th anniversary of the title album, which took place in May 2022 in Glasgow's Royal Concert Hall, and now appears on clear vinyl. Phew!
The Orb featuring Lee Scratch Perry The Upsetter at the Starhouse Sessions (Cooking Vinyl)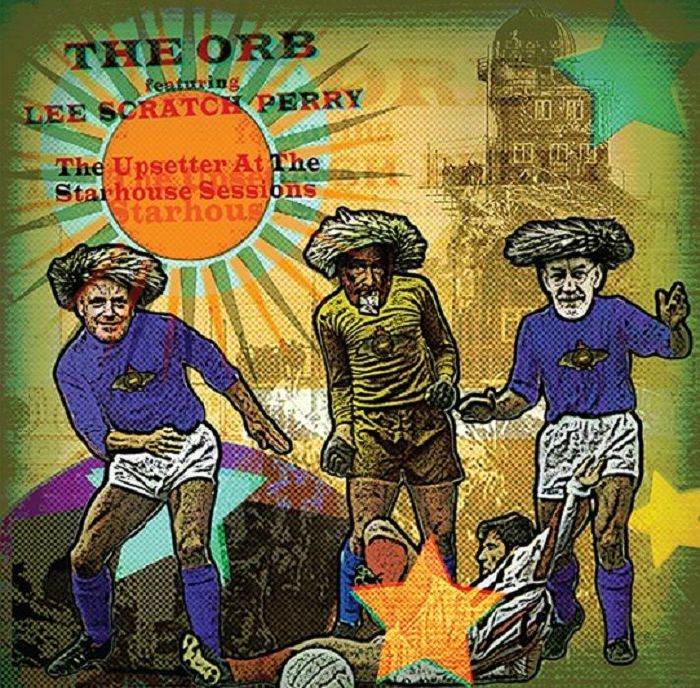 In 2012, The Orb hooked up with the don of dub, Lee "Scratch" Perry, which resulted in two albums that combined the duo's jolly, head-messing post-acid house blueprint with the voice and input of a man whose Jamaican experiments decades earlier defined the sonic palette within which they existed. This new Record Store Day release gathers eight remixes and alternate versions, six of which have never been on vinyl before. Most desirable may be the versions by Mad Professor, Youth and, especially, Pole, all masters in the field. One for the bassheads, obviously.
Juno Reactor Transmissions (Demon)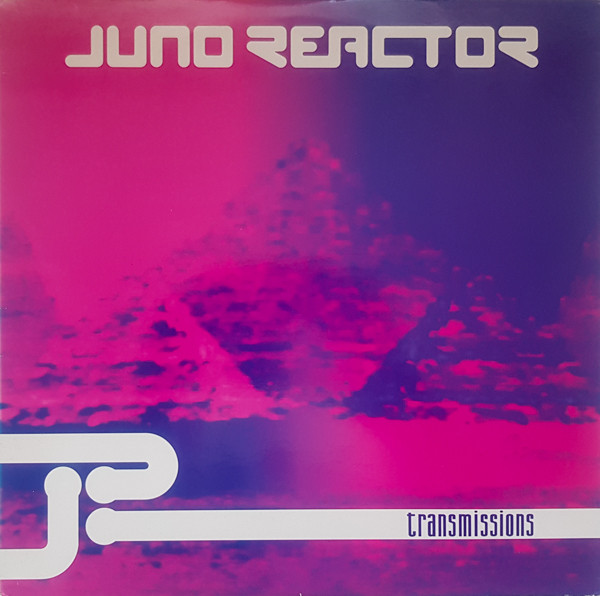 Before Ben Watkins' became minted by hooking into Hollywood (providing an at-the-time memorably unlikely vision of underground future rebels dancing to a tribal psy-trance mish-mash in one of the Matrix films), he'd been in excellent 1980s rockin' proto-techno outfit The Flowerpot Men, and was then there right at the point trance arose as a distinct style out of techno in the early-Nineties. It's from this era that his 1993 debut Juno Reactor album dates, here reissued for the first time on vinyl over four sides of plastic. The album was originally on NovaMute, the Mute subsidiary that also played home to Plastikman, Luke Slater, Speedy J, in other words, a serious techno hub. Transmissions still sounds good, an album listen as much as a set of tracks, playing with ethnic sounds and whooshing atmospheres, Sure, you can hear that full-on psy-trance is waiting in the wings, but that's part of the charm, An engaging banger-fest that smells to high heaven of what a druggy blast the 1990s were.
Landscape From the Tea-rooms of Mars… to the Hell-holes of Uranus (Cooking Vinyl)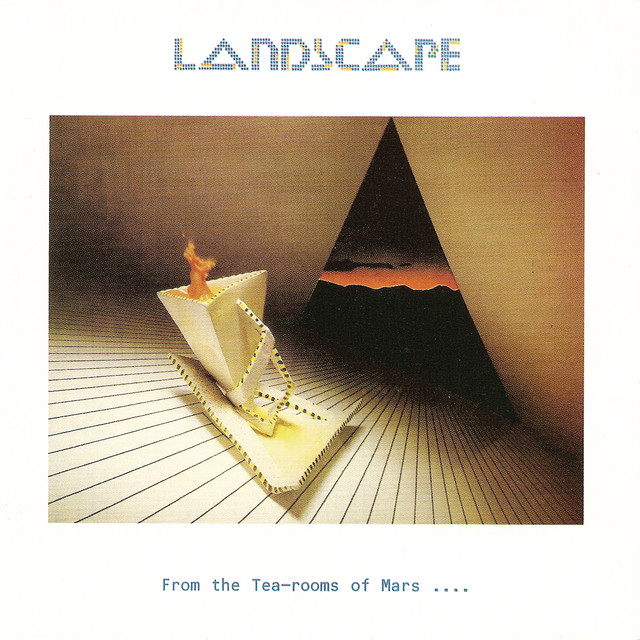 Even at the start of the 1980s, Landscape's music sounded like a pastiche of the groundbreaking advances that had recently been made in electropop. Their big hit was, of course, "Einstein a Go-Go", which is included on this, their second album. They were an English outfit and had been around a while when they briefly broke through. They sound like a bunch of prog rock-era session musicians having upbeat ironic fun with then-cutting edge technology. I've no idea if they were. There's also an unwelcome tinny jazz-funk aspect to some of it. Presenting futurism as clunky novelty, the best one can say of this album is that it's a retro curiosity.
A key tune in turning indie kids into eyes-rolled-back, jog-on-the-spot rave sorts
Share this article