Reissue CDs Weekly: Buzzcocks |

reviews, news & interviews
Reissue CDs Weekly: Buzzcocks
Reissue CDs Weekly: Buzzcocks
Fine box set of the oft-reissued earliest recordings by the pioneering Manchester band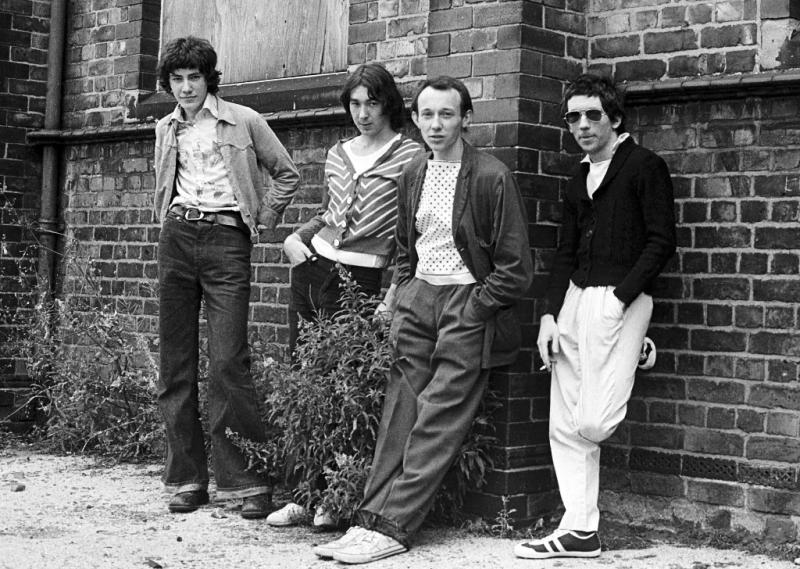 Buzzcocks in 1976. Left to right: John Maher, Steve Diggle, Howard Devoto, Pete Shelley
By the time Buzzcocks recorded the 12 tracks heard on Time's Up, they had played with Sex Pistols twice. They had also shared bills with The Clash, The Damned, Eater, Slaughter & The Dogs, Stinky Toys and The Vibrators.
After singer Howard Devoto (then known as Howard Trafford) read about Sex Pistols in the 21 February 1976
NME
he and his friend Pete Shelley (Peter McNeish) saw them on the 20th – the weekly paper was available in their home-town
Manchester
from Thursdays rather than the date of the issue – and the 21st in High Wycombe and Welwyn Garden City. They recorded the latter show. The nascent Buzzcocks first rehearsal was held on 29 February.
The fast-moving Devoto and Shelley were well-aware of punk in its various forms before they entered Stockport's Revolution Studio on 18 October to tape the Time's Up tracks. Their band had played live – including an unofficial 1 April stage debut – eight times by then. Although active and hip to what was happening, they were not from London so at arm's-length from the day-to-day development of punk. Nonetheless, they were keenly attuned pioneers and integral to what was going in.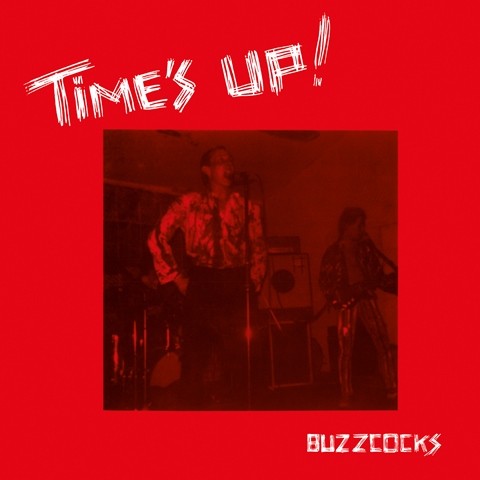 Yet, in common with most of the 1976-vintage British punk bands, they do not sound like any of their contemporaries. An off-the-shelf sound was not-yet codified. After listening again to the Time's Up recordings, now reissued again, it is hard to pinpoint where Buzzcocks were rooted although the music is harsh and identifiably punk. The cover versions of The Troggs' "I Can't Control Myself" and Captain Beefheart's "I Love You, You Big Dummy" (Beefheart was also a favourite of Johnny Rotten's) show their ears were open. Devoto had been inspired by The Stooges' 1970 album Funhouse. Shelley had made experimental electronic recordings with an oscillator. He also liked Can. Both were fans of Bowie and Eno. But the sound they came up with was unique.
In October 1976, Buzzcocks were not overtly rock as such. There is no riff-borne power: as per Sex Pistols and The Damned. There are no roller-coaster dynamics: which The Clash had. The tracks are not even played particularly speedily, but The Ramones are in there. Theirs was a jagged yet linear art-rock take on punk, which is why they stood apart. Devoto's vocals were exaggerated like those of Eno, whose "Third Uncle" also exerted an influence. Devoto sang of being an "Orgasm Addict" which sat nicely alongside "I Can't Control Myself". Instead of writing about anarchy or riots, he wrote lyrics about impatience and powerlessness
After Devoto left the band in early February 1977, following the release of their independent Spiral Scratch EP the previous month, Buzzcocks regrouped and became less angular. Their edges were still hard but the scratchiness dissipated. Of when he left, Devoto told me he "wasn't that wild on punk rock. There was a lot of negative energy, perhaps to its credit. I was uncomfortable, even disturbed, and somewhat scared by some of it." He went on to form the magisterial, majestic Magazine. Without him, Buzzcocks became a major force. Devoto and Shelley had remained friends.
The Time's Up recordings are wonderful: some of the greatest music ever recorded. The tape, though, was not meant for release. Buzzcocks booked the studio time to hear what they sounded like. The tracks initially surfaced on an easily available bootleg album in 1978 which was subsequently repressed in different covers and under different titles at least five times. It was first officially issued in 1991. There was another (official) reissue in 2000. It's a fair bet anyone who wants these tracks already has them.
However, this new release is not just about the music. It is a box set containing vinyl and CD versions of Spiral Scratch and Time's Up (the cover re-uses that of the first-edition bootleg), each of which are available individually. The package is also about marking 2017 as 40 years on from the punky 1977 (even though all the music was recorded in 1976). There is a card with a code for downloading the music and a video of early live footage. There are also repros of seven flyers, prints of five photos, three badges and two posters. A print of the original Spiral Scratch tape box is also included. Additionally, a chronology appears in an A4 booklet and a special, new, edition of the Manchester fanzine Shy Talk is included (weird, as its three issues appeared in 1977, not 1976: this confabulation is given as issue 4). The price is £50. Although a fine product, making the decision to purchase one of the 1000 copies manufactured will probably be difficult.
For anyone wanting just the music, copies of the well-packaged 2000 CD reissue of Time's Up go from £8 on the internet.
Howard Devoto: ' I wasn't that wild on punk rock. There was a lot of negative energy.'
Explore topics
Share this article